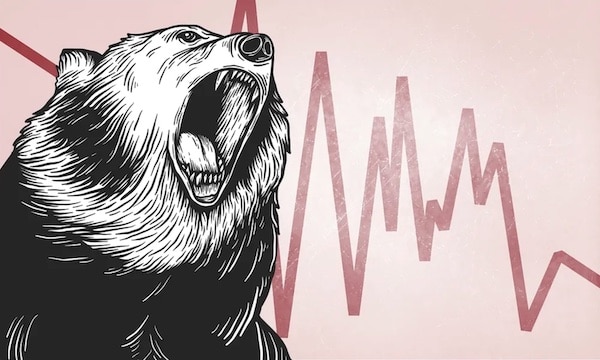 Down but Not Out – The 60/40 Portfolio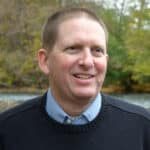 The recent bear market has many worried—but fear not. History is on our side. Read on to learn why!
It goes up, it goes down
When we build financial plans for families, the software projects future portfolio values using a nice, smooth, steady growth rate. While that's great for looking at a projection out 10-15 years in the future, it's NOT realistic for looking at a projection in the 1-to-5-year time frame.
The nature of the market is that it will go up, and it will go down. We know this. We know that it can—and WILL—go down dramatically on occasion.
While there is no "guarantee" that it will go down, only a fool would believe that history is NOT going to repeat itself on the topic of market pull backs. They happen.
How Bad Can It Get
A bear market is defined as a 20% drop from a market high. We have had multiple bear markets over time. And some of them go WAY BEYOND 20%.

The recent pullback is nowhere near as bad as we have seen historically. If you want to EARN the long-term returns of the market, you HAVE TO accept these short-term drawdowns.
Is recovery of any drawdown guaranteed? Nope. But I have massive amounts of faith that the market will continue to recover after downturns. That's because of two "truths" that I believe in:
20 years from now there will be more people on this earth.
20 years from now the world economy will be bigger than it is today.
If I'm right on these two things—and I believe I will be—it follows that the market will be higher over the long term.
What Happens After a Bear Market?
While there are no guarantees of what will happen, we can look at what has happened historically:

Historically we have seen great performance in the 1, 3, and 5 years succeeding a bear market. Will this trend continue? I believe so—but only time will tell!
Another Option?
The key to me is that there is NOT—in my opinion—a better option than sticking with "the market." That's because I view the market a little differently than most:
The market is the collection of the intellectual capabilities of humanity.
I view ownership of stocks as investing in the value of humans. And I see massive value in humans! Buying into the market means you are buying into the creativity that lives inside of mankind—a good investment in my opinion!
You can read more about the recent bear market and how it compares to historical bear markets here.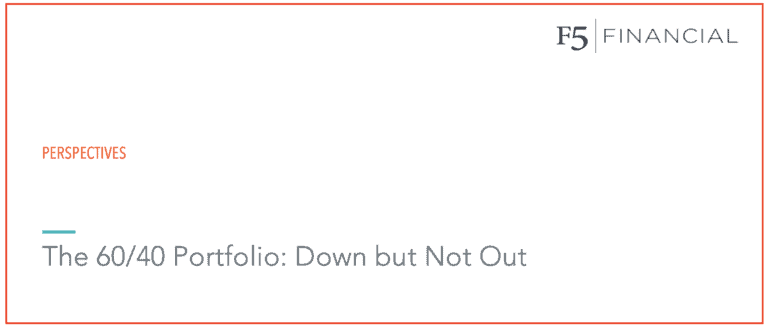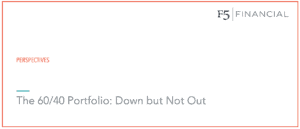 Would You Like More Support?
---
Do you have a well-defined Investment Policy Strategy that is used to drive your investments in support of a comprehensive financial plan?
---
If not, would you like to partner with someone who is used to helping people get through these struggles and (then, with confidence) implement portfolio strategies in a systematic manner while focusing on your desired outcomes?
---
If so, feel free to send us an email or give us a call. We'd love to have the opportunity to help you find a bit more peace of mind when it comes to investing.
Image credits (top to bottom):rawpixel.com, Dimensional Fund Advisors, Dimensional Fund Advisors
F5 Financial
F5 Financial is a fee-only wealth management firm with a holistic approach to financial planning, personal goals, and behavioral change. Through our F5 Process, we provide insight and tailored strategies that inspire and equip our clients to enjoy a life of significance and financial freedom.
F5 Financial provides fee-only financial planning services to Naperville, Plainfield, Bolingbrook, Aurora, Oswego, Geneva, St. Charles, Wheaton, Glen Ellyn, Lisle, Chicago and the surrounding communities; to McDonough, Henry County, Fayette County, Atlanta and the surrounding communities; to Venice, Sarasota, Fort Myers, Port Charlotte, Cape Coral, Osprey, North Port, and the surrounding communities; and nationally.
We'd love to have the opportunity to hear about your situation. Contact us here to schedule an appointment for a consultation.
---
Helping You With
Wealth Preservation – Wealth Enhancement – Wealth Transfer – Wealth Protection – Charitable Giving
Sign up for our newsletter to get insights on investing and financial planning.