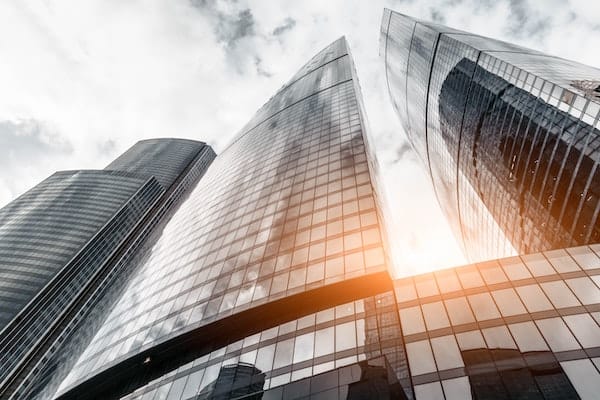 Understanding Emerging Markets
By: Curt Stowers
First, a disclaimer
Let's start with a disclaimer today—unless we are your advisor, you should not take any of what follows as advice. You should consult your tax and investment advisor prior to making any investment decisions. What follows is provided for the purpose of education.
Understanding asset classes
One of the principles of investing that is widely followed is to invest in a diverse set of asset classes. Asset classes can be described in a number of ways. One of the most common is by geography. Another is by economic development level of countries. The emerging market asset class is made up of countries that are becoming more engaged in global markets as they grow.
Countries such as Brazil, China, India, Russia, etc. are included in this asset class. As a rule, over the long term, investments in these countries have produced higher returns AND higher volatility. HOWEVER, rules are made to be broken: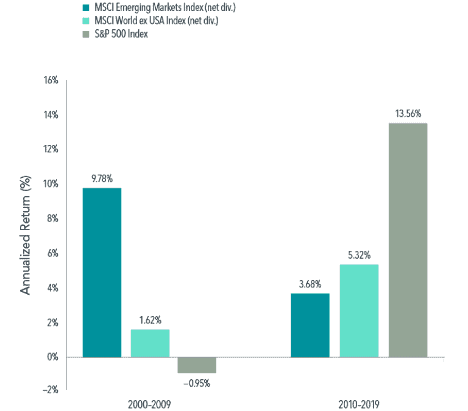 The chart above shows the relative performance of emerging markets, developed markets outside the US, and the S&P 500 index. For the decade of 2000-2009 emerging markets "delivered" on the promise of higher returns. For the decade of 2010-2019 it did not. Looking at things a bit over the longer term you can see that ON AVERAGE emerging markets have delivered slightly higher returns:

From 1988 to 2019 the MSCI Emerging Markets Index (gross div.) had an annualized return of 10.7% over this period. That exceeded the 5.9% annualized return for the MSCI World ex USA Index (gross div.) and was similar to the 10.8% average annualized return for the S&P 500, even when including the recent decade of strong performance of the US equity market.
DISCLAIMER: PAST PERFORMANCE IS NOT A GUARANTEE OF FUTURE RESULTS!
What's the Conclusion?
There are MANY possible conclusions that can be drawn from the above data. I would offer that one possible—and widely supported—conclusion is that emerging markets can and should play a part in a well-developed Investment Policy Strategy (IPS).
I would also offer that, in addition to the data, the "sniff test" argues for their inclusion in a well-developed IPS. If you look at emerging markets, they are by definition "emerging." There are a huge number of families in these countries that are anxious to move "up the ladder" financially. As such, it makes sense to me that we would see strong economic growth in these countries. However, it also makes sense that, with that growth, there will come "growing pains."
You can read more about this topic in the attached article.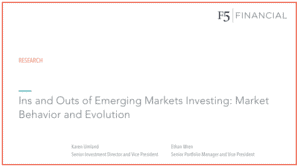 Would You Like More Support?
---
Do you have a well-defined Investment Policy Strategy that is used to drive your investments in support of a comprehensive financial plan?
---
If not, would you like to partner with someone who is used to helping people get through these struggles and (then, with confidence) implement portfolio strategies in a systematic manner while focusing on your desired outcomes?
---
If so, feel free to send us an email or give us a call. We'd love to have the opportunity to help you find a bit more peace of mind when it comes to investing.
Photo credit: Christian Wiediger on unsplash.com
F5 Financial
F5 Financial is a fee-only wealth management firm with a holistic approach to financial planning, personal goals, and behavioral change. Through our F5 Process, we provide insight and tailored strategies that inspire and equip our clients to enjoy a life of significance and financial freedom.
F5 Financial provides fee-only financial planning services to Naperville, Plainfield, Bolingbrook, Aurora, Oswego, Geneva, St. Charles, Wheaton, Glen Ellyn, Lisle, Chicago and the surrounding communities; to McDonough, Henry County, Fayette County, Atlanta and the surrounding communities; to Venice, Sarasota, Fort Myers, Port Charlotte, Cape Coral, Osprey, North Port, and the surrounding communities; and nationally.
We'd love to have the opportunity to hear about your situation. Contact us here to schedule an appointment for a consultation.
---
Helping You With
Wealth Preservation – Wealth Enhancement – Wealth Transfer – Wealth Protection – Charitable Giving