Naperville's 3 Areas to Explore
Click on the highlighted areas to reveal more information about each neighborhood.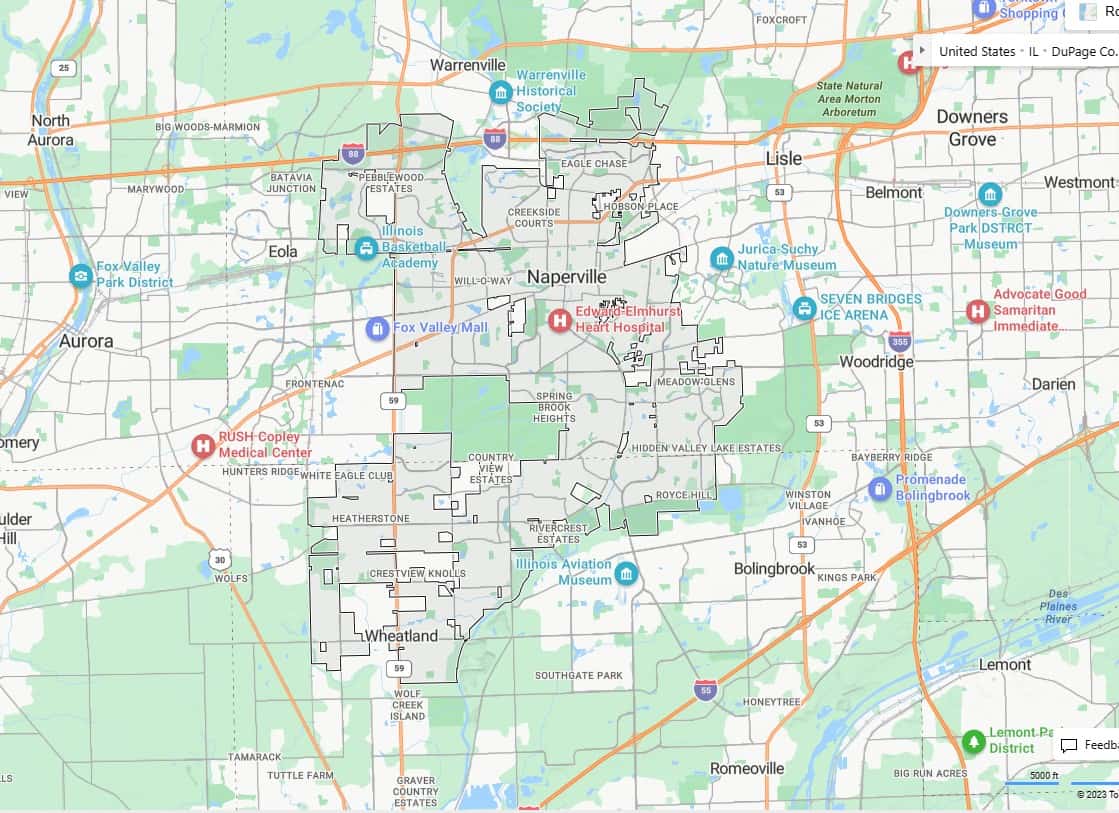 North of 75th Street
Neighborhoods:
Murdock Estates

Cress Creek Commons

Laura Court

Barclay Manor

Kings Terrace

Olesen Estates

Deepwood

Fairway of Country Lakes

Fairmeadow

Lakewood Crossing

Knoll of Hunntington

Woods of River Valley
Attractions:
South of 75th Street
Neighborhoods:
Rivercrest Estate

Hidden Valley Lake Estates

Country View Estates

Crestwood Knolls

Heatherstone

Riverrun

Springbrook Heights

Wind Ridge

River Oaks

Summer Field
Attractions:
Downtown Naperville
Naperville's thriving downtown is recognized as one of the most popular destinations to visit and (places to live) in the Midwest.
The Naperville Riverwalk

:




Known as the Crown Jewel of Naperville, the 2-mile Riverwalk is visited by travelers near and far, eager to unwind and reflect. Stroll the brick paved winding paths and discover covered bridges, fountains, landscaping, sculptures, and distinctive shepherd's crook light poles that serve as a connection to Naperville's historic past. After, get comfy riverside at one of the 32 delicious restaurant options, many with a great view of the river.

Naper Settlement

: Naperville's rich history is on full display in the heart of downtown with an outdoor 12-acre museum preserving, celebrating, and showcasing Naperville's past from its founding in the 19th century up to present day.  With "villagers" in costume, plenty of special exhibits, historic buildings, and artifacts, residents and visitors can appreciate a proud town in all its glory.