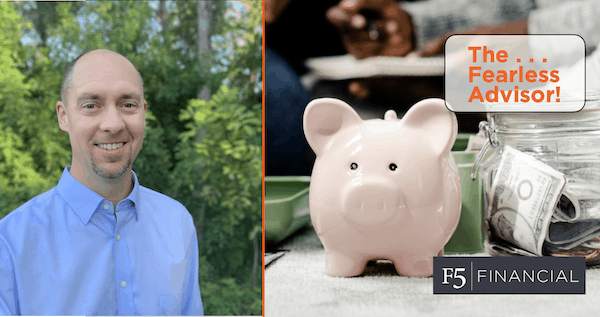 Boundaries in Life and Finance
By: Josh Duncan
Are you living boundaryless?
Today the Fearless Advisor discusses how to set boundaries in health & finance—along with root causes for why you may be living boundaryless!
(The video is 4 minutes. Full transcript is below.)
Full Transcript of video
Hey friends, the Fearless Advisor here. Today I am going to discuss the value of boundaries.
What comes to mind when you hear the word "boundaries"? Do you think of something positive or negative? Would you say you have established boundaries in your life?
What are boundaries?
Boundaries are important to understanding where something begins and ends. Boundaries also define where a person or thing can or cannot go. This brings my kids to mind. When they were younger and learning to ride their bicycles, their mother and I set a boundary, so they knew where they could safely ride. This was very effective.
Where are you living boundaryless?
As I look at my life, I recognize places where boundaries have been effective and places where I am living boundaryless. One positive boundary I have set is exercising. I do a good job exercising six days per week. Where I do not maintain good boundaries is within my diet. I struggle to eat for fuel and not for fun. Good food is fun for me.
One common boundary in personal finances is a budget or spending plan.
One common boundary in personal finances is a budget or spending plan. Most people would agree that making a plan for where your money will be spent over the next year is a good idea. The execution of creating a budget is where things fall off the tracks. Then, reviewing spending on a regular basis is even less likely to happen. Why is this?
Lack of Boundaries: Root cause #1 - FOMO
I believe one of the root causes is the fear of missing out or FOMO. There is so much to experience and do that we do not want to miss it. We do not like to say "no" to many of the exciting things happening all around us. FOMO is correlated to the old saying, "keeping up with the Joneses." This is the idea of continuing to accumulate stuff as we see those around us accumulate. Giving in to this temptation can cause debt to mount up and can strain all the relationships within the family.
Lack of Boundaries: Root cause #2 - Convenience
Another root cause of not having boundaries in our finances is busyness and the value convenience presents to us. For example, running from work to soccer practice to home a few times per week makes the drive-through an easy choice—or using the Amazon app to order the next thing we want and having it delivered within two days to our home. This starts to blur the line between what we actually need versus what we simply want.
Boundaries for the health of our health and the health of our families and finances
Setting boundaries on our time and our finances could be helpful for our health and the health of our families and finances. This is not an easy task and will require us to intentionally stop to focus on where we are today and where we want to be. This is one of those formulas that doesn't make sense on the surface. The thought goes like this: "Spending time to plan will slow me down when there is already so much to do." That is the enemy attacking your thoughts. Don't fall for this.
How to begin: Where do you feel out of control?
If you are interested in making progress through boundaries, schedule time to think about where you can set some boundaries in your life. Where do you feel out of control? Prioritize the top one to three areas where adding boundaries will add the most value to your life. It's best to work on these with your spouse or a trusted friend who can work with you and hold you accountable. Setting more healthy boundaries in life will help us live more freely.
We are here to support you.
If you need assistance or have questions about establishing boundaries, the team here at F5 Financial would be happy to support your family. Thanks for joining us!
Photo credit: rawpixel.com
---
Most recent video blog post:
F5 Financial
F5 Financial is a fee-only wealth management firm with a holistic approach to financial planning, personal goals, and behavioral change. Through our F5 Process, we provide insight and tailored strategies that inspire and equip our clients to enjoy a life of significance and financial freedom.
F5 Financial provides fee-only financial planning services to Naperville, Plainfield, Bolingbrook, Aurora, Oswego, Geneva, St. Charles, Wheaton, Glen Ellyn, Lisle, Chicago and the surrounding communities; to McDonough, Henry County, Fayette County, Atlanta and the surrounding communities; to Venice, Sarasota, Fort Myers, Port Charlotte, Cape Coral, Osprey, North Port, and the surrounding communities; and nationally.
We'd love to have the opportunity to hear about your situation. Contact us here to schedule an appointment for a consultation.
---
Helping You With
Wealth Preservation – Wealth Enhancement – Wealth Transfer – Wealth Protection – Charitable Giving