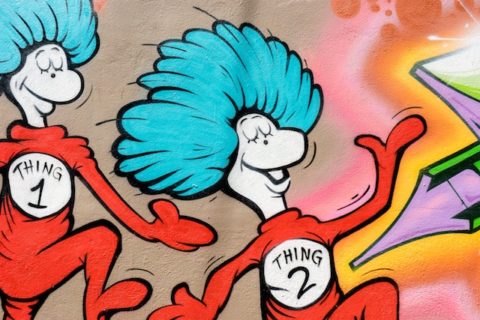 Investing 101 – Smart Advice from Dr. Seuss
Last Updated June 16, 2018
|
A few weeks back, I came across a post from James Clear related to how Dr. Seuss came to write his famous Green Eggs and Ham book. (You can access the blog post here.)
It turns out that Theo Geisel took a $50 bet that he could write an entertaining kid's book with only 50 words. He won. Big time.
So what does that have to do with investing?
Simple: I believe that you can build a killer investment strategy using ONLY six investments! Not only do I believe this, I implement this strategy with my clients.
Too good to be true? I don't think so. Portfolio theory tells us that we want to build an investment portfolio by purchasing a number of assets in different classes. To me, the key classes for US based investors are:
The US market
The developed international market
The emerging international market
The real estate market
The fixed income market
If you "mix and match" amongst these five classes, you are totally capable of building an extremely well diversified portfolio. Further, if you do your research well, you can find a SINGLE solid investment choice for each asset classes – normally a mutual fund. Five classes, five securities. Good to go.
A quick test for the astute reader: Did you see the sleight of hand here? I actually suggested using SIX investments not five! So where is the other investment that I recommend/use?
It is in the US market – I like to leverage the persistent size, value and profitability premiums and introduce two US holdings.
For the "do-it-yourself" reader, I would encourage you to run some numbers using these asset classes. For the reader who is NOT familiar with asset classes and the methodology that you would/could use to build such a portfolio, I would encourage you to seek out professional help with your investments and financial planning.
Would you like to whittle your portfolio down to a handful of investments that you actually understand?
If so, would you like to partner with someone who has experience building simple, easy to understand investment portfolios?
Feel free to send us an email or give us a call. We'd love to have the opportunity to hear about your situation and your thoughts on this post.
---
About F5 Financial 
F5 Financial is a fee-only wealth management firm with a holistic approach to financial planning, personal goals, and behavioral change. We provide insight and tailored strategies that inspire and equip our clients to enjoy a life of significance and financial freedom.
F5 Financial: What We Do
Our process begins with your goals and vision. We then lead the execution of your financial plan. That includes cash flow management, insurance, taxes, your work benefits, education planning, and your investment management.
F5 Financial was established to help individuals discover harmony in the most important aspects of their lives. It is our believe that a life Freedom and Significance is founded upon a deliberate lifestyle of creating harmony and balance between the Five Fs; Faith, Friends, Family, Fitness, and Finance.
We challenge our clients and push them to grow as individuals and we hold them accountable to follow through on what they know is in their best interests. Our job is to make sure you have security, simplicity, and success related to all the financial aspects of your life. Read more . . .
Photo credit: Scott Webb on unsplash.com (image of street art found in Toronto, Ontario)
Some other posts that you might like:
Want access to additional information on DFA? Click Here to Join Our Mailing List and receive access to a private page with more information.
We'd Be Happy To Share More Information With You. Click Here If You Would Like To Join Our Mailing List.
---
F5 Financial provides fee-only financial planning services to Naperville, Plainfield, Bolingbrook, Aurora, Oswego, Geneva, St. Charles, Wheaton, Glen Ellyn, Lisle, Chicago and the surrounding communities.  Curt Stowers is a fee-only financial planner. He has passed the CFP® examination.  Contact or visit Curt at his Naperville location.
We'd love to have the opportunity to hear about your situation. Send us an email or give us a call to find out more about next steps.
---
Helping You With:
Wealth Preservation – Wealth Enhancement – Wealth Transfer – Wealth Protection – Charitable Giving
Visit Us At:
50 South Main, Suite 200 Naperville, IL 60540
Contact Us At:
(630) 474-5213
info@f5fp.com