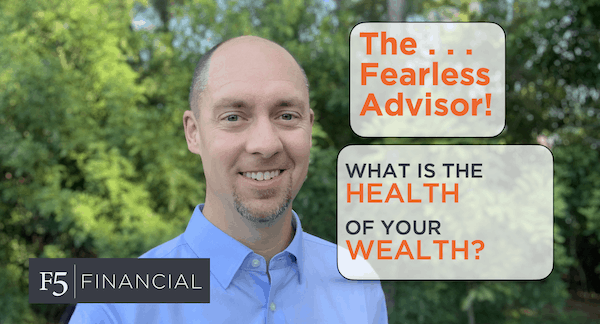 What is the Health of your Wealth?
By: Josh Duncan
Today the Fearless Advisor asks 2 key questions:
When was the last time you viewed your wealth in the same light as your health?
And, is your wealth living up to its fullest potential?
(The video is less than 6 minutes. Full transcript is below.)
Full Transcript of video
Hey friends, the Fearless Advisor here. Today I am going to discuss the health of your wealth.
How well are you sticking to your resolutions?
Well, here we are at the beginning of another year, and new year's resolutions abound. Many resolutions are still on track. It is common for new year's resolutions to focus on improved health, such as losing weight and eating healthier. Being as healthy as possible can lead to a life of limited health issues and greater longevity. This coincides with the fourth "F" of our firm, fitness.
Now, when was the last time you viewed your finances or wealth in the same light as your health? What does this even mean? How can you tell if your wealth is living to its fullest potential?
Wealth does not mean swimming in money.
Before I move on, let me share that wealth does not mean you have millions of dollars piled up like Scrooge McDuck. We all have different levels of wealth, which is a result of many outcomes in our lives. Regardless of how much we have, we all can strive to have healthy finances.
What is the current state of your health?
Understanding the health of your wealth is much like embarking on any project: you have to assess where you are today—your current state. This includes knowing your net and gross income, the amount you are saving toward retirement, and one of the most challenging, your expenses. Basically, how much is coming into your bank account and how much is going out? This is cash flow.
Cash flow is the lifeblood of your financial health.
This can be a challenging exercise, as we can have many expenses during the busy years of life. However, cash flow is the lifeblood of your financial health. Like with our health, it may take many years before we realize how our habits impact us, either positively or negatively.
Stocks and bonds and mutual funds, oh my!
The next area to review is your investments. What investments do you own, and how are they positioned to meet your goals? There are so many stocks, bonds, and mutual funds to choose from that this can be a challenging task. However, investments have varying expenses, objectives, and management philosophies, and understanding how they are working for you is in your best interest.
Even taxes have an impact on the health of your wealth.
Taxes are another area of your wealth where good health is important. I have yet to meet anyone who likes to pay taxes but have met many people who like to fully maximize the tax laws to their advantage. The opportunities in this area will vary depending on how you earn income and the deductions and credits you are eligible for.
Financially protecting your family from disaster is easily overlooked.
Protecting your wealth is often overlooked in the busyness of life. This area refers to insurance—protecting your family from low probability events that are devastating. For example, do you have the right amount of auto insurance in the event that you cause an accident? Will your family be able to maintain the same lifestyle should you pass unexpectedly?
Do not fear the unknown, plan for it!
Finally, consider how your wealth and legacy are protected legally. This can include passing your business on to your family and your estate to your surviving heirs. Do you have a will or living trust? How about powers of attorney and a healthcare directive? Who will care for your minor children should you and your spouse pass unexpectedly? This section requires very important decisions to be made for your family.
After assessing the health of your wealth, it is time to act.
At this point I have only discussed how to assess the health of your wealth. The next step is to determine the actions necessary to tune up your health in these areas. Do you need to save more for retirement for the future and tax deferral? Do you need to meet with an attorney to complete your estate plan?
Professionals can help you take the necessary actions to improve the health of your wealth.
Taking the necessary next steps is easy for some and a challenge for others. If you know you will need help improving the health of your wealth, consider hiring a professional to support you in this journey. A fee-only financial planner is a great place to start, as they can verify your assessment of the health of your wealth, determine the necessary actions, and implement the actions with you.
Set a personal goal to start working on one area of your wealth.
This is no small task for anyone and there is plenty of help available. Take the first step to assess the health of your wealth. Take a deep breath and connect with someone who can help you succeed. You do not have to take this journey alone!
The team at F5 Financial is ready to help!
If you need assistance or have questions about the health of your wealth, the team here at F5 Financial Planning would be happy to support your family. Thanks for joining us!
Photo credit: F5 Financial
---
Most recent video blog post:
Investing with Faith over Fear
F5 Financial
F5 Financial is a fee-only wealth management firm with a holistic approach to financial planning, personal goals, and behavioral change. Through our F5 Process, we provide insight and tailored strategies that inspire and equip our clients to enjoy a life of significance and financial freedom.
F5 Financial provides fee-only financial planning services to Naperville, Plainfield, Bolingbrook, Aurora, Oswego, Geneva, St. Charles, Wheaton, Glen Ellyn, Lisle, Chicago and the surrounding communities; to McDonough, Henry County, Fayette County, Atlanta and the surrounding communities; to Venice, Sarasota, Fort Myers, Port Charlotte, Cape Coral, Osprey, North Port, and the surrounding communities; and nationally.
We'd love to have the opportunity to hear about your situation. Contact us here to schedule an appointment for a consultation.
---
Helping You With
Wealth Preservation – Wealth Enhancement – Wealth Transfer – Wealth Protection – Charitable Giving