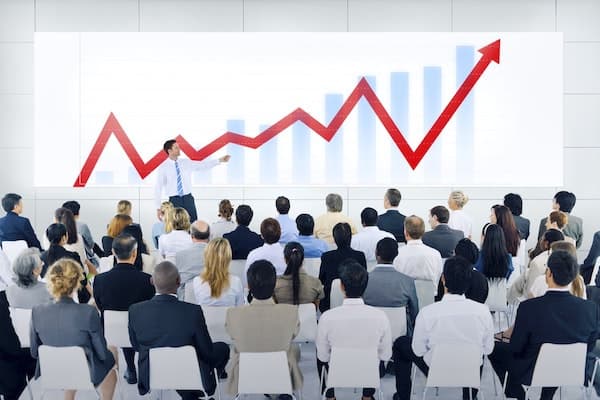 The Bumpy Road to the Stock Market's Long-Term Average
By: Curt Stowers
Modeling and the Stock Market
Back in college I focused on modeling in the deterministic versus the stochastic space. How does this relate to the stock market? These two big words boil down to the following at a high level:
Deterministic – The facts and data lead to a single potential outcome.
Stochastic – The facts and data lead to a multitude of potential outcomes each with their own probability.
I like certainty. And so do most investors. I cannot begin to tell you how many people have asked me if I know of somewhere they can invest and get a "regular" 8-10% return with no risk. My answer has always been the same: "No, but if you find it, please let me know so I can consider it as well!"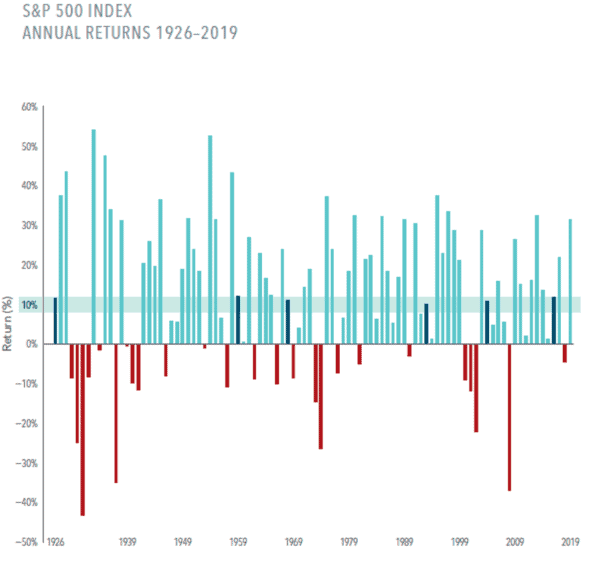 The Stock Market is Never Average!
Consider the chart above of annual S&P 500 returns from 1926 to 2019. While the average return has been right around 10%, only six times in the past 94 years has the return been within +/- 2% band of 10%!
The market is never average.
Some other facts on this period:
Yearly returns have been as high as 54% and as low as down 43%.
Since 1926, annual returns have been positive 69 times and negative 25 times.
The above certainly supports the assertion that volatility is one of the trademarks of financial markets.
What's the point of this? Simply this: When or if you decide to invest in equities markets, you need to understand their behavior and set your expectations accordingly. While a long-term average return for a portfolio may be ten percent, expecting to see annual returns "in the ballpark" of ten percent for that portfolio is not reasonable. If an investor goes in with unrealistic expectations, they are likely to become frustrated and NOT stay the course—which is the recipe for a poor experience for all parties involved.
You can grab a link to a one-page download on this topic at this link.

Would You Like More Support?
---
Do you have a well-defined Investment Policy Strategy that is used to drive your investments in support of a comprehensive financial plan?
---
If not, would you like to partner with someone who is used to helping people get through these struggles and (then, with confidence) implement portfolio strategies in a systematic manner while focusing on your desired outcomes?
---
If so, feel free to send us an email or give us a call. We'd love to have the opportunity to help you find a bit more peace of mind when it comes to investing.
Photo credit: Rawpixel.com
F5 Financial
F5 Financial is a fee-only wealth management firm with a holistic approach to financial planning, personal goals, and behavioral change. Through our F5 Process, we provide insight and tailored strategies that inspire and equip our clients to enjoy a life of significance and financial freedom.
F5 Financial provides fee-only financial planning services to Naperville, Plainfield, Bolingbrook, Aurora, Oswego, Geneva, St. Charles, Wheaton, Glen Ellyn, Lisle, Chicago and the surrounding communities; to McDonough, Henry County, Fayette County, Atlanta and the surrounding communities; to Venice, Sarasota, Fort Myers, Port Charlotte, Cape Coral, Osprey, North Port, and the surrounding communities; and nationally.
We'd love to have the opportunity to hear about your situation. Contact us here to schedule an appointment for a consultation.
---
Helping You With
Wealth Preservation – Wealth Enhancement – Wealth Transfer – Wealth Protection – Charitable Giving