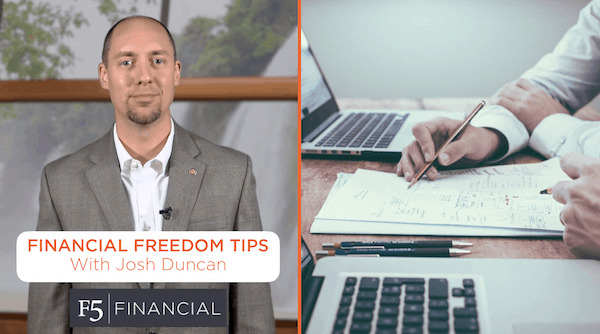 Investment Policy Statement – What it is and why you need one
By: Curt Stowers
In this week's video, we explain the IPS.
An Investment Policy Statement (IPS) defines the purpose of your investments, helps you evaluate your risk logically, and reduces your stress—especially when the market is down.
(The video is 4 minutes. Full transcript is below.)
Full Transcript of video
Hello, I'm Josh Duncan with SCB News bringing you this edition of Financial Freedom. The purpose of Financial Freedom is to provide tips to help you achieve financial freedom for personal significance.
Lately, I have had clients asking about the positioning of their investments due to movement in stock market returns and global events. They may ask questions like, "Is it time to shift in the directions of stocks?" Or, "Should we move some money to bonds?" The extreme question is, "Should we get out of the market and wait for this to pass?"
Have you ever asked yourself any of these questions? Do you wonder about when you should move your investments around? With the 24-hour news cycle, it's easy to get wrapped up in this stressful thinking. How do you even know if you are invested in a way that makes you comfortable while being able to achieve your goals?
How an Investment Policy Statement reduces your stress
When it comes to investing with a reactionary method, you are wasting good energy on something that is unlikely to pay off. Think about it, by the time we receive information, no matter how fast your internet speed, it's old! This behavior results in unnecessary stress.
If you want to reduce or eliminate this stress,

you should consider developing an Investment Policy Statement.
If you want to reduce or eliminate this stress, you should consider developing an investment policy statement or IPS. The purpose of an IPS is to document a strategy for your investments that aligns with your long-term goals.
Common Goals include retirement or your child's education
Financial advisors can help you create a financial plan for meeting your goals. Common goals include retirement and saving for you child's education. Each of these goals includes investing in the stock market to grow your savings beyond your original investment.
Developing your investment policy statement requires you to understand how comfortable you are with movements in the market. Loosing sleep over market movement is not healthy. In reality, you may not fully understand how you will feel until a large downward move happens. However, you need to set a plan now, so you don't make emotional decisions when your investment account does temporarily decrease!
The Investment Policy Statement defines the purpose of your investments
The IPS defines the purpose of your investments, time horizon they will be invested, and how your investments will be allocated between stocks and bonds. Target percentages for each asset class are established.
When you experience that temporary decrease, you may want to make changes. This is where the IPS comes in. You have established a plan, while you were NOT emotional, to guide you in an emotional setting.
For example, a client called once wanting to discuss the impact of a then current global issue. The market was down and so was his portfolio. We discussed the issue and whether any changes needed to be made. Our decision was very easy. Since his portfolio was still within tolerance of the targets we set, we did not make any changes.
For those investors who are comfortable setting and forgetting, please review your investments annually at a minimum. This way you can rebalance to the targets set in your investment policy statement. Many 401k's have the feature of an auto-rebalance you can set for different frequencies.
An advisor can help protect you from your own emotional reactions
An IPS is an important document to have when investing for a goal. If you do not feel comfortable creating your own IPS, reach out to a financial advisor to help you. We are emotional creatures, and this is one area where we need to protect ourselves from our emotional reactions.
Thank you for joining me for Financial Freedom. I'm Josh Duncan, Financial Advisor with F5 Financial Planning, helping you achieve financial freedom for personal significance. Please contact me here to send topics you would like me to cover.. See you next time.
Photo credit: Scott Graham on unsplash.com
---
Most recent video blog post:
What is a 529 College Savings Plan?
F5 Financial
F5 Financial is a fee-only wealth management firm with a holistic approach to financial planning, personal goals, and behavioral change. Through our F5 Process, we provide insight and tailored strategies that inspire and equip our clients to enjoy a life of significance and financial freedom.
F5 Financial provides fee-only financial planning services to Naperville, Plainfield, Bolingbrook, Aurora, Oswego, Geneva, St. Charles, Wheaton, Glen Ellyn, Lisle, Chicago and the surrounding communities; to McDonough, Henry County, Fayette County, Atlanta and the surrounding communities; to Venice, Sarasota, Fort Myers, Port Charlotte, Cape Coral, Osprey, North Port, and the surrounding communities; and nationally.
We'd love to have the opportunity to hear about your situation. Contact us here to schedule an appointment for a consultation.
---
Helping You With
Wealth Preservation – Wealth Enhancement – Wealth Transfer – Wealth Protection – Charitable Giving