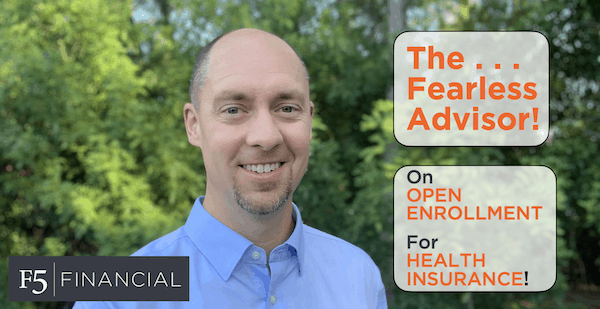 Open Enrollment for Health Insurance Benefits
By: Josh Duncan
Do you have questions about your open enrollment options?
Today the Fearless Advisor discusses the common health insurance benefits you may see during this open enrollment season.
(The video is 4 minutes. Full transcript is below.)
Full Transcript of video
Hey friends, the Fearless Advisor here. Today I am going to discuss open enrollment for your health insurance.
Preparing for open enrollment is key to the success of your financial plan.
The season of open enrollment is upon us and I have been having discussions with our clients regarding benefits. There are so many great benefit options available today. All these options can make you just choose the same benefits you had last year. However, this may not be the best option for you. Let's review the health benefits we see offered by many large companies."
All these options can make you just choose
the same benefits you had last year.
However, this may not be the best option for you.
Most of us are familiar with the health insurance options. Broadly, this includes coverage for medical, prescription, dental, and vision. Dental and vision plan coverage is common across many companies. However, medical plans can have one or many options that include HMO and PPO plans. When considering the best health plan for your family, consider your planned expenses for the upcoming year.
HMO plans have lower premiums and deductibles but limited options.
HMO's or Health Maintenance Organizations will have lower premiums and deductibles, but your provider options will be more restrictive. Additionally, all your care must be coordinated through a primary care physician. HMO's will have the lowest out-of-pocket costs per service.
PPO plans have higher premiums and deductibles but a wider selection of providers.
PPO's or Preferred Provider Organizations will have higher premiums and deductibles, but a wider selection of providers to choose from. Although PPO's will have higher out-of-pocket costs per service, if you have to use an out-of-network provider, you will not be required to pay 100% of the cost, unlike an HMO.
Benefits of a Health Savings Account (HSA) with a high-deductible PPO plan
Finally, there are high-deductible PPO plans that can use a Health Savings Account or HSA. The HSA allows you to save money for health expenses tax free. In 2021 a family can save up to $7,200 in an HSA, which is contributed from your paycheck. This means the family will not pay income tax for their contributions. Additionally, if the money is used for qualified medical expenses, the money will not be taxed when leaving the HSA. This is truly income tax-free money!
HSA's used properly are truly income tax-free money!
More great attributes of HSA's are that you do not have to spend all the money each year, the money can be invested for future growth, and the account can exist beyond your employment. So, even in retirement the HSA funds can be used to pay for medical expenses.
Flexible Spending Accounts – also pre-tax money, but typically must be spent by year end
Another savings plan commonly offered is a Flexible Savings Account or FSA. FSA's are funded with pre-tax money with an annual limit of $2,750 for 2021. Most plans require 100% of the money to be used within the calendar year or it's forfeited. There are two extension options employers can offer, either to allow $550 to carry over to the next year or allowing 2 ½ additional months for medical expenses.
There is an additional FSA for dependent care, which has an annual contribution limit of $5,000 for joint tax filers. Again, this is pre-tax money to use for dependent care, most commonly childcare.
We help our clients with due diligence on their employer benefits to prepare for open enrollment.
Although health insurance can be expensive, it's best to learn and understand what your employer offers for benefits. Not only do you share some of the cost with your employer, there are often tax savings options with HSA's and FSA's. Although I cannot cover all the details of these plans here, reach out to the benefit specialists at your company and your financial advisor to help understand your options.
Need a financial plan? Reach out to F5 Financial!
If you do not have a financial advisor that aligns with your goals to achieve freedom and significance, we would be happy to discuss your journey. Feel free to reach out to us at F5 Financial Planning. Thanks for joining us!
Photo credit: F5 Financial
---
Most recent Fearless Advisor video post:
F5 Financial
F5 Financial is a fee-only wealth management firm with a holistic approach to financial planning, personal goals, and behavioral change. Through our F5 Process, we provide insight and tailored strategies that inspire and equip our clients to enjoy a life of significance and financial freedom.
F5 Financial provides fee-only financial planning services to Naperville, Plainfield, Bolingbrook, Aurora, Oswego, Geneva, St. Charles, Wheaton, Glen Ellyn, Lisle, Chicago and the surrounding communities; to McDonough, Henry County, Fayette County, Atlanta and the surrounding communities; to Venice, Sarasota, Fort Myers, Port Charlotte, Cape Coral, Osprey, North Port, and the surrounding communities; and nationally.
We'd love to have the opportunity to hear about your situation. Contact us here to schedule an appointment for a consultation.
---
Helping You With
Wealth Preservation – Wealth Enhancement – Wealth Transfer – Wealth Protection – Charitable Giving