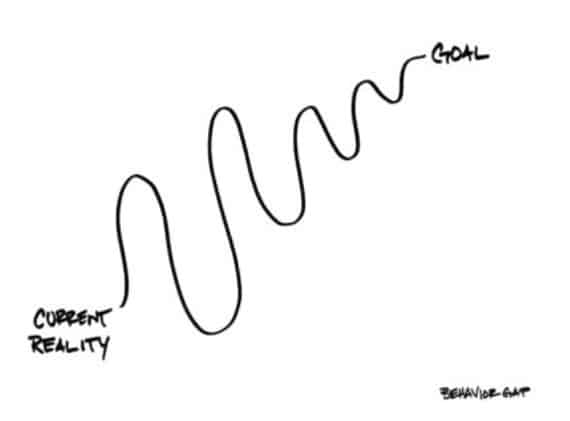 There Will Be Ups and Downs Along The Way – Investing in 12 Pictures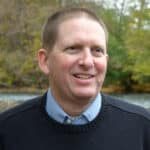 This lesson (understanding the "ups and downs") is the lesson that most people have the most difficulty with—and "fail" too often. Read on to learn more!
Back in 2014, Carl Richards at Behavior Gap was gracious enough to share twelve of his best graphics with anyone who wanted them for absolutely no charge. His hope was that financial advisors could take these images and use them to convey the importance of using a disciplined process to reach your investing goals.
I've taken Carl's images and used them to explain how to systematically approach investing based on these twelve pictures. Hopefully, they will help at least one individual take the necessary steps to reach their personal, professional, and financial goals.
Without further ado, picture number six . . .
There Will Be Ups and Downs Along The Way.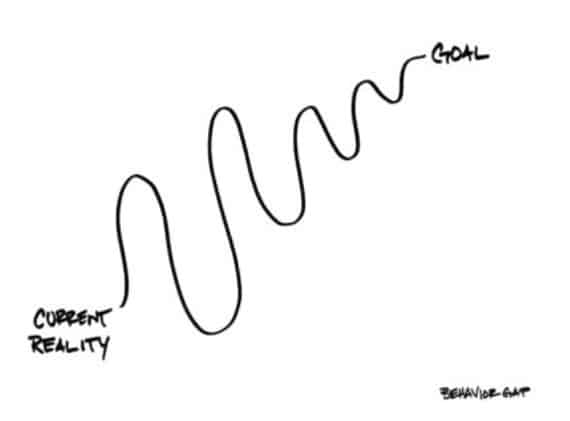 If you are going to be successful as an investor, you need to recognize early on that it is going to be a bumpy ride. While over the long term, investing in a diversified portfolio of stocks and bonds has normally turned out well, volatility is a reality when you are dealing with markets.
Carl Richard's graphic for today's lesson is absolutely perfect. There are three things that you need to notice in this graphic:
First, there is almost always a gap between your current reality and the goal you are seeking. In addition, that goal is almost always "higher" than your current reality.
Second, there is almost always a path from your current reality to the higher goal that you are seeking. This "upward trend" represents growth— be it personally, professionally, or financially.
Third, the path from your current reality is NOT linear. Rather, it contains numerous twists and turns along the way.
Too many people step into the world of investing with the misguided perception that you can "always win." That is not the case. You will experience "losses" along the way. However, those losses need not be permanent if you (i) keep your eyes on the goal and (ii) stick to the process.
Unfortunately, too many folks lose sight of the long-term goal and step away from investing—or step into investing!—at exactly the wrong time.
Successful investing is NOT linear. It IS full of ups and downs. However, history has shown that, over the long term, a diversified portfolio will experience growth and is often one of the best ways to help you achieve your financial goals.
Before you take the first step toward investing, you need to fully understand that there will be ups and downs along the way. While all of these "Investing in 12 Pictures" lessons are critical, this lesson is the one that most people have the most difficulty with—and "fail" too often.
---
Each month, for the next twelve months, I will be publishing another picture to help people understand the investment process.
If you have any questions about the topics covered in this post, feel free to reach out to me at any point in time. At F5 Financial, we enjoy working with entrepreneurs, corporate executives, and families to define their goals and make sure they have plans in place to execute and achieve those goals.
Investing in Twelve Pictures - Previous Posts:
Would You Like More Support?
---
Do you have a well-defined Investment Policy Strategy that is used to drive your investments in support of a comprehensive financial plan?
---
If not, would you like to partner with someone who is used to helping people get through these struggles and (then, with confidence) implement portfolio strategies in a systematic manner while focusing on your desired outcomes?
---
If so, feel free to send us an email or give us a call. We'd love to have the opportunity to help you find a bit more peace of mind when it comes to investing.
Illustration credit: Carl Richards (Behavior Gap)
F5 Financial
F5 Financial is a fee-only wealth management firm with a holistic approach to financial planning, personal goals, and behavioral change. Through our F5 Process, we provide insight and tailored strategies that inspire and equip our clients to enjoy a life of significance and financial freedom.
F5 Financial provides fee-only financial planning services to Naperville, Plainfield, Bolingbrook, Aurora, Oswego, Geneva, St. Charles, Wheaton, Glen Ellyn, Lisle, Chicago and the surrounding communities; to McDonough, Henry County, Fayette County, Atlanta and the surrounding communities; to Venice, Sarasota, Fort Myers, Port Charlotte, Cape Coral, Osprey, North Port, and the surrounding communities; and nationally.
We'd love to have the opportunity to hear about your situation. Contact us here to schedule an appointment for a consultation.
---
Helping You With
Wealth Preservation – Wealth Enhancement – Wealth Transfer – Wealth Protection – Charitable Giving
Sign up for our newsletter to get insights on investing and financial planning.