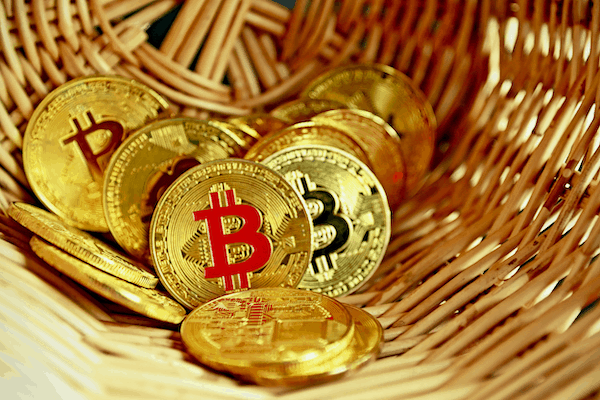 Tales from the Crypto – All About Bitcoin
By: Curt Stowers
Revisiting Bitcoin
A few weeks back I pulled together my thoughts on Bitcoin and shared them in this blogpost. The key points I wanted to emphasize were:
Bitcoins a currency.
Currencies are backed by the faith and credit of others.
Bitcoin behavior is highly volatile compared to other currencies.
There's some amazing technology behind cryptocurrencies that will deliver significant economic value, in my opinion.
After I put out the post, I came across another perspective on the same topic that I found worth sharing.
The Crypt
I really wish I had been clever enough to extract the "crypt" out of "crypto" and play on the concept! While I didn't, others did.
This article pointed out that bitcoin has proven extremely volatile with fluctuations of value in the +/- 40% range within one-month to two-month periods of time. This led the authors to make two major points:
Assets with such sharp swings in value may be "catnip" for traders, but are less than ideal as a medium of exchange.
Assets with such sharp swings are not extremely useful in risk reduction or as an inflation hedge.
They didn't declare Bitcoin "dead," but they did question what its life would look like going forward.
One of Many
One thing I did not emphasize that is worth noting is that there are now over 2000 unique cryptocurrencies in existence. Think about that for a moment. That's 2000 new forms of money that have come into existence in the last decade. Will some of them survive? I'm sure some will. Could one of them become the new global currency? It's always possible, but I'm not thinking that the US, the UK, the Eurozone, or China is going to be super supportive of this idea.
I encourage everyone to step back and think about this:
2000 new currencies
Fluctuations of +/-40% in value within one to two months.
Investing is about looking at long-term patterns and capturing persistent and pervasive returns. The economic value that is delivered by man's ingenuity in the forms of business is massive. I stand by my statement that the technology behind cryptocurrencies is already delivering value and will likely deliver more value. I liken the companies that are providing this infrastructure to the companies that provided supplies to the gold miners in the 1800's. They're the ones who made out well financially.
I'm not making investment recommendations here. I am suggesting that before you jump on this new fad, you take the time to do some additional research. The attached article is definitely worth a read.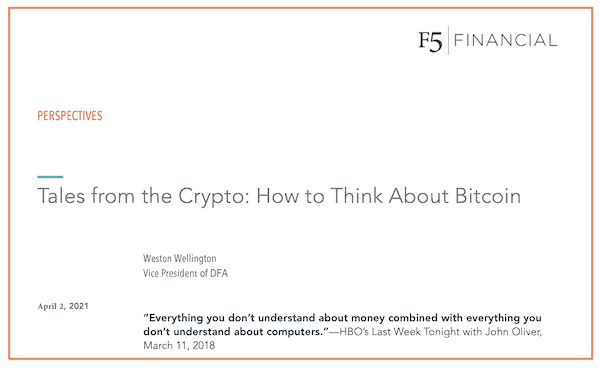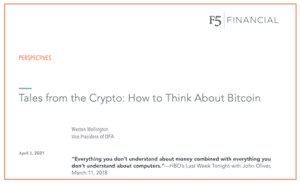 Would You Like More Support?
---
Do you have a well-defined Investment Policy Strategy that is used to drive your investments in support of a comprehensive financial plan?
---
If not, would you like to partner with someone who is used to helping people get through these struggles and (then, with confidence) implement portfolio strategies in a systematic manner while focusing on your desired outcomes?
---
If so, feel free to send us an email or give us a call. We'd love to have the opportunity to help you find a bit more peace of mind when it comes to investing.
Photo credit: Executium on unsplash.com
F5 Financial
F5 Financial is a fee-only wealth management firm with a holistic approach to financial planning, personal goals, and behavioral change. Through our F5 Process, we provide insight and tailored strategies that inspire and equip our clients to enjoy a life of significance and financial freedom.
F5 Financial provides fee-only financial planning services to Naperville, Plainfield, Bolingbrook, Aurora, Oswego, Geneva, St. Charles, Wheaton, Glen Ellyn, Lisle, Chicago and the surrounding communities; to McDonough, Henry County, Fayette County, Atlanta and the surrounding communities; to Venice, Sarasota, Fort Myers, Port Charlotte, Cape Coral, Osprey, North Port, and the surrounding communities; and nationally.
We'd love to have the opportunity to hear about your situation. Contact us here to schedule an appointment for a consultation.
---
Helping You With
Wealth Preservation – Wealth Enhancement – Wealth Transfer – Wealth Protection – Charitable Giving