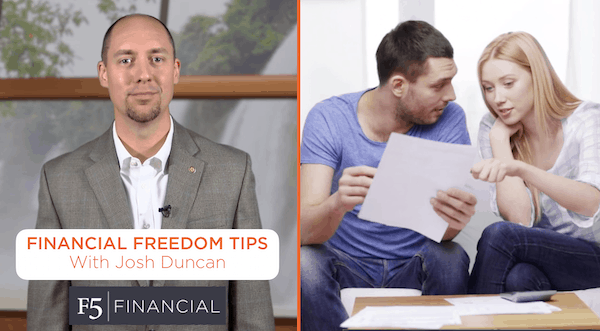 Disability Insurance – What You Need to Know
By: Josh Duncan
How much do you need?
Today I discuss disability insurance—do you need it? Icover the different types available (short-term and long-term), as well steps to evaluate your risk logically.
(The video is 4 minutes. Full transcript is below.)
Full Transcript of video
Hello, I'm Josh Duncan with SCB News bringing you this edition of Financial Freedom. The purpose of Financial Freedom is to provide tips to help you achieve financial freedom for personal significance.
One component to financial planning is ensuring your family is protected if an unexpected situation arises. An area I find often neglected is protecting income in the event of a disability. Your family's lifestyle could be significantly impacted if you were unable to earn an income for a long period of time.
Logic (not fear) can be used to put a good plan in place
Now, I'm not in the business of selling fear or products to curb fear. This is an area where logic can be used to put a good plan in place protecting a family's income. I'll even admit my caution of being insurance poor from a large sum of insurance premiums. So, let's take a look at the how disability insurance works.
Disability risk can be high, regardless of income size.
Before I do, I need to state the value of a family's income. Regardless of our ability to earn an income, we still have bills to pay and mouths to feed. Despite if a household has one or two wage earners, spending and saving typically reflects the household income. My point is the level of risk disability presents each family varies but the impact can be high, regardless of the amount of income. If a disability is severe enough, the family could be devastated financially and emotionally.
Short-term disability insurance
Disability insurance is categorized into short-term and long-term coverage. Both are designed to cover or replace a portion of your income. Short-term disability can be requested from one to fourteen days after an illness or injury occurs. This is called the waiting or elimination period. Typically, it will pay sixty to eighty percent of your gross income for thirteen to twenty-six weeks. The longest payout period is one year.
Long-term disability insurance
Once your medical provider clears you for work, the short-term disability insurance ceases and your regular income begins. However, if your injury or illness lasts longer than the defined short-term period, a long-term disability claim can be made. Long-term disability typically has a longer waiting period of ninety days, but this can be satisfied while receiving short-term disability.
Depending on the policy, long-term benefits can last to the age you begin receiving Social Security benefits. It will likely pay sixty percent of your gross income. If you want the income to increase with inflation, this will require higher premiums.
Protection for your occupation vs. any occupation
One aspect of long-term disability to pay attention to is whether it protects against being able to work in your regular occupation or any occupation. Receiving disability for not being able to work in your regular occupation is a higher level of coverage, as you still may be employable while receiving disability. This may allow your total income to be close to the same before the disabling injury or illness.
Claims process can be challenging.
With either short-term or long-term disability insurance, your doctor will be involved reviewing your situation and completing reports for the insurance company. The insurance company must ensure all people receiving benefits are indeed in a disabled situation. This is not as easy as a doctor stating you are disabled and claim checks just show up. The process is challenging and may require help from a loved one, friend, or advisor.
Many employers provide short-term and long-term disability as a benefit. Often short-term is covered by the employer while long-term requires additional premiums from the employee. Either way, the group rates are typically competitively priced.
All wage-earners encouraged to research available options
Private disability insurance can be purchased for those whose employer does not provide it or are self-employed. I would encourage everyone earning a wage to research the options available to them and consider the impact of losing their income due to disability.
Thank you for joining me for Financial Freedom. I'm Josh Duncan, Financial Advisor with F5 Financial Planning, helping you achieve financial freedom for personal significance. Please contact me here to send topics you would like me to cover. See you next time.
Photo credit: SCB TV (the producers of our video) on unsplash.com
---
Most recent video blog post:
F5 Financial
F5 Financial is a fee-only wealth management firm with a holistic approach to financial planning, personal goals, and behavioral change. Through our F5 Process, we provide insight and tailored strategies that inspire and equip our clients to enjoy a life of significance and financial freedom.
F5 Financial provides fee-only financial planning services to Naperville, Plainfield, Bolingbrook, Aurora, Oswego, Geneva, St. Charles, Wheaton, Glen Ellyn, Lisle, Chicago and the surrounding communities; to McDonough, Henry County, Fayette County, Atlanta and the surrounding communities; to Venice, Sarasota, Fort Myers, Port Charlotte, Cape Coral, Osprey, North Port, and the surrounding communities; and nationally.
We'd love to have the opportunity to hear about your situation. Contact us here to schedule an appointment for a consultation.
---
Helping You With
Wealth Preservation – Wealth Enhancement – Wealth Transfer – Wealth Protection – Charitable Giving