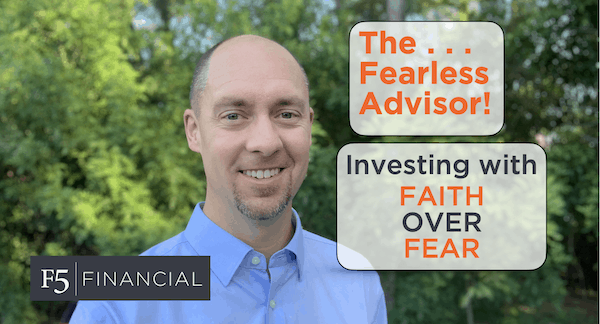 Investing with Faith over Fear
By: Josh Duncan
As 2020 has closed, I hear many people discussing their hope in the new year. We all have choices! What would it look like to invest with faith over fear?
(The video is less than 5 minutes. Full transcript is below.)
Full Transcript of video:
Hey friends, the Fearless Advisor here. Today I am going to discuss investing with faith over fear.
What hope do you have for 2021?
As 2020 has closed out, I hear many people discussing their hope in the new year. Of course, this hope for better is related to how we have allowed Coronavirus, politics, protests, natural disasters, and the stock market's response to these events to affect us.
We get to choose how we respond to events happening to and around us.
I am not debating whether or not any of these should have impacted us. There are some tragic events that happened in 2020. What I would like to highlight is that we have a choice about how we respond to these events. This includes how we respond in our investment decisions.
Focusing on how our emotions impact our actions can help maintain positive relationships.
When I read the top news stories throughout the day, I have to pay attention to my emotional reactions. It is easy for me to become angry or sad over a headline. If I am not careful this will quickly bleed over into my other work and conversations—not good for me or those I am interacting with.
Negative emotions are often rooted in fear.
These emotions of mine come from fear: fear of events not happening the way I want them to; fear based on my perspective of the world, while not considering the perspectives of others; or fear rooted in selfishness. These fears can dictate beliefs about investing as well.
Fear is real and, if allowed, can assist in making destructive decisions.
Webster defines fear as, "an unpleasant often strong emotion caused by anticipation or awareness of danger." What fears do you have about your investments? Fear you will lose all your money? Fear you will not outperform your friend's investments? Fear of not choosing the best investments?
Where do you believe the money you possess comes from?
What would it look like to invest with faith over fear? I see two components to investing with faith. First, I have to determine where I believe the money I possess comes from. As a Christian I believe God owns everything. Therefore, this makes me a steward of the resources he has provided. As a steward I have access to monetary resources and will have to give an account for how I used them.
Taking action is required to implement any plan. Don't let fear hold you back.
The second component is taking action. Many of us have done the work to learn the fundamentals of good financial stewardship and investing. However, how often do we put what we have learned into practice? I am guilty of this in many areas of my life, not just financial stewardship.
The Parable of the Talents highlights proper stewardship of wealth.
Take a look at the parable of the talents found in Matthew 25 of the Bible. The master who leaves on a journey entrusts his wealth and possessions to three of his servants. Two of the servants take the right action and invest their portions of the wealth and they multiply. One servant buries his portion and returns the same amount to his master. He took the wrong action by not putting his talent to work.
Set goals worth achieving and make a plan to succeed!
Without reading too much between the lines, it seems to me that the two servants who invested their wealth made plans to grow their wealth. Then, they executed on the plan. The remaining servant made a plan with the goal of not losing anything. Could this have been a result of fear?
Turing the page on a calendar will only change the month of the year.
Let me encourage you today to think about where your hope lies. Is this hope helping you live out of fear or faith? Living and investing out of faith will help you determine your foundation and the actions that should follow. I can attest living out of faith is not an easy road to follow. However, I also know that the outcome is worth the work.
We enjoy helping others invest out of faith over fear!
If you need assistance or have questions about investing out of faith, the team here at F5 Financial Planning would be happy to support your family. Thanks for joining us!
Photo credit: F5 Financial
---
Most recent Fearless Advisor video post:
How Diversified Should My Investments Be?
F5 Financial
F5 Financial is a fee-only wealth management firm with a holistic approach to financial planning, personal goals, and behavioral change. Through our F5 Process, we provide insight and tailored strategies that inspire and equip our clients to enjoy a life of significance and financial freedom.
F5 Financial provides fee-only financial planning services to Naperville, Plainfield, Bolingbrook, Aurora, Oswego, Geneva, St. Charles, Wheaton, Glen Ellyn, Lisle, Chicago and the surrounding communities; to McDonough, Henry County, Fayette County, Atlanta and the surrounding communities; to Venice, Sarasota, Fort Myers, Port Charlotte, Cape Coral, Osprey, North Port, and the surrounding communities; and nationally.
We'd love to have the opportunity to hear about your situation. Contact us here to schedule an appointment for a consultation.
---
Helping You With
Wealth Preservation – Wealth Enhancement – Wealth Transfer – Wealth Protection – Charitable Giving