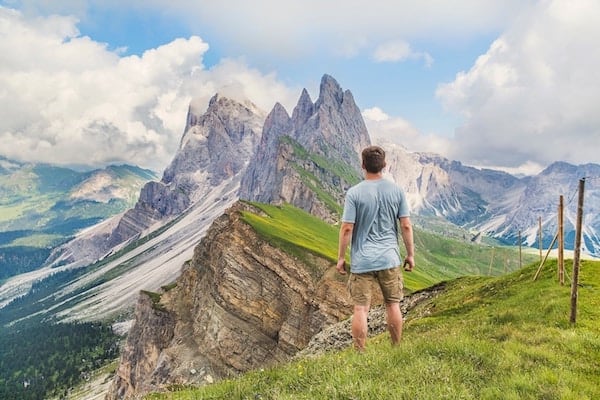 Financial Freedom Tips (VIDEO) – 3 Steps to Accomplish Any Goal
By: Josh Duncan
Why Set Goals?
In this 5-minute video, we'll discuss 5 reasons why setting goals can help you achieve personal significance. (Full Transcript is below.)
---
---
Full Transcript of video
Hello, I'm Josh Duncan with SCBTV News bringing you this edition of Financial Freedom.  The purpose of Financial Freedom is to provide tips to help you achieve financial freedom for personal significance.
Welcome to the second episode in our series about goals and how they can help you achieve personal significance.  Last time we discussed the value of setting goals.  Today we are going to discuss the tension between the ease of setting a goal and the complexity of meeting the goal.
We have all heard the cliché, "Easier said than done."  The author of this saying is spot on with our topic today.  A current goal of mine is to spend more time outside with my family.  This was a very easy goal to set as we enjoy hiking and fishing.  However, with my three boys enjoying more extra-curricular activities, this is much more complex than it sounds.
Here is another example.  We all know the busy season for local gyms is at the beginning of the year, with the making of New Year's Resolutions.  Gyms must love all the one-year memberships paid for but only used for a month.  Why can we set these goals so easily but not stick with it?
The reason: because it's hard to change our lives based on a thought or idea we have.  I have no doubt in my mind that we all have good intentions to meet the goals we set.  The problem is that we expect something of ourselves that is nearly impossible, immediate change.
So, how can we change our mindset around our goals?  How can we be more realistic about who we are and what we should expect of ourselves?  Here are three ideas to consider.
First, consider turning your goals into a schedule.  Everything I've mentioned today is my struggle.  I'll set a big goal to achieve something by a certain date.  Then, I'll look back as the due date fly's by and kick myself for failing.  I was doomed to fail.
Now, think of getting to your goal as practicing.  Practice the behaviors necessary to meet your goal.  If you keep practicing the right behaviors, you will naturally improve and get closer to your goal.  And remember, expect setbacks, they're normal.
If you reflect on your life, I'm confident you can think of a time when practicing a skill was something you did well.  Regardless if you were a musician, athlete, actor, or chess player, you had to practice.  And, that practice made you better over time, not overnight.
Next, share your progress with a trusted family member or friend.  We were created to be part of a community and share our lives with others.  Your family and friends want to encourage you and help you on your journey.  What can be even better is having a family member or friend who is working toward the same goal as you.
I can remember wanting to improve at competitive swimming in college and working with some teammates to improve.  This not only challenged me but pushed me to focus on practicing and not just the time I wanted to achieve.
Finally, celebrate your successes.  I'll admit this is an area I need to improve in.  My tendency is to stay focused on the next step and never stop to celebrate personal, team or family accomplishments.  If it were not for good people around me, I would miss this almost every time.
Successes are important to celebrate as it allows us to reflect on where we came from, which took time, energy and focus.  In our culture, we feel our desires should be satisfied immediately.  This creates unnecessary expectations for us and can take the joy out of life.  Dare to live a life of significance and celebrate along the way.
As we close out, remember that setting goals is often the easy part.  Achieving our goals is where the hard work starts.  To help you focus on success consider turning your goals into a schedule, share your progress with trusted family members and friends, and celebrate your achievements along the way.  Stay focused on the next right step.
Thank you for joining me for Financial Freedom.  I'm Josh Duncan with F5 Financial Planning, helping you achieve financial freedom for personal significance.  Please send topics you would like me to cover to info@scbtv.com or josh.duncan@f5fp.com.  See you next time.
Photo credit: Joshua Earle on unsplash.com
---
Most recent video blog post:
Financial Freedom Tips - 5 Reasons to Set Goals
F5 Financial
F5 Financial is a fee-only wealth management firm with a holistic approach to financial planning, personal goals, and behavioral change. Through our F5 Process, we provide insight and tailored strategies that inspire and equip our clients to enjoy a life of significance and financial freedom.
F5 Financial provides fee-only financial planning services to Naperville, Plainfield, Bolingbrook, Aurora, Oswego, Geneva, St. Charles, Wheaton, Glen Ellyn, Lisle, Chicago and the surrounding communities; to McDonough, Henry County, Fayette County, Atlanta and the surrounding communities; to Venice, Sarasota, Fort Myers, Port Charlotte, Cape Coral, Osprey, North Port, and the surrounding communities; and nationally.
We'd love to have the opportunity to hear about your situation. Contact us here to schedule an appointment for a consultation.
---
Helping You With
Wealth Preservation – Wealth Enhancement – Wealth Transfer – Wealth Protection – Charitable Giving