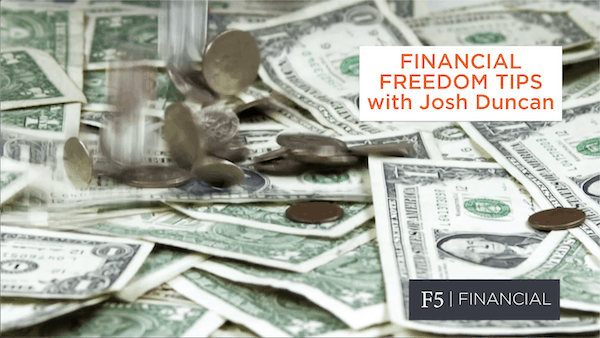 Financial Tips With Josh Duncan (Video): Less is More – Asset Consolidation
By: Josh Duncan
Will You Accept Our Account Review Challenge?
One key step in the financial planning process is to identify all your assets. This key helps unlock what is available to help you meet your goals—and achieve financial freedom.
In this 5-min video, Josh Duncan invites you to accept our account-review challenge—and he offers 5 motivating factors to inspire you!
(Full Transcript is below.)
Full Transcript of video
Hello, I'm Josh Duncan with SCB News bringing you this edition of Financial Freedom. The purpose of Financial Freedom is to provide tips to help you achieve financial freedom for personal significance.
One key step in the financial planning process is to identify all your assets. This is not the only step but key to knowing what is available to help you meet your goals. Assets include your home, vehicles, savings, checking, investments, retirement accounts and any other major items you own.
Often this exercise unveils many different banks, investment accounts and 401(k)'s from former employers. As we all know, it's common to work for multiple employers over our lifetime. The Bureau of Labor Statistics reports younger baby boomers worked for an average of 11.7 employers between the ages of 18 and 48! That's a new employer every two and a half years! This means many Americans could have five or more retirement plans with former employers.
Here's where I'm going with this. Just like it's easy to accumulate possessions around our homes, it's easy to accumulate bank, investment and retirement accounts. So why is this a big deal?
About eight months ago I was going through my dresser drawer where I keep many small items that are important or were at one time. You know that drawer that accumulates stuff and becomes a time capsule? During my search I found my grandfather's pocket knife. My first emotion was excitement as I forgot I had his knife. However, disappointment quickly set in as I realized my forgetfulness and lack of organization kept me from using the knife for many years.
The big deal is, when we don't know we have something, it often goes unused. This is also true for the multiple accounts you may have. Excess cash beyond what's needed for your emergency fund and short-term goals is not working for you. Retirement accounts established 10 years ago most likely drifted from your original investment allocation. This means they are not serving your needs as intended. The saying "set it and forget it" is not the best advice. You need to set it and check it.
My challenge for you is to document all your financial accounts and their purpose. For example, checking is to pay for your expenses. A savings account may be an emergency fund. Your 401(k) is for retirement. Then, consider which accounts you can consolidate because they serve the same function.
What is the motivation for consolidating accounts that serve the same function? First is simplicity. Your life will be less complex since your money will be more concentrated. Second, you will have a better understanding of your financial situation. Finally, when the inevitable happen, your heirs will have less difficulties carrying out your wishes. This will hit home with those who have had to fulfil the duties of executor or trustee.
Less is more when it comes to multiple accounts serving the same function. I realize there are some cases where you may need multiple accounts for the same function. Your financial advisor can help create a strategy to simplify your accounts while achieving your goals.
I hope you accept the challenge to review you accounts and begin the process of consolidation.
Thank you for joining me for Financial Freedom. I'm Josh Duncan, Financial Advisor with F5 Financial Planning, helping you achieve financial freedom for personal significance. Please contact me here to send topics you would like me to cover. See you next time. See you next time.
Photo credit: SCB Video TV Marketing (producers of the video)
---
Most recent video blog post:
Financial Freedom Tips - Saving for Retirement
F5 Financial
F5 Financial is a fee-only wealth management firm with a holistic approach to financial planning, personal goals, and behavioral change. We provide insight and tailored strategies that inspire and equip our clients to enjoy a life of significance and financial freedom.
F5 Financial provides fee-only financial planning services to Naperville, Plainfield, Bolingbrook, Aurora, Oswego, Geneva, St. Charles, Wheaton, Glen Ellyn, Lisle, Chicago and the surrounding communities; to McDonough, Henry County, Fayette County, Atlanta and the surrounding communities; and nationally.
We'd love to have the opportunity to hear about your situation. Contact us here to schedule an appointment for a consultation.
---
Helping You With
Wealth Preservation – Wealth Enhancement – Wealth Transfer – Wealth Protection – Charitable Giving