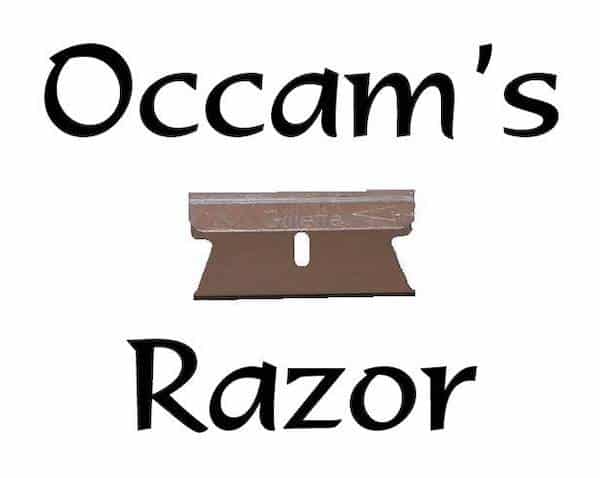 Leadership Lesson 22 – Simplify, Simplify, Simplify
By: Curt Stowers
Many of you are probably familiar with the concept of Ockham's razor—the simplest, most obvious solution is often the best solution. And while William of Ockham gave rise to the concept in the 1300's, its history can be traced back to Aristotle and the Greek philosophers.
Now I don't know about you, but for me if something started with Aristotle, has withstood the test of time, and makes sense when I hear it, I normally try and incorporate the idea into my day-to-day living.
A couple of key questions arise when you apply Ockham's razor to the concept of leadership. So, if the simple and the obvious are what a leader is to promote, how should he/she do that? Furthermore, if we promote the simple and obvious aren't we at risk that we will become simply a "me too" organization? The answer is appropriately simple: process.
As a leader, you must continually push for the establishment of and adherence to processes in the organization. Processes will do two things.
First, processes will ensure that things are repeatable and predictable. This is absolutely critical as the expectations of a quality product or service have grown exponentially over the past half century. We've come to expect perfection from our products and services, and, as a result, companies are coming closer and closer to that ideal. That has been driven by a shift to process-centric thinking.
Secondly, processes will ensure that the minimum necessary time is devoted to each task. Again, processes have carried the day on this front. With the emergence of process-centric cultures, we have seen the time required for tasks reduces simultaneously with the improvement in quality. I can still remember Dr. Devore back at the University of Illinois preaching the importance of Deming's philosophies back when I was an undergraduate student.
For those of you not familiar with Deming's work, he was at the heart of the reconstruction effort in Japan after World War II. He instilled the concept of process control in the Japanese manufacturing industry. I'll leave it to you to decide how well that worked out . . .
While working for Caterpillar around 2000, I personally witnessed the power of a leadership team embracing the concept of process. Caterpillar's strategic leadership team made the decision to deploy "6 Sigma" throughout the organization. This was not optional —the entire company was required to embrace this new concept, and, not surprisingly, this initiative had a dramatic impact on the profitability of the company. The question is why was this so effective?
Two reasons. First, the leadership set the course and demanded compliance. Leadership let everyone know that this initiative was not optional. That's a key lesson that we visited in some of our earlier steps. Secondly, and equally important in my mind, is that the introduction of 6 Sigma forced a process-centric methodology on the organization.
While the change did not happen day one, over the course of three years the organization went from one dominated by "the power of personality" to one dominated by "facts and data." Previously, the senior managers each set their own course, based on their own opinions. And, in many cases, this worked great! However, in a fair number of cases, those opinions were not always well-founded. The introduction of a process-centric culture forced everyone to answer the "why" question. The good ideas thrived. The bad ideas floundered. A process-centric culture is key to the success of any organization.
Rule #22 - Ensure that processes exist for and are used by all key business functions.
A bit of additional information for you: You're going to encounter the cynics / naysayers who argue "moving to a process-centric culture is going to kill our creativity and innovation." Poppycock. There's nothing that says a process-centric culture needs to be constraining. If your design process includes fun rooms, late-night pizza parties, and brainstorming sessions, so be it. If your product development cycle includes massive spending on basic R&D, so be it. However, when we speak about creativity, it needs to be with regards to our creative process. The exact nature of that process is open to the participants. But you have to define the process. If you don't, you're relying on the power of particular individuals. And that rarely ends well.
ACTION ITEM 22 - Have all of your team define the processes they use. Review them together and ask two questions over and over again: (i) Why? and (ii) Is there anything you would like to change?
F5 Financial
F5 Financial is a fee-only wealth management firm with a holistic approach to financial planning, personal goals, and behavioral change. Through our F5 Process, we provide insight and tailored strategies that inspire and equip our clients to enjoy a life of significance and financial freedom.
F5 Financial provides fee-only financial planning services to Naperville, Plainfield, Bolingbrook, Aurora, Oswego, Geneva, St. Charles, Wheaton, Glen Ellyn, Lisle, Chicago and the surrounding communities; to McDonough, Henry County, Fayette County, Atlanta and the surrounding communities; to Venice, Sarasota, Fort Myers, Port Charlotte, Cape Coral, Osprey, North Port, and the surrounding communities; and nationally.
We'd love to have the opportunity to hear about your situation. Contact us here to schedule an appointment for a consultation.
---
Helping You With
Wealth Preservation – Wealth Enhancement – Wealth Transfer – Wealth Protection – Charitable Giving