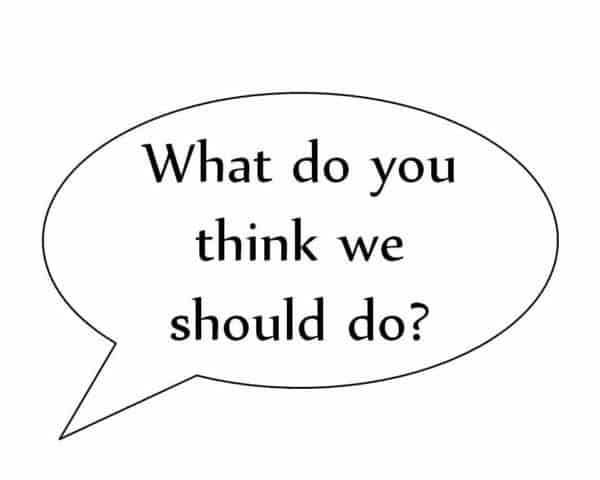 Leadership Lesson 27 – Ask, Don't Tell
By: Curt Stowers
While "Don't Ask, Don't Tell" may be more familiar to many of us, "Ask, Don't Tell" is really where we should be spending our mental energy.
Read that again—"Ask, Don't Tell." Now take just a couple of moments to think about what that is saying . . .
You back?
What went on in your mind when you stepped back and thought about "Ask, Don't Tell"?
Another question, how did you feel when I told you,"Read that again"?
How about when I told you, "Take just a couple of moments to think about"?
How do those feelings compare to what you're feeling now that I'm asking you questions?
If you're like most people, a totally different response is elicited when you are told to do something versus asked to do something. While telling may result in compliance, it rarely results in commitment.
Rule #27 - Micromanaging is the deadliest sin for a manager.
What's amazing about rule #27 is that we all know it's true, and yet we somehow forget its importance when we are installed in a leadership position! Think about it. How many times have you seen a new leader put in to his/her role, and they immediately assume that they know everything? They take it upon themselves to establish their authority. They start telling people what to do. Folks, positions are given but respect is earned. And, folks, nothing will lose respect more than telling. And nothing will earn respect more than asking.
Normally, I like to highlight each rule with some sort of story, example, or deeper explanation. However, in this case I'm not going to do that. Rather, I'm going to ask you a favor. Can you think back on the times you have witnessed failures in leadership? What do you remember about how these leaders embraced their teams? Do you think they would have had more success if they spent a bit more time asking for input and listening to that input?
I skipped the example for two reasons. First, while stories are a wonderful way to convey a message, they're most powerful when people can relate to the story. By asking you to reflect on failures in leadership, after planting the seed of "Ask, Don't Tell", there's a high probability that you were able to tap your memory banks and come up with an example.
That's more powerful than just about any story I could craft. Second, it was a perfect opportunity to let you see (i) how to use "Ask, Don't Tell" and (ii) how effective "Ask, Don't Tell" is. Hopefully, you'll buy in to step #27. And what's the worst that could happen if you try today's action item?
ACTION ITEM 27 - For the next week you have to handle any situation you face differently. You're not allowed to tell anyone what to do or what you think. Rather, you have to ask at least three questions to better understand the situation. After asking the "three question minimum," ask the question "What do you think we should do?"
BONUS ACTION ITEM - Reread step 23 (Completed Staff Work) and ask yourself "How can I combine steps 23 and 27?" Some lightbulbs may come on when you complete this task!
F5 Financial
F5 Financial is a fee-only wealth management firm with a holistic approach to financial planning, personal goals, and behavioral change. Through our F5 Process, we provide insight and tailored strategies that inspire and equip our clients to enjoy a life of significance and financial freedom.
F5 Financial provides fee-only financial planning services to Naperville, Plainfield, Bolingbrook, Aurora, Oswego, Geneva, St. Charles, Wheaton, Glen Ellyn, Lisle, Chicago and the surrounding communities; to McDonough, Henry County, Fayette County, Atlanta and the surrounding communities; to Venice, Sarasota, Fort Myers, Port Charlotte, Cape Coral, Osprey, North Port, and the surrounding communities; and nationally.
We'd love to have the opportunity to hear about your situation. Contact us here to schedule an appointment for a consultation.
---
Helping You With
Wealth Preservation – Wealth Enhancement – Wealth Transfer – Wealth Protection – Charitable Giving