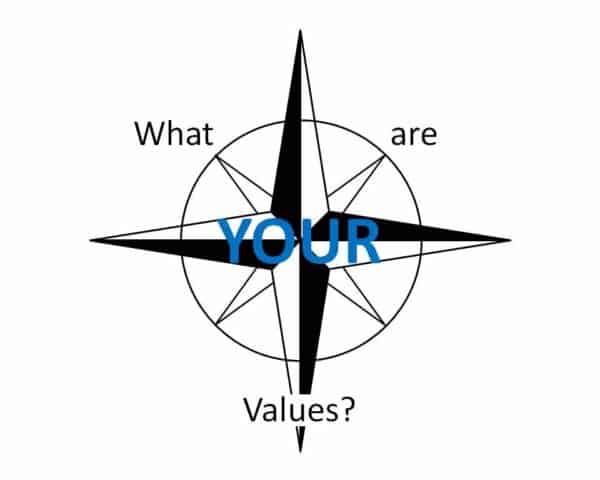 Leadership Lesson 29 – Do The Right Things
By: Curt Stowers
One of my favorite—and I feel most accurate—sayings is: we judge ourselves by our intentions, others judge us by our actions. Ultimately, it's not what you say, but what you do that matters most to people—your values.
To guide your actions, it's invaluable to have a set of values to serve as a moral compass. Values are really interesting things. We all have them. We all know implicitly what they are. And yet we're often uncomfortable discussing them openly. I'd offer a couple of reasons for that:
Actions do speak louder than words! When we take the time to openly discuss values, it calls attention to our failures. That makes people uncomfortable—to have failed at something as important as values can cut deep. It shouldn't. Failure is part of life. We can only learn and grow when we are faced with challenges.
Focusing on values forces us to confront uncomfortable things. When we turn our attention to values, we are focusing on what is most important to us. If the discussion points out that there's a misalignment in the team, that means that someone is going against our core beliefs. That's a pretty serious situation that's now moved from the background to the forefront. We're forced to deal with this. While uncomfortable, it's critical to surface these disconnects—the first step in solving any problem is to acknowledge its existence.
This gives rise to rule 29:
Rule #29 - You need to have a set of values that you publicly proclaim and live by at all times.
I had the privilege of working for Caterpillar for 18 years. Around the year 2000, the company introduced a new strategic plan along with an explicit set of values. Years later, I can't tell you a single item on that strategic plan. However, I can still tell you these four values over a decade later (you'll see them in just a bit).
At the time, I was extremely impressed with what the leaders came up with. Over time, I've become even more impressed as I feel that the four values that were introduced provide a solid foundation for a personal value system. Now, mind you, they're not for everyone and they're—in my opinion—missing one critical element. However, they're a great starting point / case study that you can use as you establish your own personal set of values.
Around 2003 I had the pleasure of meeting Sandra Ford Walston. Sandra helped me to fill in the gap that I'd always felt was missing in Caterpillar's set of values. It's actually quite interesting to look at what I call the "fifth value" and see (i) how difficult it would be for an "old school" company like Caterpillar to adopt and (ii) to see how it might have a dramatic impact on how Caterpillar pursues business and functions as a company.
This fifth value was something that served me well on a personal basis while I was with the company; however, it was also something that often put me at odds with the corporate culture while I was there. However, for me, it was "non-negotiable" and critical to the environment I wanted to be a part of.
Between Caterpillar and Sandra, I've adopted the following five values to help guide me through my day to day activities.
Integrity - The power of honesty.
Excellence - The power of quality.
Teamwork - The power of working together.
Commitment - The power of responsibility.
Courage - The power of risk taking.
Rather than define each of the above terms, I like to think in terms of what an ideal organization would look like if everyone possessed the aforementioned values:
We would have a team of individuals who could always be counted on to do the right thing regardless of the situation.
These individuals would never be satisfied with "second rate" efforts and would constantly be striving to improve themselves and those around them.
They'd be working together continually to ensure that success was not achieved at an individual level but, rather, as a team.
And they'd hold themselves accountable at all times to the goals they set.
You'd know that if they gave you their word on when and how a task would be completed, it would be completed on time at the expected level of performance.
Finally, they'd all be willing to put themselves at risk, to take chances, and to put the well-being of others in front of their own well-being at all times.
Values should inspire us to a set of ideal behaviors. They're a litmus test against which we can judge our actions. They're foundational to our success.
ACTION ITEM 29 - Take the time to draft your own set of values. Make sure these values are posted prominently. Start each day by reviewing your previous day's actions against these values and committing to have the present day's actions align with these values.
F5 Financial
F5 Financial is a fee-only wealth management firm with a holistic approach to financial planning, personal goals, and behavioral change. Through our F5 Process, we provide insight and tailored strategies that inspire and equip our clients to enjoy a life of significance and financial freedom.
F5 Financial provides fee-only financial planning services to Naperville, Plainfield, Bolingbrook, Aurora, Oswego, Geneva, St. Charles, Wheaton, Glen Ellyn, Lisle, Chicago and the surrounding communities; to McDonough, Henry County, Fayette County, Atlanta and the surrounding communities; to Venice, Sarasota, Fort Myers, Port Charlotte, Cape Coral, Osprey, North Port, and the surrounding communities; and nationally.
We'd love to have the opportunity to hear about your situation. Contact us here to schedule an appointment for a consultation.
---
Helping You With
Wealth Preservation – Wealth Enhancement – Wealth Transfer – Wealth Protection – Charitable Giving