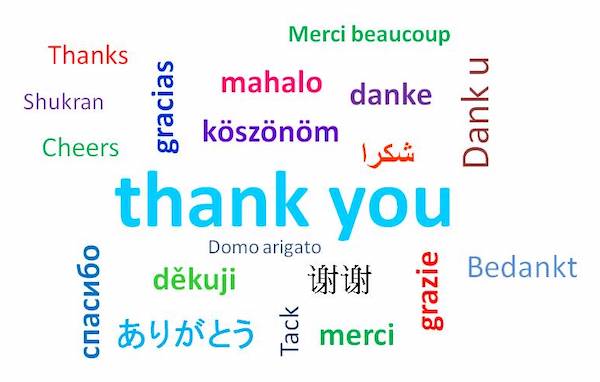 Leadership Lesson 30 – The Best for Last
By: Curt Stowers
Well, if you're still with me at step 30, I've got just one thing to say: THANK YOU!
Rule #30 -
Remember to say thank you often.
Disappointed in the simplicity of this final rule? I hope not. I hope that you already value the power of these two simple words. However, just in case their impact has slipped your mind, let's talk a bit about "thank you."
Think about the last time that you really thanked someone. You remember, that time when you were stuck. You were facing some challenge or obstacle that seemed insurmountable. Your friend or colleague took the time to sit with you. To listen. To ask questions. To help you figure out what to do. At the end of the conversation, the cloudiness in your head had disappeared. You knew where to go, what to do, and it just made sense.
And you told the person "thank you" and really meant it! At that moment you were grateful beyond belief, and, as the saying goes, words could never repay what was given to you. And yet, thank you does repay just fine! Here's the irony, it's exactly because you know that words cannot repay that they do repay . . .
We have all been stuck and had someone reach out and help us. That help has been priceless. And the only thing that we can do at that moment in time is offer a "thank you.. We know it's not enough, but we offer it with 100% sincerity. And because we know how priceless the gift we just received is, we know that offering a sincere thank you is actually the most precious currency in existence.
When we get to the point where we offer that sincere thank you, we have acknowledged to the person being thanked that they have touched our soul. We have let them know that they have provided priceless gifts.
It's because we know how valuable a sincere thank you is that we are so deeply moved when we receive sincere thanks. And that's why you need to say thank you to those around you. It's an expression of gratitude, a recognition of the gift the other party delivered, and an acknowledgement that the two of you have shared something of significant value. Thank you is the glue that keeps us together. And failing to say thank you will result in the team pulling apart. Why would you let this happen when the currency of "thank you" is so readily at our disposal?
And with that, I say "thank you" for allowing me the opportunity to share some thoughts on leadership with you. If you're able to use just one thing out of this book to make your or someone else's life better, it will have been worth the effort. It will have been my way of giving back to all of those who gave so freely to me. It will have been a confirmation that maybe I have learned a bit about leadership over the past 47 years. With that, your final assignment . . .
ACTION ITEM 30 - For the next week, keep a tally sheet of (i) how many times you say thank you and (ii) how many times people tell you thank you. It's not a contest. It's an opportunity to raise your awareness of the power of thank you and an opportunity to consider if you're missing the chance to exercise this power more frequently.
F5 Financial
F5 Financial is a fee-only wealth management firm with a holistic approach to financial planning, personal goals, and behavioral change. Through our F5 Process, we provide insight and tailored strategies that inspire and equip our clients to enjoy a life of significance and financial freedom.
F5 Financial provides fee-only financial planning services to Naperville, Plainfield, Bolingbrook, Aurora, Oswego, Geneva, St. Charles, Wheaton, Glen Ellyn, Lisle, Chicago and the surrounding communities; to McDonough, Henry County, Fayette County, Atlanta and the surrounding communities; to Venice, Sarasota, Fort Myers, Port Charlotte, Cape Coral, Osprey, North Port, and the surrounding communities; and nationally.
We'd love to have the opportunity to hear about your situation. Contact us here to schedule an appointment for a consultation.
---
Helping You With
Wealth Preservation – Wealth Enhancement – Wealth Transfer – Wealth Protection – Charitable Giving