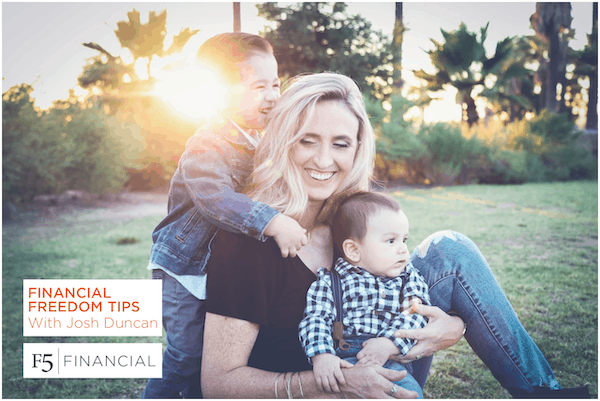 Financial Freedom Tips (Video) – Parents, How Much Life Insurance Do You Need?
By: Josh Duncan
Families need life insurance, yet there are usually big questions.
As a family with dependent children, life insurance is important. But how much? And what kind of coverage do you need?
In this 5-minute video, Josh Duncan shares what you need to know to make wise decisions when purchasing life insurance for you family.
Full Transcript of video
Hello, I'm Josh Duncan with SCB News bringing you this edition of Financial Freedom. The purpose of Financial Freedom is to provide tips to help you achieve financial freedom for personal significance.
Every day of our lives we face many risks. For example, using electricity, eating food we did not prepare, and driving a car. Many of our daily risks we avoid or just accept as everyday life. However, for the risks with a low probability of occurring and a high severity, we transfer the risk to insurance companies.
As you can imagine, life insurance is how we transfer the risk of death to a life insurance company. Although a life can never be replaced, a common challenge from a premature death is loss of income. Imagine a family with young children and one of the parents passes unexpectedly. The challenge of covering the monthly expenses with one less income could be life altering for that family.
If we think about this family and the loss of income, we must consider how life insurance can help replace the lost income. Life insurance has a death benefit, which is the amount of money paid upon a person's death. This money is paid as a tax-free benefit to the beneficiary, typically the spouse. This money can then be invested to generate income for the surviving family for many years.
Determining the amount of life insurance coverage needed to support a family for many years is where the help of a financial professional can help. This is important as many young families need a large amount of coverage for a defined period. This typically ranges from when the children are young through college. Once the children are no longer supported by the parents, the needs for life insurance can change dramatically.
As you begin the journey of purchasing life insurance or evaluate your current coverage, there are some main areas you'll want to consider. First, be realistic about the amount of money required for the surviving spouse to maintain their current lifestyle. Many people just accept the group insurance offered by their employer and assume that's enough. It's not uncommon for families with children at home to have life insurance benefits over $1M for each spouse.
Next, consider the type of life insurance that best fits your needs. As I mentioned before, many families with children need a large amount of coverage for a defined period. Typically, term insurance is the most cost-effective option for this need. Term coverage will be for a period, typically between 10 and 30 years, in five-year increments. Whole life insurance could be used but may be cost prohibitive. Since whole life insurance covers one's entire life, it's unlikely their insurance needs at age 30 with a family will be the same at age 75.
Finally, review all your options to obtain coverage. For example, the base life insurance through your employer, or group coverage, may not be enough. But you may be able to purchase additional coverage at a very low rate. Be advised most group coverage is not portable, or available to take with you should you leave your employer. This is yet another risk to consider.
As you navigate the world of life insurance, it's alright to get assistance from a professional. Be sure the professional you work with has your best interest in mind. Don't hesitate to get a second opinion either. Your family is the most important asset you have and taking care of them is of the highest importance.
Thank you for joining me for Financial Freedom. I'm Josh Duncan, Financial Advisor with F5 Financial Planning, helping you achieve financial freedom for personal significance. Please contact me here to send topics you would like me to cover. See you next time.
Photo credit: Edward Cisneros on unsplash.com
---
Most recent video blog post:
Financial Freedom Tips (VIDEO) - Qualified Charitable Distribution (QCD)
F5 Financial
F5 Financial is a fee-only wealth management firm with a holistic approach to financial planning, personal goals, and behavioral change. Through our F5 Process, we provide insight and tailored strategies that inspire and equip our clients to enjoy a life of significance and financial freedom.
F5 Financial provides fee-only financial planning services to Naperville, Plainfield, Bolingbrook, Aurora, Oswego, Geneva, St. Charles, Wheaton, Glen Ellyn, Lisle, Chicago and the surrounding communities; to McDonough, Henry County, Fayette County, Atlanta and the surrounding communities; to Venice, Sarasota, Fort Myers, Port Charlotte, Cape Coral, Osprey, North Port, and the surrounding communities; and nationally.
We'd love to have the opportunity to hear about your situation. Contact us here to schedule an appointment for a consultation.
---
Helping You With
Wealth Preservation – Wealth Enhancement – Wealth Transfer – Wealth Protection – Charitable Giving