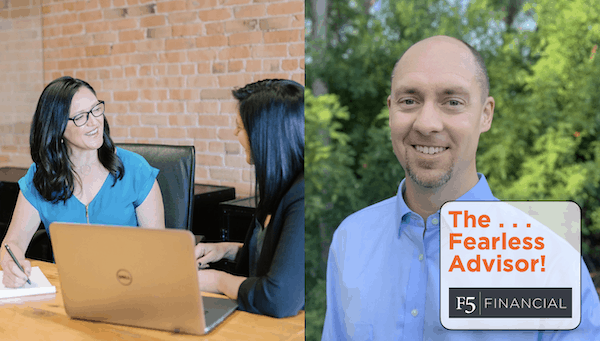 The Basics of Personal Financial Planning
By: Josh Duncan
Personal financial planning - What you need to know
How do you best allocate your limited financial resources among unlimited alternatives?
Things quickly get complex, so here's where to simplify!
(The video is 5 minutes. Full transcript is below.)
Full Transcript of video
Hey friends, the Fearless Advisor here. Today I am going to discuss the basics of personal financial planning.
What is the definition of financial planning?
I like how Ron Blue defines financial planning. He says, "Financial planning is allocating limited financial resources among unlimited alternatives." That definition alone demonstrates the need for financial planning, as we have too many options for where to use our money.
When you put all the parts together, complexity enters the picture.
The individual parts of financial planning are understandable on their own. However, when you put all these parts together, as they relate to your life and one another, complexity begins to enter the picture. Complexity can be a motivation killer. Nevertheless, perseverance will pay off! Let's look at the basics of financial planning.
It all starts with goals!
First, as I have said many times, all financial planning finds its purpose in goals. If your goal is to accumulate a mountain of money, you need to determine the purpose for that money. Otherwise, other people are going to enjoy it after you die. Step one is to determine your short, mid, and long-term goals. These could include saving to buy a car, sending your children to college, and retiring to a lake house.
Where are you today?
Next is understanding your current situation. This includes knowing where your money is going. The high-level categories here are living expenses, debt repayments, giving, taxes, and savings. Additionally, it's important to know your net worth. You can determine this by listing all of your assets (what you own) and subtracting all of your debts (all of your loans.) Your net worth statement provides a clear picture of the impact of debt in your life.
Persistence will pay off! Stick with the plan!
This is when the reality can really set in. If you are overextended and have no additional cash flow each month, achieving your goals is going to be more challenging. You are going to have to make some changes in how you manage your money. This is not impossible, but it will take a highly motivated commitment to get your financial house in order. Consider consulting or hiring a professional to help implement the necessary changes.
How will you allocate your additional cash flow?
For those with positive cash flow, this is the time to decide how to allocate this money to your goals. For example, if you have a goal of paying off your debt in five years, determine the additional principal needed over those sixty months to make this happen. The most popular goal I hear is retiring by a certain age. The calculation to determine how much money is needed for this goal can be tricky. However, the sooner you know the goal, the sooner you can begin saving the necessary amount each month.
Investing in the companies that make the products and services we all use has served investors well.
When saving money for longer-term goals, a savings account is not going to cut it. You need your money to work for you. I believe a well-diversified portfolio of mutual funds or ETF's will do a fine job for you. Investing in companies who make the products and services we humans buy has served many investors superbly over the years. I admit there are other ways to invest, but this video is about the basics of financial planning. Plus, there is nothing like having your money work for you independently of whether you are working or on vacation.
Taxes: Give Caesar what is Caesar's.
Taxes, everyone's favorite subject, have to be taken into account in your financial plan. There is no need to treat taxes like a surprise every year. Planning for the next year is less complex if your income is stated on a W-2. If you own a business, including real estate, then your tax planning can be more complex. This is another area where hiring a professional can save you time and mental energy.
How well is your family protected from the unexpected?
The final area of consideration is protecting your family from the unexpected. This includes property and casualty, disability, and life insurance. Additionally, having a properly structured estate plan is key for your minor children and surviving heirs. These all require their own videos and are key to personal financial planning.
Merging the basics = complexity
Today I have covered the basics, which quickly become complex when merged together. There are many free and low-cost solutions available on the web for those who want to do more research. If you are busy, like many of us, and do not want to become an expert in all of these areas, please engage a professional to help build and implement your financial plan. Of course, the team here at F5 Financial Planning would be happy to have a conversation about developing your financial plan.
Engage a professional to help simplify the complexity.
If you need assistance or have questions, we are available and would be happy to support your family. Thanks for joining us!
Photo credit: Amy Hirschi on unsplash.com
---
Most recent Fearless Advisor video post:
Boundaries in Life and Finance
F5 Financial
F5 Financial is a fee-only wealth management firm with a holistic approach to financial planning, personal goals, and behavioral change. Through our F5 Process, we provide insight and tailored strategies that inspire and equip our clients to enjoy a life of significance and financial freedom.
F5 Financial provides fee-only financial planning services to Naperville, Plainfield, Bolingbrook, Aurora, Oswego, Geneva, St. Charles, Wheaton, Glen Ellyn, Lisle, Chicago and the surrounding communities; to McDonough, Henry County, Fayette County, Atlanta and the surrounding communities; to Venice, Sarasota, Fort Myers, Port Charlotte, Cape Coral, Osprey, North Port, and the surrounding communities; and nationally.
We'd love to have the opportunity to hear about your situation. Contact us here to schedule an appointment for a consultation.
---
Helping You With
Wealth Preservation – Wealth Enhancement – Wealth Transfer – Wealth Protection – Charitable Giving