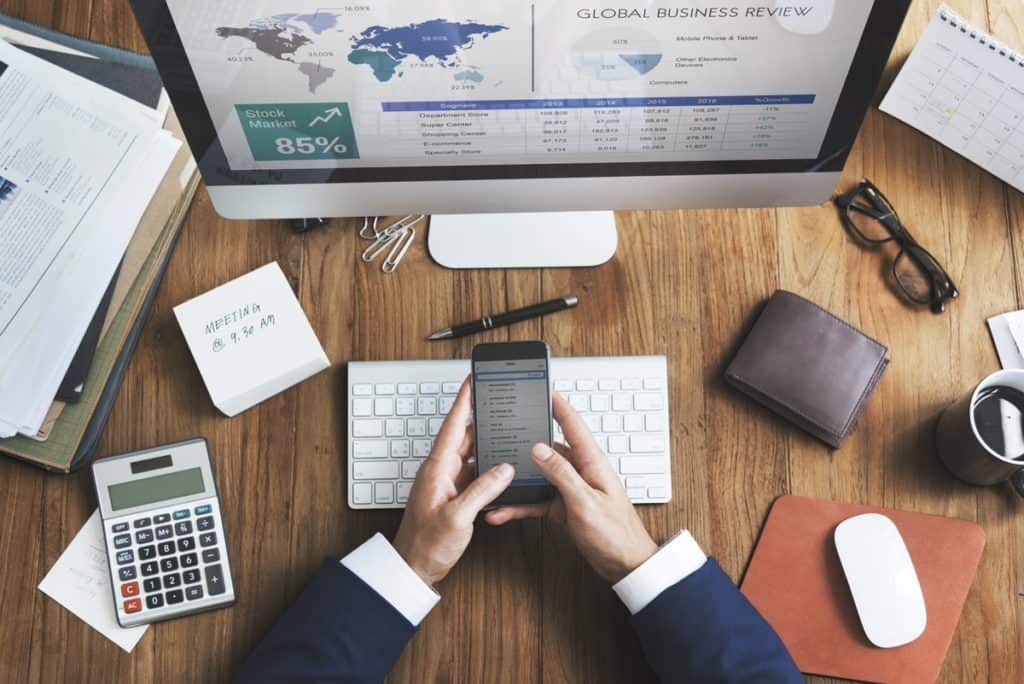 Perspectives on Dividend Investing
By: Curt Stowers
Should you focus on stocks that pay high dividends?
One of the most well-known and widely used investment strategies is to focus on investing in companies that pay high dividends. In essence, you take the total dividends paid annually by a company and express that as a percentage of the current price the company in the market. You then focus on investing in companies that have high yields. The theory goes that if they are healthy enough to pay the dividend, AND it is a high percentage relative to the stock price, then you are dealing with a good, solid company.
If you go back in time when there were MANY fewer financial vehicles available, this was a particularly popular strategy. Many a person's grandparents did very well purchasing IBM, AT&T or other "blue chip" stocks and pocketing the dividends in retirement. However, things have changed dramatically over the past fifty years, and there are multiple other—and potentially better—options available today that were not present in the past.
A bit more on why I am NOT a big fan of this approach
Every time a company "pays a dividend," the market will respond by reducing the price of that stock by EXACTLY that dividend. The skeptic is going to point out that is NOT the case as you can "see" that stock prices do NOT follow this pattern. Fair point. HOWEVER, stock prices factor in all of the information available; and, as a result, the direct impact of this reduction is often masked (See the attached article for more details and an example that illustrates this).
Focus on total stock returns (vs. just dividends) 
My belief is that investors are better served by focusing on the total return of a stock versus just the dividend yield. The total return is made up of the appreciation of the stock AND the dividend yield. Consider the following:
Stock 1

Start of year $100, paying $3 in dividend
End of year $100, paying $3 in dividend
For the year your "return" was the $3 dividend
Stock 2

Start of year $100, paying $1 in dividend
End of year $110, paying $1 in dividend
For the year your "return" was $10 of appreciation and the $1 dividend
To me, I'm going to go with stock 2 all day long.
If you analyze the data that compares total return against dividend return, you will find that there is no correlation that suggests dividend return is a predictor of total return. For that reason, I am not a big fan of using dividend yield as a primary determination factor for investments.
You can see more information on this topic in the attached article.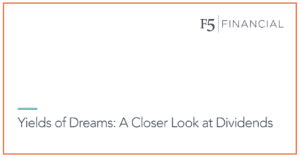 Would You Like More Support?
---
Do you have a well-defined Investment Policy Strategy that is used to drive your investments in support of a comprehensive financial plan?
---
If not, would you like to partner with someone who is used to helping people get through these struggles and (then, with confidence) implement portfolio strategies in a systematic manner while focusing on your desired outcomes?
---
If so, feel free to send us an email or give us a call. We'd love to have the opportunity to help you find a bit more peace of mind when it comes to investing.
Photo credit: rawpixel.com
F5 Financial
F5 Financial is a fee-only wealth management firm with a holistic approach to financial planning, personal goals, and behavioral change. Through our F5 Process, we provide insight and tailored strategies that inspire and equip our clients to enjoy a life of significance and financial freedom.
F5 Financial provides fee-only financial planning services to Naperville, Plainfield, Bolingbrook, Aurora, Oswego, Geneva, St. Charles, Wheaton, Glen Ellyn, Lisle, Chicago and the surrounding communities; to McDonough, Henry County, Fayette County, Atlanta and the surrounding communities; to Venice, Sarasota, Fort Myers, Port Charlotte, Cape Coral, Osprey, North Port, and the surrounding communities; and nationally.
We'd love to have the opportunity to hear about your situation. Contact us here to schedule an appointment for a consultation.
---
Helping You With
Wealth Preservation – Wealth Enhancement – Wealth Transfer – Wealth Protection – Charitable Giving