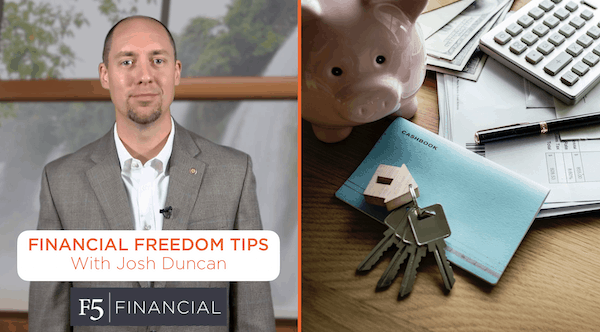 What is PMI (Private Mortgage Insurance)?
By: Josh Duncan
Today we help you understand your mortgage by demystifying PMI.
Learn what PMI does (and doesn't do), how it's paid, and how you can stop paying PMI—or prevent it altogether!
(The video is 4 minutes. Full transcript is below.)
Full Transcript of video
Hello, I'm Josh Duncan with SCB News bringing you this edition of Financial Freedom. The purpose of Financial Freedom is to provide tips to help you achieve financial freedom for personal significance. Today we discuss PMI.
Buying a home is a very exciting time. The thrill of the hunt to find the best home can be a fun journey. Before starting this adventure, you spoke to a lender to get prequalified for a mortgage. The pre-qualification basically gives you an idea of how much you can borrow for a home.
Understanding mortgage terms
Once you find the home of your dreams, it's time to get into the details of the financing. This is when things can begin to get complicated with interest rates, down payments, the loan term, and other mortgage terms that are unfamiliar to you.
I remember purchasing my first home, which I bought directly from the owner. All I really remember is that the process was a blur, and I had no idea what I was doing. This was prior to the financial crisis in 2008, and the lending process was different than it is today.
What is PMI (private mortgage insurance)?
One aspect of mortgages that has been in my recent conversations is PMI or private mortgage insurance. As with many acronyms within a professional field, PMI often remains abbreviated, and first-time homebuyers are not aware of this term. It is viewed as another fee on the loan and just required to get the home they want.
PMI doesn't protect you from anything.

PMI protects the mortgage company

should you default on the loan.
Private mortgage insurance is typically required for conventional loans when the down payment is less than 20 percent of the home value. FHA loans typically require mortgage insurance but have different rules.
So, what does this private mortgage insurance protect you from? Well, it doesn't protect you from anything. PMI protects the mortgage company should you default on the loan.
How PMI is paid
PMI is most commonly paid as a monthly premium added to your mortgage payment. The estimated payments are shown on your loan estimate and closing disclosure documents. However, it can be difficult to understand all the figures and documentation provided, as so many disclosures are now required.
A $250,000 mortgage could cost

$2,500 per year for PMI.
If you currently have a mortgage, take a look at your last statement and you will see if you are paying PMI or not. PMI is listed as a line item along with your escrow for taxes and insurance. The estimated cost of PMI is half a percent to one percent of the loan amount per year! A $250,000 mortgage could cost $2,500 per year for PMI.
How do I stop paying PMI?
The next question you may have is, "Can I stop paying PMI once I have 20% equity in my home?" The answer is "yes," but the process is not easy. You should assume you will need an appraisal to confirm the value of your home and your equity. If your home value has increased, this may be a big challenge. Read the fine print to understand how your PMI will stop.
Make a 20% down payment to avoid PMI! Here's how:
The best way to avoid PMI is to save enough for a 20 percent down payment. This may seem like a daunting task but can be accomplished with focus and a proper spending plan. Plan ahead today, and start saving to avoid private mortgage insurance.
Thank you for joining me for Financial Freedom. I'm Josh Duncan, Financial Advisor with F5 Financial Planning, helping you achieve financial freedom for personal significance. Please contact me here to send topics you would like me to cover.
See you next time.
Photo credit: rawpixel.com
---
Most recent video blog post:
Investment Policy Statement – What it is and why you need one
F5 Financial
F5 Financial is a fee-only wealth management firm with a holistic approach to financial planning, personal goals, and behavioral change. Through our F5 Process, we provide insight and tailored strategies that inspire and equip our clients to enjoy a life of significance and financial freedom.
F5 Financial provides fee-only financial planning services to Naperville, Plainfield, Bolingbrook, Aurora, Oswego, Geneva, St. Charles, Wheaton, Glen Ellyn, Lisle, Chicago and the surrounding communities; to McDonough, Henry County, Fayette County, Atlanta and the surrounding communities; to Venice, Sarasota, Fort Myers, Port Charlotte, Cape Coral, Osprey, North Port, and the surrounding communities; and nationally.
We'd love to have the opportunity to hear about your situation. Contact us here to schedule an appointment for a consultation.
---
Helping You With
Wealth Preservation – Wealth Enhancement – Wealth Transfer – Wealth Protection – Charitable Giving