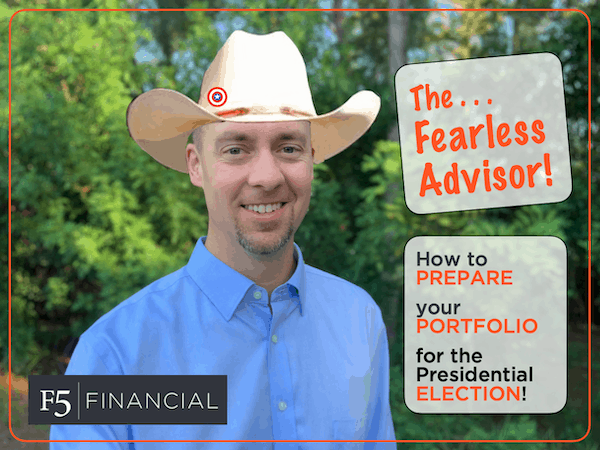 Presidential Election – How To Prepare Your Portfolio
By: Josh Duncan
Are you wondering what you should do to protect your investments?
Today the Fearless Advisor shares how to prepare your portfolio for upcoming potentially turbulent times! The good news: If you have a plan, there is nothing to fear.
(The video is 4 minutes. Full transcript is below.)
Full Transcript of video
Hey friends, the Fearless Advisor here. Today we are going to talk about preparing your portfolio for the presidential election.
The presidential election - Should we protect ourselves?
So, the question I've had a few times is around this upcoming presidential election and how we should prepare our portfolios in preparation for what may come. This is a common question around this time about every four years. What this question is really asking is "Hey, we've got some turbulent times possibly coming up, we don't know what's going to happen, should we protect ourselves in anticipation of bad things happening?"
Do we need to reduce our equity exposure?
By protecting ourselves when it comes to investing, we are talking about reducing our equity exposure, maybe even going all the way to cash so there is no fluctuation in the portfolio value. Again, this is a very common question. It is very normal to be thinking of ways to protect ourselves when there could be pain on the horizon or at least when we feel the probability of pain has increased.
My Answers: We should have ALREADY protected ourselves.
So, my response to this question is, we should have already prepared for this election, or anything crazy going on in the world. And what do I mean by that?
First – Discussing values and goals
Well first, we should have already had a discussion about your values and your goals, what your looking to achieve in the horizon.
Second – Developing a plan to achieve those goals
Second, is developing a plan to achieve those goals. This could include your financial plan, your investment policy statement, and other tools that have been put in place to keep you on track.
Third – Implementing that plan
And third, is implementing that plan. That includes reviewing the plan on some kind of agreed upon frequency and tweaking the plan as necessary.
Market Timing – a game that does not end well!
Now, changing your investment policy statement in the middle of a crisis, or right before a crisis, is not the way to go. That is what we call market timing and that game does not end well.
How an Investment Policy Statement protects you
So, I want to highlight the investment policy for a moment. This is a statement that is put together by you the investor, along with your advisor, to understand how you want to invest. This includes all types of market conditions because the expected return includes the ups and downs that go along with the market.
So again, it's within the guidelines of your values and your goals, understanding how much equity you like in your portfolio, how much fixed income you want in your portfolio, at a high level, and sticking with that plan.
When in a crisis, always stick with your plan!
You cannot change the plan in the middle of a crisis, but you want to stick with that plan, according to your long-term goals, in order to get where you're going.
So, the short answer is there is no need to change or prepare for the upcoming election, just know you have a plan.
So, the short answer is:
There is no need to change or prepare
for the upcoming election,
just know you have a plan.
If you do not have a plan, it is a good time to get one. If you need some help with that, feel free to reach out to us at F5 Financial. Thanks for joining us!
Would You Like More Support?
---
Do you have a well-defined Investment Policy Strategy that is used to drive your investments in support of a comprehensive financial plan?
---
If not, would you like to partner with someone who is used to helping people get through these struggles and (then, with confidence) implement portfolio strategies in a systematic manner while focusing on your desired outcomes?
---
If so, feel free to send us an email or give us a call. We'd love to have the opportunity to help you find a bit more peace of mind when it comes to investing.
Photo credit: JC Western Wear (Josh's hat) 
---
Most recent video blog post:
Your Abundance vs. Scarcity Mindset
F5 Financial
F5 Financial is a fee-only wealth management firm with a holistic approach to financial planning, personal goals, and behavioral change. Through our F5 Process, we provide insight and tailored strategies that inspire and equip our clients to enjoy a life of significance and financial freedom.
F5 Financial provides fee-only financial planning services to Naperville, Plainfield, Bolingbrook, Aurora, Oswego, Geneva, St. Charles, Wheaton, Glen Ellyn, Lisle, Chicago and the surrounding communities; to McDonough, Henry County, Fayette County, Atlanta and the surrounding communities; to Venice, Sarasota, Fort Myers, Port Charlotte, Cape Coral, Osprey, North Port, and the surrounding communities; and nationally.
We'd love to have the opportunity to hear about your situation. Contact us here to schedule an appointment for a consultation.
---
Helping You With
Wealth Preservation – Wealth Enhancement – Wealth Transfer – Wealth Protection – Charitable Giving