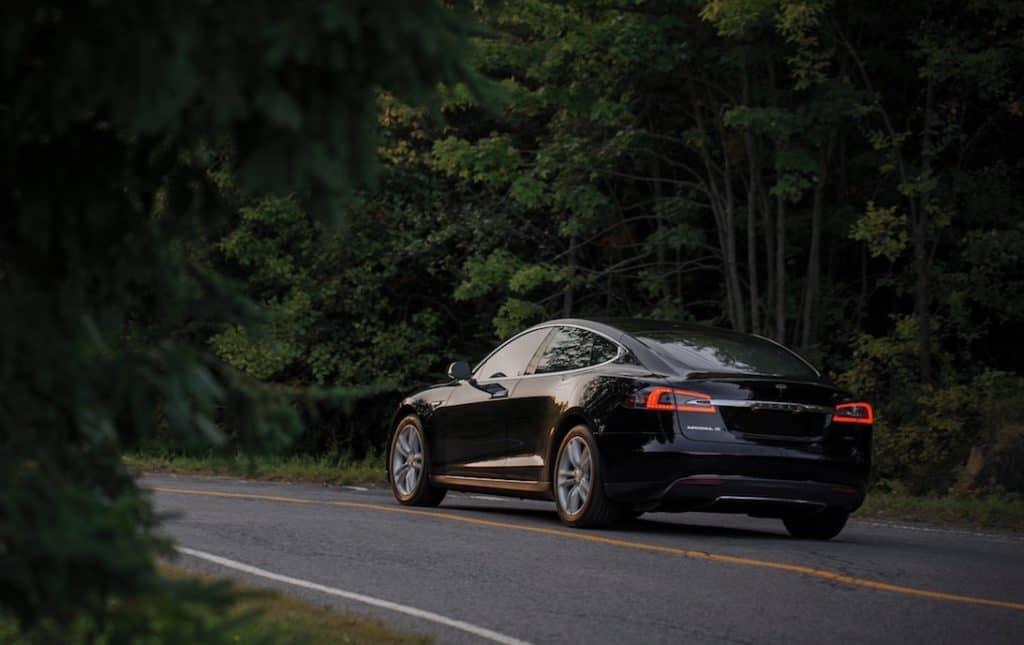 Smoothing Out the Investment Road – Shock Absorbers for Your Portfolio
By: Curt Stowers
The month of December 2018 was one of the most volatile in recent memory. This has caused a great deal of discomfort among investors and concern about what to do to avoid the volatility. Putting "shock absorbers" on your portfolio is a great way to minimize the volatility.
Two Potential "Models"
There are two ways to dampen the volatility of your portfolio. The first is via the macro allocation of stocks versus bonds. History has shown that the higher your percentage of equities, the higher the volatility that you will experience:
Shock absorber one – Adopt an Investment Policy Strategy (IPS) that has an appropriate ratio of stocks to bonds to match your tolerance for volatility.
This first shock absorber is well proven and is "installed" on a large percentage of portfolios.
The second shock absorber is a little less widely known:
Shock absorber two – Adopt a diversified portfolio and avoid concentrated positions.
Concentrated portfolios lead to higher volatility.
Many, many times people fall in love with investments of particular types. Some examples include:
Individual stocks
Geographic regions
Sectors
While there are tons of examples of investments in these areas yielding superior performance, there is also this often-overlooked FACT: Concentrated portfolios lead to higher volatility.
How to minimize volatility
To minimize volatility, your IPS needs to include an allocation among various investments across type and geography.
Investing for long-term success requires a solid understanding of the principles of volatility AND an even more thorough understanding of your temperament for volatility.
How to AVOID a portfolio crash
Unless you take the time to understand both of these topics AND install the appropriate shock absorbers, you are likely in for a very bumpy ride—perhaps so bumpy that your portfolio could crash and run off the road of long-term investment success.
You can read more about shock absorbers in the attached article.
Would You Like More Support?
---
Do you have a well-defined Investment Policy Strategy that is used to drive your investments in support of a comprehensive financial plan?
---
If not, would you like to partner with someone who is used to helping people get through these struggles and (then, with confidence) implement portfolio strategies in a systematic manner while focusing on your desired outcomes?
---
If so, feel free to send us an email or give us a call. We'd love to have the opportunity to help you find a bit more peace of mind when it comes to investing.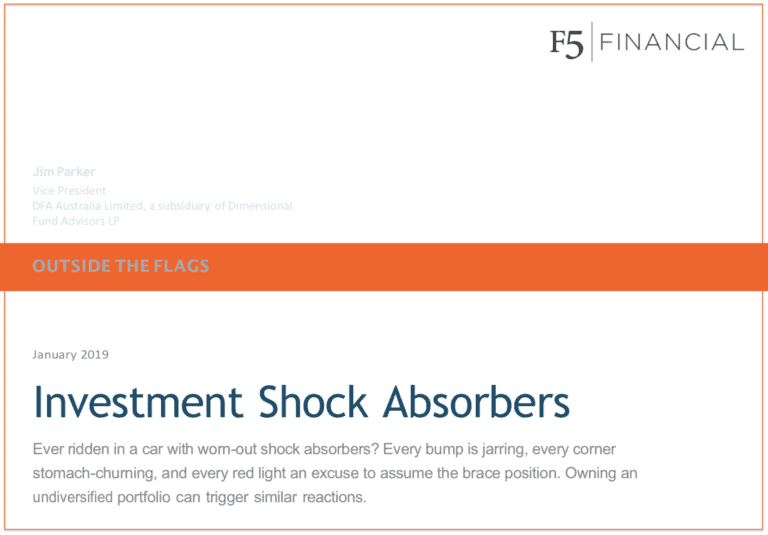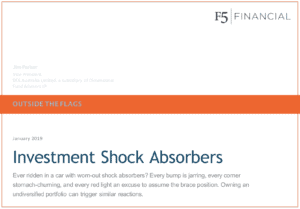 Enjoy the read and remember, it's NOT about the money. It's about how the money supports your goals!
Photo credit: JP Valery on unsplash.com
F5 Financial
F5 Financial is a fee-only wealth management firm with a holistic approach to financial planning, personal goals, and behavioral change. Through our F5 Process, we provide insight and tailored strategies that inspire and equip our clients to enjoy a life of significance and financial freedom.
F5 Financial provides fee-only financial planning services to Naperville, Plainfield, Bolingbrook, Aurora, Oswego, Geneva, St. Charles, Wheaton, Glen Ellyn, Lisle, Chicago and the surrounding communities; to McDonough, Henry County, Fayette County, Atlanta and the surrounding communities; to Venice, Sarasota, Fort Myers, Port Charlotte, Cape Coral, Osprey, North Port, and the surrounding communities; and nationally.
We'd love to have the opportunity to hear about your situation. Contact us here to schedule an appointment for a consultation.
---
Helping You With
Wealth Preservation – Wealth Enhancement – Wealth Transfer – Wealth Protection – Charitable Giving