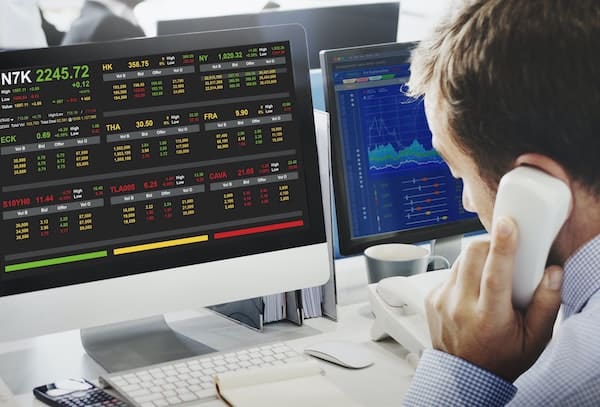 SPACs – The New Kid on The Block
By: Curt Stowers
New Kid on The Block
Capital markets are an incredible resource for businesses that are looking to grow. Going public provides companies with capital to pursue ideas that are often incredible and that would be impossible without this infusion of cash. I'm a HUGE proponent of them.
What I'm not such a huge proponent of is BUYING companies that are going public initially.
Historically Initial Public Offerings (IPOs) were the path that a vast majority of companies went down to go to market. Recently, a new option has emerged, "Special Purpose Acquisition Companies" or SPACs.
Here's the difference: With an IPO you're normally dealing with a company that is already established and is looking for funding for a well-defined (normally!) business idea. With a SPAC, you're providing capital to an entity that will then decide what it wants to buy.
So essentially the SPAC says, "Give me your money and I'll find something good to do with it." Call me old-fashioned, but this just doesn't sound like a good idea to me.
SPACs and IPOs - Both are Easy
The good news is that whether you are dealing with IPOs or SPACs they both are available in publicly traded markets and present minimal difficulty in purchasing.  However, remember that there is also minimal difficulty in purchasing chips at the casino—the house WANTS to make it easy for you to get in the game!
Why Buy Either?
To me, the key issue is why should/would you buy either of these? In my opinion, you should buy securities that are part of your "Investment Policy Strategy" (IPS). An IPS outlines what your goals are, what your cash flows are, what you are buying, and what you are expecting in terms of volatility and risk.
If your IPS is focused around buying new-to-market companies, then I could see purchasing IPOs or SPACs as a viable option. HOWEVER, there are not many people out there (the research would suggest pretty much zero) who have been able to choose wisely in this space.
For that reason, I prefer to craft an IPS around more developed securities.
I am NOT suggesting that you buy or don't buy these sorts of securities— that's a discussion for you to have with your financial advisor. I am suggesting that a well-defined strategy is normally critical to long-term success as an investor.
You can read more about IPO's and SPACs in the attached article.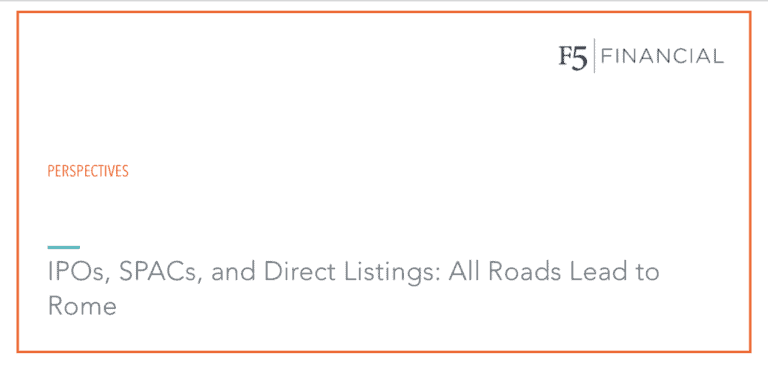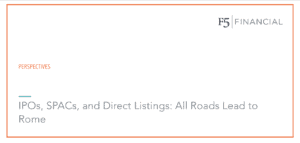 Would You Like More Support?
---
Do you have a well-defined Investment Policy Strategy that is used to drive your investments in support of a comprehensive financial plan?
---
If not, would you like to partner with someone who is used to helping people get through these struggles and (then, with confidence) implement portfolio strategies in a systematic manner while focusing on your desired outcomes?
---
If so, feel free to send us an email or give us a call. We'd love to have the opportunity to help you find a bit more peace of mind when it comes to investing.
Photo credit: rawpixel.com
F5 Financial
F5 Financial is a fee-only wealth management firm with a holistic approach to financial planning, personal goals, and behavioral change. Through our F5 Process, we provide insight and tailored strategies that inspire and equip our clients to enjoy a life of significance and financial freedom.
F5 Financial provides fee-only financial planning services to Naperville, Plainfield, Bolingbrook, Aurora, Oswego, Geneva, St. Charles, Wheaton, Glen Ellyn, Lisle, Chicago and the surrounding communities; to McDonough, Henry County, Fayette County, Atlanta and the surrounding communities; to Venice, Sarasota, Fort Myers, Port Charlotte, Cape Coral, Osprey, North Port, and the surrounding communities; and nationally.
We'd love to have the opportunity to hear about your situation. Contact us here to schedule an appointment for a consultation.
---
Helping You With
Wealth Preservation – Wealth Enhancement – Wealth Transfer – Wealth Protection – Charitable Giving