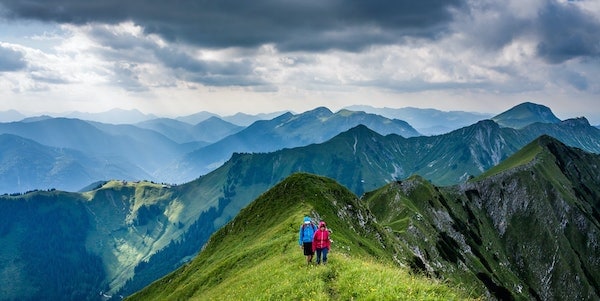 Why Peaks Aren't Cliffs (in the Stock Market)
By: Curt Stowers
Here We Go Again!
Every time we approach a new market high, the contrarians come out of the woodwork and start shouting "the sky is falling!" They prognosticate about the pending "stock market crash" that will "destroy wealth" and leave us "unable to recover."
Of course, they do—fear sells!
Now, I'm NOT saying that we will AVOID a market correction of 20%—or more! In fact, the odds are IN FAVOR of a 20% correction over ANY three-year period. HOWEVER, the odds are also in favor of market growth during ANY period of time.
That's because the market reflects the value of companies, which are made up of individuals. And the intellectual capacity and innovation of those individuals continue to deliver more and more value.
What Happens After a Peak?
Check out this graph: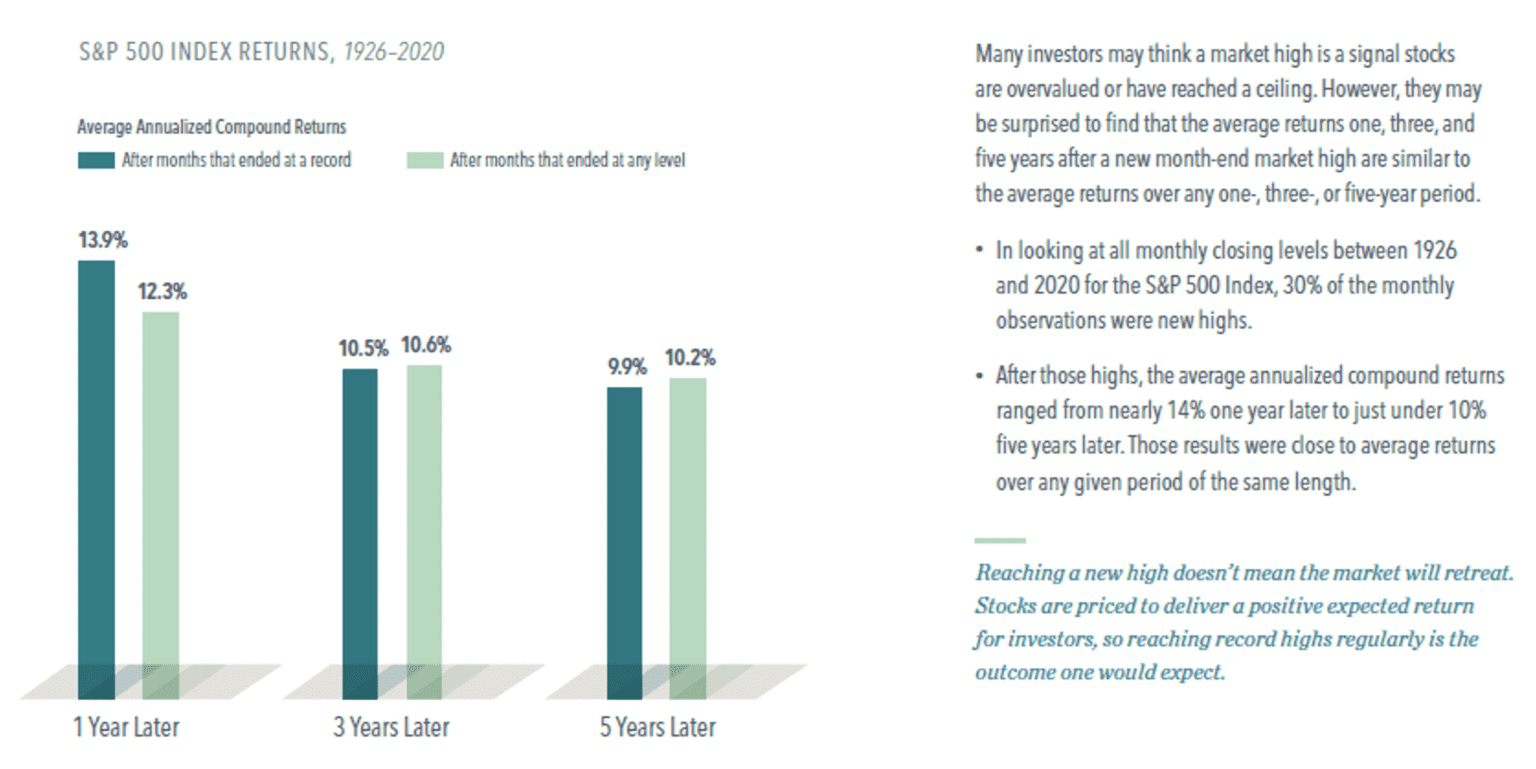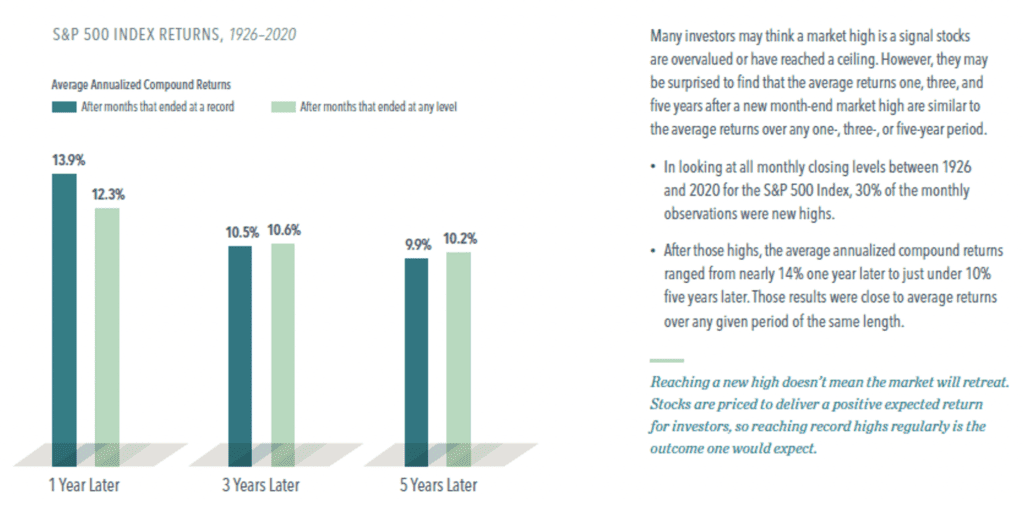 The graph shows that if we look at one year after a new high, we see HIGHER returns over this time horizon versus random points in time. For the three-year and five-year periods, we see very slightly lower returns; however, still quite solid.
Timing the market is a fool's game and one we strongly recommend against!
So What Do You Do?
At the risk of sounding like a broken record . . .
You make an investment plan and stick with it! At the core of that plan is an Investment Policy Strategy (IPS). This strategy describes your objectives, your time horizon, your cash flows in and out, your asset allocation, and your chosen investment vehicles.
The IPS guides you—through peaks and valleys!
In my opinion, if you don't have an IPS, you are taking undue risks with your investments!
Again, I may sound like a broken record, but I am happy to do so:
Make a plan.
Stick to the plan.
Don't try and time the market.
If you follow this approach, I think you will be quite pleased with the results.
Would You Like More Support?
---
Do you have a well-defined Investment Policy Strategy that is used to drive your investments in support of a comprehensive financial plan?
---
If not, would you like to partner with someone who is used to helping people get through these struggles and (then, with confidence) implement portfolio strategies in a systematic manner while focusing on your desired outcomes?
---
If so, feel free to send us an email or give us a call. We'd love to have the opportunity to help you find a bit more peace of mind when it comes to investing.
Photo credit: Tim Tiedemann on unsplash.com
F5 Financial
F5 Financial is a fee-only wealth management firm with a holistic approach to financial planning, personal goals, and behavioral change. Through our F5 Process, we provide insight and tailored strategies that inspire and equip our clients to enjoy a life of significance and financial freedom.
F5 Financial provides fee-only financial planning services to Naperville, Plainfield, Bolingbrook, Aurora, Oswego, Geneva, St. Charles, Wheaton, Glen Ellyn, Lisle, Chicago and the surrounding communities; to McDonough, Henry County, Fayette County, Atlanta and the surrounding communities; to Venice, Sarasota, Fort Myers, Port Charlotte, Cape Coral, Osprey, North Port, and the surrounding communities; and nationally.
We'd love to have the opportunity to hear about your situation. Contact us here to schedule an appointment for a consultation.
---
Helping You With
Wealth Preservation – Wealth Enhancement – Wealth Transfer – Wealth Protection – Charitable Giving