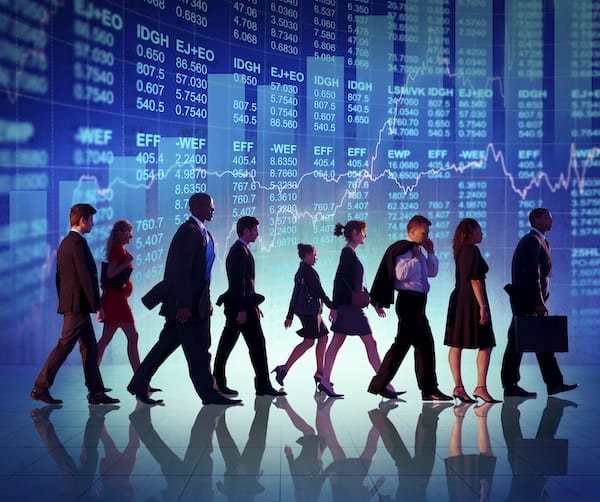 The Stock Market is Never Average
By: Curt Stowers
Everyone wants to know what the market returns on average. The answer is this: it does NOT return the average! Read on to learn what to expect.
When Average is Not Average
I would love to live in a dream world where the equity markets returned EXACTLY 10.2% of return every year without a single bit of variance. And, where the baseline financial projections we run for clients are developed with an assumption of a constant, non-varying return.
Uh, not gonna happen!
Take a look at the chart below:
The chart represents the annual returns for the CRSP 1-10 index (a broad equity market index) from 1926 to 2021. The average return of this index is around the 10% level.
But look at the data and tell me how many times the returns are around 10%? Not many. And that's a huge lesson that investors need to understand.
We do NOT get "average" returns in the market.
So Are We Out of Luck?
Some people will jump to the conclusion that since I never get the average, it must be a "bad" thing, and they conclude that investing in the stock market is not good. I disagree.
Over the long term, equities have provided massive returns and resulted in incomprehensible amounts of wealth being gained by countless individuals.
HOWEVER, too many individuals "expect" a nice, smooth, steady ride and become disenchanted with the market and exit when things get rough. Bad call. If you are an equity investor you need to recognize that average returns don't come your way often on an annual basis. BUT, over the long run, you'll see a solid average return.
This subtle distinction is critical to understand if you want to be a successful investor.
That's OK, I'll Just Time the Market!
Uh, no you won't. The other challenge for the new equity investor is their overconfidence that they can see and understand patterns that will allow them to figure out when to get in and when to get out of the market.
Again, look at the chart. If you can find a pattern that allows you to time the market, you are smarter than all of the researchers who have been spending billions of dollars on this problem. To date, no one has shown the ability to time the market. It's a fool's game that I would STRONGLY encourage you not to play.
Get in and Stay In
If you choose to invest, you need to develop a solid Investment Policy Statement that is predicated on riding out the market variations. I'm not suggesting that there is no other approach. I'm just suggesting that the data suggests this is the most prudent course of action.
You can download a copy of the graphic from this article: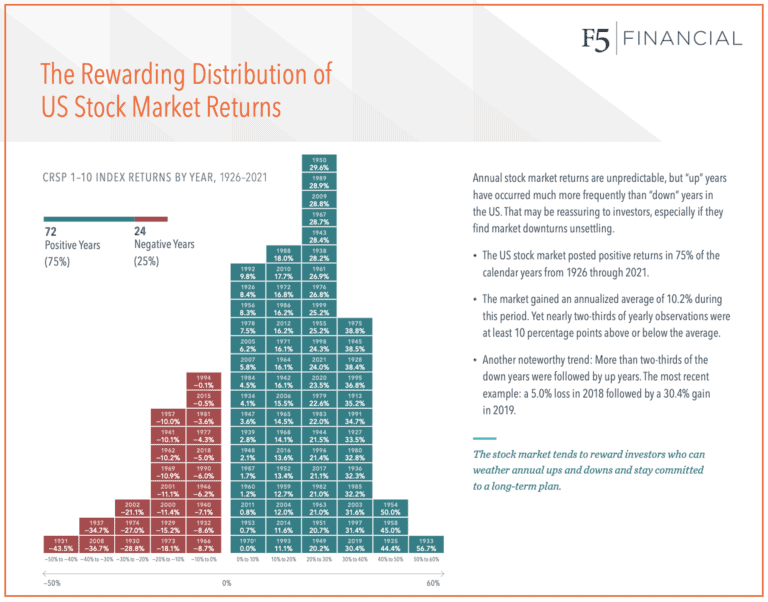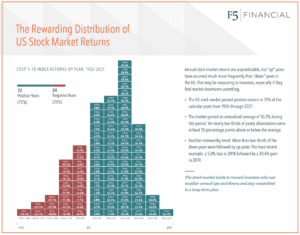 Step up to the plate and develop and implement a financial plan for your family. You'll be glad you did.
Would You Like More Support?
---
Do you have a well-defined Investment Policy Strategy that is used to drive your investments in support of a comprehensive financial plan?
---
If not, would you like to partner with someone who is used to helping people get through these struggles and (then, with confidence) implement portfolio strategies in a systematic manner while focusing on your desired outcomes?
---
If so, feel free to send us an email or give us a call. We'd love to have the opportunity to help you find a bit more peace of mind when it comes to investing.
Photo credit: rawpixel.com
F5 Financial
F5 Financial is a fee-only wealth management firm with a holistic approach to financial planning, personal goals, and behavioral change. Through our F5 Process, we provide insight and tailored strategies that inspire and equip our clients to enjoy a life of significance and financial freedom.
F5 Financial provides fee-only financial planning services to Naperville, Plainfield, Bolingbrook, Aurora, Oswego, Geneva, St. Charles, Wheaton, Glen Ellyn, Lisle, Chicago and the surrounding communities; to McDonough, Henry County, Fayette County, Atlanta and the surrounding communities; to Venice, Sarasota, Fort Myers, Port Charlotte, Cape Coral, Osprey, North Port, and the surrounding communities; and nationally.
We'd love to have the opportunity to hear about your situation. Contact us here to schedule an appointment for a consultation.
---
Helping You With
Wealth Preservation – Wealth Enhancement – Wealth Transfer – Wealth Protection – Charitable Giving