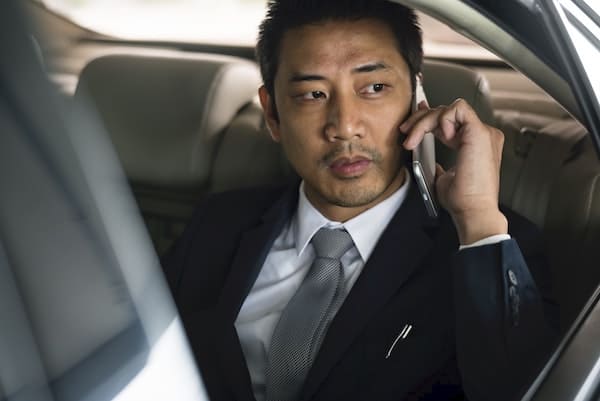 Think Long-Term—Don't Let a Recession Faze You
By: Curt Stowers
First three disclaimers: I am NOT an economist, I am NOT saying we are in a recession, and I am NOT providing any investment guidance via what I am about to share.
In all likelihood, the impact of coronavirus is such that we will see the economy slip into a recession. Some—make that many—have used this anticipated economic event as a rationale to exit the stock market. They are hypothesizing that "the sky is falling."
And yet the data does not support this "the sky is falling" mindset. Rather, during the past century's 15 recessions, 11 of the 15 instances have been such that the returns on equities were POSITIVE (see figure).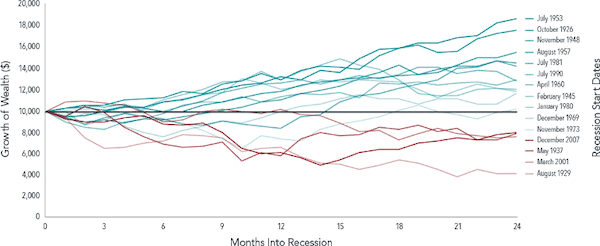 In particular, the annualized market return for the two years following a recession's start average 7.8%
As always, I strongly recommend that prior to investing, any and all individuals develop and deploy an "Investment Policy Strategy" to guide their actions.
You can see more information on this topic at this article.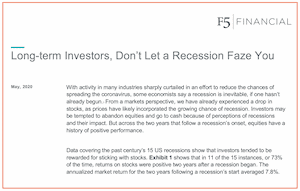 --
Would You Like More Support?
---
Do you have a well-defined Investment Policy Strategy that is used to drive your investments in support of a comprehensive financial plan?
---
If not, would you like to partner with someone who is used to helping people get through these struggles and (then, with confidence) implement portfolio strategies in a systematic manner while focusing on your desired outcomes?
---
If so, feel free to send us an email or give us a call. We'd love to have the opportunity to help you find a bit more peace of mind when it comes to investing.
Photo credit: rawpixel.com
F5 Financial
F5 Financial is a fee-only wealth management firm with a holistic approach to financial planning, personal goals, and behavioral change. Through our F5 Process, we provide insight and tailored strategies that inspire and equip our clients to enjoy a life of significance and financial freedom.
F5 Financial provides fee-only financial planning services to Naperville, Plainfield, Bolingbrook, Aurora, Oswego, Geneva, St. Charles, Wheaton, Glen Ellyn, Lisle, Chicago and the surrounding communities; to McDonough, Henry County, Fayette County, Atlanta and the surrounding communities; to Venice, Sarasota, Fort Myers, Port Charlotte, Cape Coral, Osprey, North Port, and the surrounding communities; and nationally.
We'd love to have the opportunity to hear about your situation. Contact us here to schedule an appointment for a consultation.
---
Helping You With
Wealth Preservation – Wealth Enhancement – Wealth Transfer – Wealth Protection – Charitable Giving