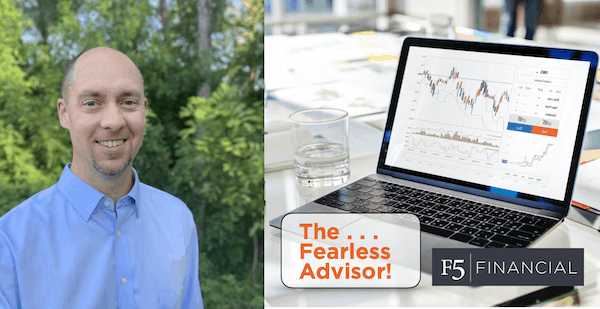 Is Volatility Good or Bad?
By: Josh Duncan
Volatility is "a tendency to change quickly and unpredictably."
The stock market can indeed swing greatly. Tune in to hear what you should be chasing!
(The video is 4 minutes. Full transcript is below.)
Full Transcript of video
Hey friends, the Fearless Advisor here. Today I am going to discuss if volatility in the stock market is good or bad.
Is volatility good or bad?
In the world of investing in the stock market, there is always change. Even if you do not follow the markets, simply turning on the news for fifteen minutes will typically reveal an update on the markets for the day. The results? The markets are either up or down from the previous day.
The ups and downs of the stock market are typical.
These ups and downs are called volatility. Webster has a few definitions for volatility. This one applies to our discussion: "a tendency to change quickly and unpredictably." The stock market has substantial and unexpected movements both above and below their trendlines. This is volatility, and it can drive investors crazy.
Volatility: "A tendency to change quickly and unpredictably."
The question at hand is whether these large market swings are good or bad? Let us first consider one extreme. If the S&P 500 were static and its value never changed, would anyone even consider investing in any of these five hundred companies? Of course not! Why? Because there would be no way of ever growing your investment. Without lows, there are no highs.
Without lows, there are no highs.
As we dig into this, remember that the stock market is made up of companies that make the products and services we humans use and consume. These are companies that know how to grow their earnings over their years of business. By owning stock in these companies, you expect your investment to grow.
Stock ownership is being part owner of a company.
Although these companies grow their earnings over the long haul, there are times when the stock market is up twenty percent one year and down twenty percent the next. This is how equities behave. It's normal. Sidenote: bonds do not behave this way.
The stock market can swing greatly from year to year.
Over the last century, bonds have returned an average of three percent over inflation. Equities, on the other hand, have returned an average of seven percent over inflation. Bonds return less with much less volatility. Equities return twice that of bonds but with an abundance of volatility. Therefore, the premium return received by equities is the market's way of compensating investors for tolerating the unpredictability of short-term returns.
The premium returned for owning equities is the market's way of rewarding equity investors.
Now, back to our question, is volatility good or bad? Well, if your goal is for your spending power to keep up with and surpass inflation, then enduring equity volatility is the only historically proven way to achieve this in the stock market. That would make volatility good. The key here is to stay invested during the market swings.
Volatility is good and necessary for growing your spending power.
Staying invested during bear markets and recessions is going to be challenging. Especially with the twenty-four-hour news cycle whispering sweet catastrophes in your ear. If this were easy, everyone would be doing it. Staying invested through the ups and downs with a focus on your long-term goals is the winning formula. Chase your dreams, not performance.
Chase your dreams, not performance.
If you need assistance or have questions about investing for your long-term goals, the team here at F5 Financial Planning would be happy to support your family. Thanks for joining us!
Would You Like More Support?
---
Do you have a well-defined Investment Policy Strategy that is used to drive your investments in support of a comprehensive financial plan?
---
If not, would you like to partner with someone who is used to helping people get through these struggles and (then, with confidence) implement portfolio strategies in a systematic manner while focusing on your desired outcomes?
---
If so, feel free to send us an email or give us a call. We'd love to have the opportunity to help you find a bit more peace of mind when it comes to investing.
Photo credit: rawpixel.com
---
Most recent video blog post:
F5 Financial
F5 Financial is a fee-only wealth management firm with a holistic approach to financial planning, personal goals, and behavioral change. Through our F5 Process, we provide insight and tailored strategies that inspire and equip our clients to enjoy a life of significance and financial freedom.
F5 Financial provides fee-only financial planning services to Naperville, Plainfield, Bolingbrook, Aurora, Oswego, Geneva, St. Charles, Wheaton, Glen Ellyn, Lisle, Chicago and the surrounding communities; to McDonough, Henry County, Fayette County, Atlanta and the surrounding communities; to Venice, Sarasota, Fort Myers, Port Charlotte, Cape Coral, Osprey, North Port, and the surrounding communities; and nationally.
We'd love to have the opportunity to hear about your situation. Contact us here to schedule an appointment for a consultation.
---
Helping You With
Wealth Preservation – Wealth Enhancement – Wealth Transfer – Wealth Protection – Charitable Giving