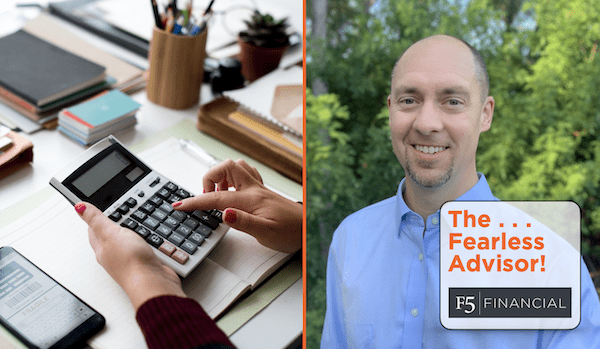 How does a financial advisor get paid?
By: Josh Duncan
Today we dive into the 3 common fee structures that financial advisors use. Here, we clarify commission-based, fee-only, and fee-based methods—so you can choose wisely.
Full Transcript of video
Hey friends, the Fearless Advisor here. Today I am going to discuss how financial advisors are paid by their clients.
3 Common fee structures for financial advisors
Hiring a financial advisor to support you and your family is a big decision and should not be taken lightly. If you are searching for a financial advisor, you might be wondering how they charge for their services. Let me encourage you to always ask an advisor how they are paid. Let's run through three common fee structures for financial advisors.
Method #1: Commissions (Advisor earns commissions on products sold.)
The oldest model financial advisors are paid under is with commissions. This is a transactional relationship where a portion of the amount you invest is paid to the advisor. For example, if you buy a mutual fund as much as 5.75% of your investment could be paid in commissions. This means your investment starts off in the red because the commission comes off the top. The more you invest with a mutual fund company, the lower the commission percentage. Commissions are also charged for buying stocks, bonds, insurance, and annuities.
Method #2: Fee-only (Advisor is paid a fee only.)
Next is the fee-only model. Financial advisors who hold themselves out as fee-only are not compensated for selling any investment products mentioned above. They are paid by their clients, and they typically do not represent a financial services company but, instead, are part of a Registered Investment Advisor firm, also known as an RIA. These advisors function in the capacity of a fiduciary, which requires them to put your interests ahead of theirs.
Fee-only: Hourly compensation
There are three primary sub-models within the fee-only model. First is hourly compensation. An advisor may charge between $150 and $350 per hour. You simply pay for the time required to provide the agreed upon scope of work. These advisors typically focus on developing financial plans and then reviewing them when the client wishes to meet and do so.
Fee-only: Flat fee
The second sub-model is a flat fee where an advisor will charge a fee for the services you are using. The fee could be paid monthly, quarterly, semiannually, or annually. The fee will typically be reevaluated annually and may only change if the services change, or if the advisor has a fee adjustment. You can expect fees to range from $500 to $10,000 per year.
Fee-only: Assets under management (AUM)
The final fee-only sub-model is by assets under management or AUM. This type of fee is based on the amount of assets your advisor is managing for you and is a sliding scale. The fee percentage typically decreases as your assets increase. For example, you pay 1% for the first million you have invested with the advisor, 0.8% for the next million, and 0.7% for the third million. This fee covers all the services the advisor provides.
Method #3: Fee-based (Advisor is paid BOTH commissions and fees.)
Finally, the third most common way to pay a financial advisor is a hybrid between commissions and fees, otherwise known as fee-based. The fee-based model can be implemented different ways. For example, you may purchase individual stocks under the commission model for a portion of your portfolio and invest the rest in a managed program where you pay by assets under management. This model can be the most challenging to comprehend, as it has the most variables.
Always ask advisors how they are paid.
I do hope this helps give you a better understanding of how you pay a financial advisor for their services. However, I do realize this topic is confusing and you still may have questions.
My encouragement to you is to be prepared to ask any advisors you are meeting with how they get paid. Some advisors will have a fees page available online - look for other advisor fee pages to compare pricing. They should be able to answer all your questions related to their commission and fees. Finally, an advisor should be able to show you exactly what you will pay them. If they cannot or become impatient, it's time to meet with the next advisor.
If you have questions about how financial advisors are paid, we would love to answer your questions. Feel free to schedule a meeting with a member of our team. Thanks for joining us!
Photo credit: rawpixel.com
---
Most recent Fearless Advisor video post::
When should I hire a financial advisor?
F5 Financial
F5 Financial is a fee-only wealth management firm with a holistic approach to financial planning, personal goals, and behavioral change. Through our F5 Process, we provide insight and tailored strategies that inspire and equip our clients to enjoy a life of significance and financial freedom.
F5 Financial provides fee-only financial planning services to Naperville, Plainfield, Bolingbrook, Aurora, Oswego, Geneva, St. Charles, Wheaton, Glen Ellyn, Lisle, Chicago and the surrounding communities; to McDonough, Henry County, Fayette County, Atlanta and the surrounding communities; to Venice, Sarasota, Fort Myers, Port Charlotte, Cape Coral, Osprey, North Port, and the surrounding communities; and nationally.
We'd love to have the opportunity to hear about your situation. Contact us here to schedule an appointment for a consultation.
---
Helping You With
Wealth Preservation – Wealth Enhancement – Wealth Transfer – Wealth Protection – Charitable Giving