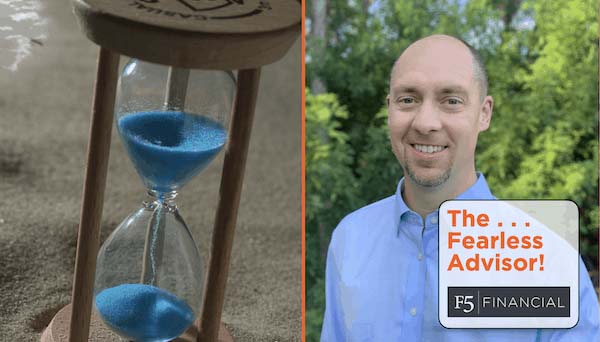 Do you have the time? (For long-term investments!)
By: Josh Duncan
It takes time for your long-term investments to reach fruition. Do you have the patience? If so, read on to learn how time is your friend!
(The video is 4 minutes. Full transcript is below.) 
Full Transcript
Hey friends, the Fearless Advisor here. Today I'm going to discuss the value time has on your long-term goals.
Value of Time: Tasks vs. Investments
I'm one of those people who feels I'm not fully dressed if I don't have my watch on. I highly value knowing what time it is because I am always thinking about what needs to be done. This reveals a character flaw of mine: I struggle to rest and let some things go undone.
This is the exact opposite way I think about investing. I'm planning on the growth that I need to achieve my goals to take over twenty years, at this point in my life.
Investing in the stock market – a 3-part plan
Let's face it, investing, at least in the stock market, is boring. At least, that is how I see it. The process goes like this: (i) we make a plan for our future, (ii) we determine the financial foundation needed to support the defined future, and (iii) we feed the investment machine. The hardest part is not blowing up the machine when the rest of the world is going crazy over a temporary apocalypse.
Companies grow with time.
If we are invested in high-quality companies that make the products and services seven billion people on the planet consume, then the value for most of these companies should increase. The increase just takes time. Companies grow with time.
So, do you have the time to benefit from investing? If you are looking for a silver bullet to make you rich, statistically, your chances are slim. Why not bet on time, which offers more certainty than superstition, and start investing for the future today? I realize that this sounds like an infomercial, my apologies.
Investments for the employed and for the self-employed
If you have a 401(k)available to you at work, start saving. Your company may very well throw in some matching funds as well. If you are self-employed, you can start your own retirement investment plan for your business to get started. If you have children who will likely attend college, consider your state's 529 plan. The timeline is much shorter for this goal so start today. You can open and fund one of these accounts in less than thirty minutes online.
 Every dollar of growth is like another seed planted for more growth.
The reason time works for you is compound growth. The simplest way I think about this is every dollar of growth is like another seed planted for more growth. Dollars growing dollars, growing dollars ad infinitum. The more dollars you plant, the more growth you see in the future.
For investing, time is your friend.
For investing, time is your friend. You just need to add the funding and patience to the equation. Sure, you may need a professional to help you decide which investments to use. The good news is there are many available to help. A profession should seek to understand why you are investing and your comfort level with the ups and downs of the stock market. By the way, the downs have never lasted forever.
If you have questions about using time for your benefit to enjoy freedom and significance, the team here at F5 Financial is available to have a conversation with you. Thanks for joining us!
Would You Like More Support?
---
Do you have a well-defined Investment Policy Strategy that is used to drive your investments in support of a comprehensive financial plan?
---
If not, would you like to partner with someone who is used to helping people get through these struggles and (then, with confidence) implement portfolio strategies in a systematic manner while focusing on your desired outcomes?
---
If so, feel free to send us an email or give us a call. We'd love to have the opportunity to help you find a bit more peace of mind when it comes to investing.
Photo credit: Immo Wegmann on unsplash.com
---
Most recent Fearless Advisor video post:
F5 Financial
F5 Financial is a fee-only wealth management firm with a holistic approach to financial planning, personal goals, and behavioral change. Through our F5 Process, we provide insight and tailored strategies that inspire and equip our clients to enjoy a life of significance and financial freedom.
F5 Financial provides fee-only financial planning services to Naperville, Plainfield, Bolingbrook, Aurora, Oswego, Geneva, St. Charles, Wheaton, Glen Ellyn, Lisle, Chicago and the surrounding communities; to McDonough, Henry County, Fayette County, Atlanta and the surrounding communities; to Venice, Sarasota, Fort Myers, Port Charlotte, Cape Coral, Osprey, North Port, and the surrounding communities; and nationally.
We'd love to have the opportunity to hear about your situation. Contact us here to schedule an appointment for a consultation.
---
Helping You With
Wealth Preservation – Wealth Enhancement – Wealth Transfer – Wealth Protection – Charitable Giving