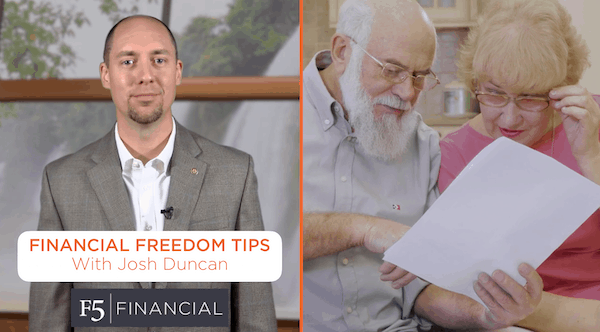 All About Long-Term Care Insurance
By: Josh Duncan
Are you concerned about the cost of long-term care?
Today I compare traditional vs. hybrid long-term care insurance policies. Learn about the probability and costs, as well as what each policy type covers.
(The video is 4 minutes. Full transcript is below.)
Full Transcript of video
Hello, I'm Josh Duncan with SCB News bringing you this edition of Financial Freedom. The purpose of Financial Freedom is to provide tips to help you achieve financial freedom for personal significance.
Health care is a popular and controversial topic in our country today. I believe most Americans can agree the cost of health care continues to rise at a higher rate than inflation. Health care can be at its highest when someone needs long-term care.
What is Long-Term Care?
When someone requires long-term care, it's typically assumed their medical expenses will increase significantly. Needing long-term care is typically determined when someone needs assistance with at least two activities of daily living. These activities include bathing, dressing, grooming, using the restroom, eating, and moving around. Someone may need care for a short or long period of time.
" . . . Only 25% percent of the population
will need long-term care assistance
for more than ninety days.
And only 5% of the population
will need care for four years or more."
Let's look at some statistics. Based on a 2017 study from the non-profit Rand Corporation, only twenty five percent of the population will need long-term care assistance for more than ninety days. And only five percent of the population will need care for four years or more. That is a low probability of needing care beyond three months.
Low probability events, but catastrophic if occur
Insurance is designed to cover events with low probability of happening but will be catastrophic when they do. This is good to remember when we think of long-term care insurance and the statistics I just mentioned. Remember, insurance is a business that must turn a profit like all businesses.
What long-term care insurance covers
If you are not familiar with long-term care insurance, it's designed to cover costs of care and is measured by a daily or monthly benefit. This benefit is then multiplied by a number of years to determine the maximum benefit. For example, if you have a six thousand dollar per month benefit that will last four years, your total benefit is two hundred eighty-eight thousand dollars.
Traditional vs. Hybrid policies
There are two primary types of policies, traditional and hybrid. First, traditional long-term care typically is a reimbursement policy. Therefore, the insurance company will reimburse you for a maximum amount of expenses per month. If you spend less per month, your coverage will last longer than quoted. If you spend more, you will have to pay the remainder out of your pocket.
Next is the hybrid policy. These are built like life insurance policies but designed to offer long-term care benefits. This means the benefits they pay out are an advance of the death benefit of the life insurance policy. Therefore, if you die prior to needing the insurance, there will be a death benefit for your beneficiaries. These policies may either reimburse your long-term care expenses or provide a monthly cash benefit. The cash benefit can be used however you like. Every payment you take reduces the death benefit.
Cost of Long-term care insurance (traditional vs. hybrid)
The traditional policies are the least expensive option as there is no death benefit. This is similar to a term life insurance policy, if you don't use it, the benefit is gone.
The hybrid policies are more expensive as there will be a benefit regardless of whether or not the long-term care benefit is used. You may compare this to whole life insurance, as it's more expensive since the insurance company will have to pay a benefit.
Consider both probability and cost
If you are considering purchasing long-term care insurance, first consider the probability of needing care. Second, consider the cost of the premiums. Long-term care can be very expensive, and you should consider the alternative of investing the premiums.
Ask an unbiassed professional to assist you
Finally, ask an unbiased professional to help make your decision. Many long-term care sales are made with fear tactics about losing all your life savings. Although this is a possibility, statistically there is a low probability.
Thank you for joining me for Financial Freedom. I'm Josh Duncan, Financial Advisor with F5 Financial Planning, helping you achieve financial freedom for personal significance. Please contact me here to send topics you would like me to cover. See you next time.
Photo credit: SCB TV (the producers of our video) on unsplash.com
---
Most recent video blog post:
What is PMI (Private Mortgage Insurance)?
F5 Financial
F5 Financial is a fee-only wealth management firm with a holistic approach to financial planning, personal goals, and behavioral change. Through our F5 Process, we provide insight and tailored strategies that inspire and equip our clients to enjoy a life of significance and financial freedom.
F5 Financial provides fee-only financial planning services to Naperville, Plainfield, Bolingbrook, Aurora, Oswego, Geneva, St. Charles, Wheaton, Glen Ellyn, Lisle, Chicago and the surrounding communities; to McDonough, Henry County, Fayette County, Atlanta and the surrounding communities; to Venice, Sarasota, Fort Myers, Port Charlotte, Cape Coral, Osprey, North Port, and the surrounding communities; and nationally.
We'd love to have the opportunity to hear about your situation. Contact us here to schedule an appointment for a consultation.
---
Helping You With
Wealth Preservation – Wealth Enhancement – Wealth Transfer – Wealth Protection – Charitable Giving