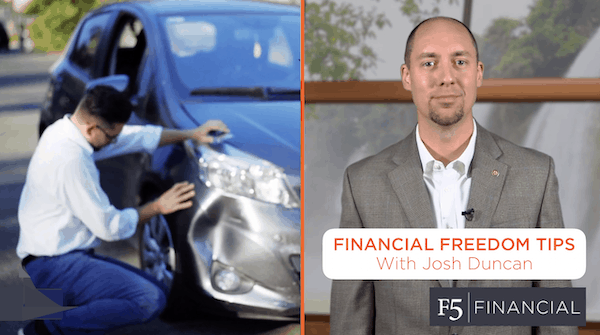 P&C Insurance (Property and Casualty) – Understand What You Need
By: Josh Duncan
"How much P&C insurance do I need?"
An insurance review is a key part of comprehensive financial planning.
P&C (property and casualty) insurance includes polices that cover your home, vehicles, and other high-dollar items.
In this 5-minute video, I offer an overview to help address the question "How much do I need?"
Full Transcript of video
Hello, I'm Josh Duncan with SCB News bringing you this edition of Financial Freedom. The purpose of Financial Freedom is to provide tips to help you achieve financial freedom for personal significance.
A key part to comprehensive financial planning is an insurance review. Property and casualty, or P&C, insurance is one type of insurance that falls into this review. P&C includes polices that cover your home, vehicles, watercraft, recreational vehicles, and high-dollar personal articles. There are more types of coverage, but these are most common for individuals.
Insurance designed for catastrophic incidents of low frequency
Remember, insurance is designed to cover catastrophic incidents of low frequency. For example, a home burning down. Now, if you live in a large city, you may be thinking auto accidents are highly frequent. However, when you consider all the insured vehicles and miles driven per day, the frequency is still very low.
Main areas of coverage for homeowner's and auto insurance
I am going to cover the main areas of coverage for homeowner's and auto insurance. Each of the areas I mention have limits for what the insurance company will pay. Please take time to review your policies or statements so you know what coverage you have and consider if your coverage is adequate. Should you be at fault for a claim that exceeds the insurance max, you will be personally liable for the remainder.
Let's start with the key areas of homeowner's insurance. First, is the dwelling coverage, which is what the insurance company believes it will cost to rebuild your home from the ground up. Next will be other structures, which covers detached structures from your home.
Personal property coverage is designed to protect the contents of your home. It's a good idea to document the high-cost contents of your home to show the insurance company what needs to be replaced in the case of a claim.
Finally, is personal liability and medical payment coverage. Personal liability will cover expenses related to a claim or suit brought against you for bodily injury or property damage. The medical payments coverage is designed to pay for medical bills for someone who gets injured while on your property.
Key areas of auto insurance
Now for the key areas of auto insurance. The first coverage you will see is bodily injury. The coverage will be stated as per person and per accident. For example, the coverage may be $250,000 per person with a maximum of $500,000 per accident. The underinsured/uninsured coverage will be stated in the same manner with the purpose of covering you if the person at fault is not covered or does not have enough coverage.
Next, is property damage liability. This covers the cost of property you may damage with your vehicle.
Medical coverage is intended to cover funeral or other medical expense for you and your passengers. This tends to have limits below $10,000.
Finally, is comprehensive and collision coverage. Comprehensive will cover your car if stolen or damaged from weather, floods, fire, falling objects, explosions, crashes with animals, and riots. Collision covers damage to your vehicle in an accident you cause, if you hit an object, or if you are hit by someone else. Of course, you would file a claim against the person who hit you, if they are at fault.
Summing up P&C insurance
This is just an overview of the types of P&C insurance coverage within your home and auto policies. As I mentioned, these policies have limits to the amount they cover. Some people purchase an umbrella policy to cover expenses above their current coverage. Recently, when I asked someone if they knew what coverage they had on their vehicle they said, "Usually I find out about the coverage I have when I need it." Please take the time to review your policies and understand the coverage you have before it's needed.
Thank you for joining me for Financial Freedom. I'm Josh Duncan, Financial Advisor with F5 Financial Planning, helping you achieve financial freedom for personal significance. Please contact me here to send topics you would like me to cover. See you next time.
Reference:  
Photo credit: SCB Video TV Marketing (producers of the video)on unsplash.com
---
Most recent video blog post:
What is Retirement? That Depends on You.
F5 Financial
F5 Financial is a fee-only wealth management firm with a holistic approach to financial planning, personal goals, and behavioral change. Through our F5 Process, we provide insight and tailored strategies that inspire and equip our clients to enjoy a life of significance and financial freedom.
F5 Financial provides fee-only financial planning services to Naperville, Plainfield, Bolingbrook, Aurora, Oswego, Geneva, St. Charles, Wheaton, Glen Ellyn, Lisle, Chicago and the surrounding communities; to McDonough, Henry County, Fayette County, Atlanta and the surrounding communities; to Venice, Sarasota, Fort Myers, Port Charlotte, Cape Coral, Osprey, North Port, and the surrounding communities; and nationally.
We'd love to have the opportunity to hear about your situation. Contact us here to schedule an appointment for a consultation.
---
Helping You With
Wealth Preservation – Wealth Enhancement – Wealth Transfer – Wealth Protection – Charitable Giving