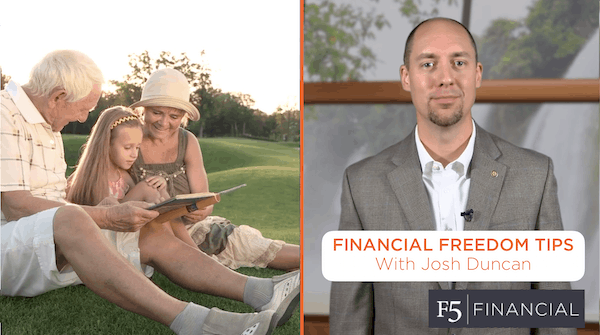 What is Retirement? That Depends on You.
By: Josh Duncan
How do you define "retirement"?
My favorite definition of retirement is "voluntarily ending one journey to begin another." Each of us has our own purpose and dream for retirement. In this 4-minute video, I help you identify yours.
(Full Transcript is below.)
Full Transcript of video
Hello, I'm Josh Duncan with SCB News bringing you this edition of Financial Freedom. The purpose of Financial Freedom is to provide tips to help you achieve financial freedom for personal significance.
In my line of work, almost everyone I speak with wants to plan for their retirement. Have you ever wondered about the meaning of retirement? I remember seeing my grandfather retire prior to age 60. He and my grandmother enjoyed updating their home, traveling, and spending time with family and friends.
Now, the idea of retirement didn't begin in America. However, as the industrial revolution began to shape the American economy, we began to think about retirement. The physical labor was taxing on the body, and companies looked for a way to help their loyal employees exit the business while adding younger employees. In the late 1800's, pensions were created. Later came Social Security. These changes shaped how we define retirement.
How has the purpose of retirement changed over time?
The common reasons I see for retirement are:
Spending more time with family
Traveling
Working on a passion project, and
Leaving an undesirable work environment
Each of us can have our own purpose for retirement. However, the definition I like for retirement is "voluntarily ending one journey to begin another." Retirement is an event, not a destination. The other day I met a couple who retired from their corporate careers to open a local ice cream shop. This may sound like an odd retirement plan, but they are having a blast!
If retirement is a destination of rest for you, consider changing your mindset.
Instead of thinking about how you must go to work today so you can retire later, think of how you get to go to work. If your current job does not align with your passion, start dreaming and planning how to make this a reality.
When I was growing up, my parents encouraged me to attend college and get a well-paying job. So, I did what I was told and was hired as a programmer. Unfortunately, I had to complete four years of college, a summer internship, and three months of work to learn that this was not my passion. I quickly learned that I enjoyed interacting with other people, project management, and leadership. Eventually, I found the field of financial planning where I get to do what I enjoy.
Retirement is "voluntarily ending one journey to begin another."
Here's my point, retirement just begins a new or different stage of life. The transition can be quite challenging. However, if you are dreaming now and finding a way to earn an income while living your passion, why retire? I believe we were all created with God-given gifts and are expected to use those to serve others. Therefore, we may retire many times from one journey as another one begins.
Remember, retirement is not a destination but an event.
As you think about your life and your passions, dream about the journey you want to take. Remember, retirement is not a destination but an event. Yes, we all need to be good stewards by saving, investing, and protecting our wealth. The question is, how much fun and purpose will your wealth fuel?
Wealth is having an abundance of what you value.
Oh, by the way, wealth is not necessarily millions of dollars. Wealth is having an abundance of what you value. Start planning for your next retirement by dreaming and taking inventory of your gifts and talents!
Thank you for joining me for Financial Freedom. I'm Josh Duncan, Financial Advisor with F5 Financial Planning, helping you achieve financial freedom for personal significance. Please contact me here to send topics you would like me to cover. See you next time.
Photo credit: SCB Video TV Marketing (producers of the video)
---
Most recent video blog post:
The #1 Retirement Question - How Much is Enough?
F5 Financial
F5 Financial is a fee-only wealth management firm with a holistic approach to financial planning, personal goals, and behavioral change. Through our F5 Process, we provide insight and tailored strategies that inspire and equip our clients to enjoy a life of significance and financial freedom.
F5 Financial provides fee-only financial planning services to Naperville, Plainfield, Bolingbrook, Aurora, Oswego, Geneva, St. Charles, Wheaton, Glen Ellyn, Lisle, Chicago and the surrounding communities; to McDonough, Henry County, Fayette County, Atlanta and the surrounding communities; to Venice, Sarasota, Fort Myers, Port Charlotte, Cape Coral, Osprey, North Port, and the surrounding communities; and nationally.
We'd love to have the opportunity to hear about your situation. Contact us here to schedule an appointment for a consultation.
---
Helping You With
Wealth Preservation – Wealth Enhancement – Wealth Transfer – Wealth Protection – Charitable Giving