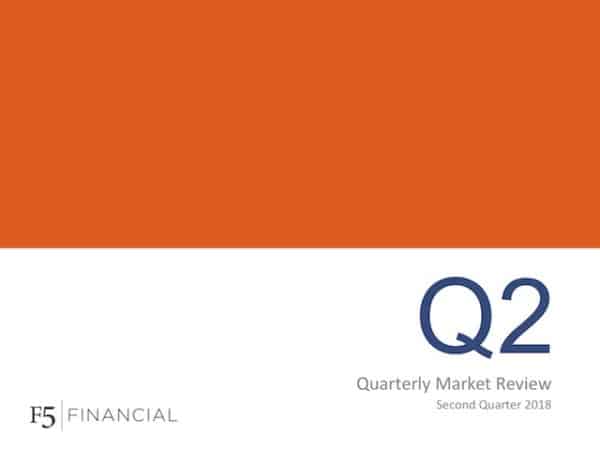 Quarterly Market Review – Second Quarter 2018
By: Curt Stowers
While we believe that investors should always focus on the long term, we recognize that there is always a great deal of interest in happenings in the marketplace. With that in mind, each quarter we publish a brief market update, the Quarterly Market Review.
Here is the Quarterly Market Review for the 2ndquarter of 2018 (April – June). As is normally the case, some things went up and some things went down.
Take a look at the attached presentation if you'd like to view the recap.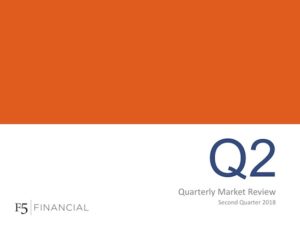 Are you worried about the behavior of the market and how, when, and where to invest?
If so, would you like to partner with someone who is used to helping people get through these struggles and (then, with confidence) implement portfolio strategies in a systematic manner?
If so, feel free to send us an email or give us a call. We'd love to have the opportunity to help you find a bit more peace of mind when it comes to investing.
F5 Financial
F5 Financial provides fee-only financial planning services to Naperville, Plainfield, Bolingbrook, Aurora, Oswego, Geneva, St. Charles, Wheaton, Glen Ellyn, Lisle, Chicago and the surrounding communities. Curt Stowers is a fee-only financial planner. He is a Certified Financial Planner (has passed the CFP® examination). Contact or visit Curt at his Naperville location.
We'd love to have the opportunity to hear about your situation. Send us an email or give us a call to find out more about next steps.
---
Helping You With
Wealth Preservation – Wealth Enhancement – Wealth Transfer – Wealth Protection – Charitable Giving
Visit Us At
50 South Main, Suite 200 Naperville, IL 60540
Contact Us At
(630) 474-5213 or email