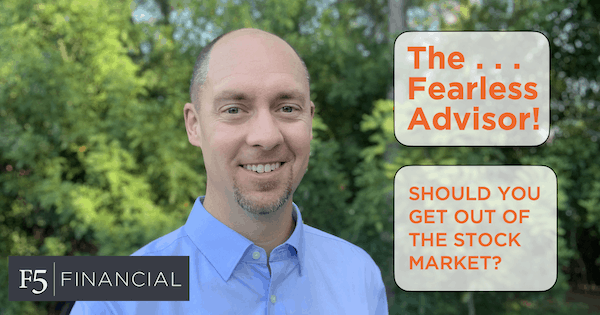 Should You Get Out of the Stock Market?
By: Josh Duncan
Are you feeling anxious about the stock market?
Today the Fearless Advisor challenges you to think through what is driving the media messages to get out of the stock market.
Full Transcript of video
Hey friends, the Fearless Advisor here. Today I am going to discuss if you should get out of the stock market.
As this video is released, we will be a little over a week from the 2020 presidential election. The media is filled with fear and hatred over COVID, the election, a Supreme Court nominee, social issues, and the stock market. I did read an article about the largest lake trout caught on Lake Champlain in Vermont, but I am sure that is bad news to some folks as well.
Why is the media pushing fear?
So why is there all this fear-filled news streaming through your phone at ten new stories every hour? In my opinion, the reason is that fear keeps us coming back for more. We hear or read a news story that invokes fear, and we want to keep tuning in to learn if anything has changed. We let this fear become fuel for our emotions.
Much of the information about the market today suggests the end is near and to either get out of the stock market or be prepared to do so at a moment's notice. I suppose if sitting around watching the stock market is all that is on your agenda for the day, this could be realistic. However, I am a financial advisor, and this is not my idea of a good time.
Should you get out of the stock market?
So, should you get out of the stock market? I believe this depends on the purpose of the money you have in the stock market. You can use the information in the media to help make this decision.
Beware of paid subscriptions that leave you with
a racing heart and anxiety after every article

First, you are going to have to decide what information is good for you to use in your analysis. Be a filter and only let the relevant and factual information through. This is very challenging as there is so much information to sift through. Beware of paid subscriptions that leave you with a racing heart and anxiety after every article. I am not sure your doctor would agree this is helping your health.
The four most dangerous words in stock market investing: "This time is different."
I am going to assume you are invested in the market for the long-haul, 10, 20, or even 30 plus years. If you are using an average annual return based on historical information, then the volatility we are experiencing, and the outcome of the election is already factored into your portfolio construction. This time is not different. Plus, I cannot imagine that companies are going to forget how to make money from seven billion global residents.
As humans we leak and need to be
reminded of our values and good habits.
You may now be saying to yourself, "I think I have heard this before." Yes, I am sure you have. As humans we leak and need to be reminded of our values and good habits. Otherwise, we veer from the track we know we want to follow. This is normal.
Step 1: Identify your emotional triggers.
My encouragement to you is to take control of your thoughts and actions by identifying your triggers. Decide which information you allow into your analysis. Enlist trusted friends and professionals in your life to help you stay on track. We all need help to reach our full potential.
Step 2: Ditch the fear and get a financial plan!
One of the proven methods to help you through this process is to have a financial plan and investment policy statement. The plan documents your goals and the actions that will help achieve them. The investment policy statement is a commitment to yourself on how you will invest your money, no matter what. You can change your investment policy statement; it is just not recommended when you are steeped in fear. You cannot get off the rollercoaster after it leaves the platform.
I encourage everyone to have a plan for their future, which includes their investments. You can do this on your own or engage a financial advisor. Set your sights on the future while enjoying today. The noise of today will be gone tomorrow.
Call F5 Financial—We'd be happy to discuss your journey.
If you do not have a financial advisor that aligns with your goals to achieve freedom and significance, we would be happy to discuss your journey. Feel free to reach out to us at F5 Financial Planning. Thanks for joining us!
Photo credit: F5 Financial
---
Most recent Fearless Advisor video post:
Financial Freedom Tips - Open Enrollment for Health Insurance Benefits
F5 Financial
F5 Financial is a fee-only wealth management firm with a holistic approach to financial planning, personal goals, and behavioral change. Through our F5 Process, we provide insight and tailored strategies that inspire and equip our clients to enjoy a life of significance and financial freedom.
F5 Financial provides fee-only financial planning services to Naperville, Plainfield, Bolingbrook, Aurora, Oswego, Geneva, St. Charles, Wheaton, Glen Ellyn, Lisle, Chicago and the surrounding communities; to McDonough, Henry County, Fayette County, Atlanta and the surrounding communities; to Venice, Sarasota, Fort Myers, Port Charlotte, Cape Coral, Osprey, North Port, and the surrounding communities; and nationally.
We'd love to have the opportunity to hear about your situation. Contact us here to schedule an appointment for a consultation.
---
Helping You With
Wealth Preservation – Wealth Enhancement – Wealth Transfer – Wealth Protection – Charitable Giving