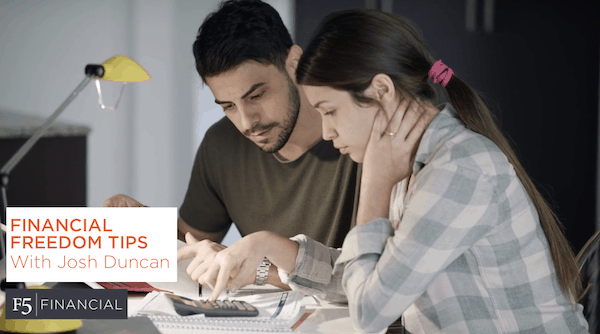 Financial Freedom Tips (Video): Life Insurance – Term vs. Whole Life
By: Josh Duncan
Families need life insurance, yet many are underinsured. Are you curious about term vs. whole life?
Term vs. Whole Life
Many families do not have coverage or are underinsured because they do not understand how life insurance works.
In this 5-minute video, Josh Duncan explains the basic differences between term and whole life insurance, so you can make the best decisions for your family.
Full Transcript of video (Term vs. Whole Life)
Hello, I'm Josh Duncan with SCB News bringing you this edition of Financial Freedom. The purpose of Financial Freedom is to provide tips to help you achieve financial freedom for personal significance.
Life insurance is a topic most adults have discussed and probably even purchased or obtained through their employer. A study released in September 2018 by Foresters Financial concluded 84% of Americans say most people need life insurance but only 59% own a form of life insurance.
So why the disparity between the percent who need life insurance and those who have coverage? I'm sure there are many reasons. However, in my experience, many do not have coverage or are underinsured because they do not understand the value of life insurance or how it works.
In hopes to help you better understand, let's look at the basics of term and whole life insurance. Term is the simplest form of life insurance available. This is a policy covering your life for a period of years or term. This period is typically from 10 to 30 years, increasing in five-year increments. If you die during the term, the benefit is paid out to the beneficiaries listed on the policy.
The cost of all life insurance is based on the risk you pose to the insurance company. In layman terms, how likely are you to die while covered by the policy. The younger and healthier you are, the lower the price of the insurance. Therefore, term insurance is the least expensive life insurance. And yes, if you survive past the term, the insurance is gone, and you receive nothing in return. Generally, the premiums are fixed for the entire policy.
You can see why young families use term insurance to purchase large amounts of coverage for 30 years or less. This allows them to replace their income by investing the death benefit, allowing the surviving spouse to continue supporting the family. It's not uncommon for parents with children at home to have more than $500,000 of term insurance.
Now, let's turn to whole life or permanent insurance, which is more complex. The obvious difference is whole life insurance has no term and covers your life span. Therefore, since the insurance company is guaranteed to pay out the benefit, this is much more expensive than term insurance. In fact, whole life can cost over 10 times more than term insurance.
These policies have a cash value that grows at a guaranteed rate, typically lower than typical investment returns. You can borrow against the cash. If not paid back, the death benefit will be reduced by the loan amount. The premiums are fixed through the life of the policy as well.
Early in my adult life, prior to becoming a financial professional, my wife and I purchased permanent policies. As our family grew, we purchased term policies. A few years later, I surrendered the permanent policies as the coverage did not meet our needs for the cost.
Although I'm not able to share every detail of term and whole life insurance here, I encourage you to review your coverage to ensure your family is protected. Should you choose to work with a professional for your insurance, here are some questions to ask:
How did you come up with the amount of insurance I need? (Need-based is the most in-depth approach)
How do you make money? (They are paid a commission, which is a percentage of the premium.)
What is guaranteed with the policy?
What extras do I get with the policy?
Can you explain this to me? (Life insurance is complex, so ask as many questions as needed.
Thank you for joining me for Financial Freedom. I'm Josh Duncan, Financial Advisor with F5 Financial Planning, helping you achieve financial freedom for personal significance. Please contact me here to send topics you would like me to cover. See you next time.
References
Photo credit: SCB Video TV Marketing (producers of the video)
---
Most recent video blog post:
Financial Freedom Tips (Video) - Parents, How Much Life Insurance Do You Need?
F5 Financial
F5 Financial is a fee-only wealth management firm with a holistic approach to financial planning, personal goals, and behavioral change. Through our F5 Process, we provide insight and tailored strategies that inspire and equip our clients to enjoy a life of significance and financial freedom.
F5 Financial provides fee-only financial planning services to Naperville, Plainfield, Bolingbrook, Aurora, Oswego, Geneva, St. Charles, Wheaton, Glen Ellyn, Lisle, Chicago and the surrounding communities; to McDonough, Henry County, Fayette County, Atlanta and the surrounding communities; to Venice, Sarasota, Fort Myers, Port Charlotte, Cape Coral, Osprey, North Port, and the surrounding communities; and nationally.
We'd love to have the opportunity to hear about your situation. Contact us here to schedule an appointment for a consultation.
---
Helping You With
Wealth Preservation – Wealth Enhancement – Wealth Transfer – Wealth Protection – Charitable Giving