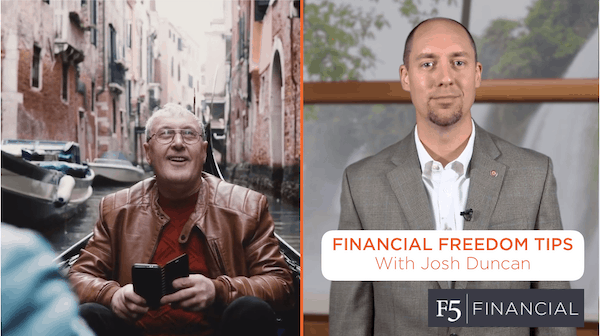 The #1 Retirement Question – How Much is Enough? (VIDEO)
By: Josh Duncan
How much should you have saved for retirement?
"One million dollars—That's the magic number I need saved for retirement, right?" I often hear when someone first learns that I'm a financial planner. Not necessarily so!
In this 4-minute video, I share the 4 things you need to know to answer this question accurately for YOU.
(Full Transcript is below.)
Full Transcript of video
Hello, I'm Josh Duncan with SCB News bringing you this edition of Financial Freedom. The purpose of Financial Freedom is to provide tips to help you achieve financial freedom for personal significance.
One million dollars. That's the magic number I need saved for retirement, right? That's what I often hear when I first meet someone, and they learn I am a financial planner. My answer is always, "Well, that depends on your goals and situation."
In his book, Atomic Habits, James Clear discusses how our minds are wired for instant gratification and how this makes delayed gratification goals so challenging. Planning for retirement could be the goal with the longest timeline in our lives. Not only could we plan for 30 to 40 years to begin retirement, we then plan to live in retirement for another 20 to 35 years! No wonder why retirement planning is so easy to put off.
I hate to burst anyone's bubble but there is no magic retirement savings number for anyone. Even in the business of financial planning, we never pinpoint a specific number that triggers the retirement "switch." We plan for retirement by focusing on goals and the estimated funds to live and achieve those goals. To begin planning for retirement, we need to pull together some information. The information can be specific or general depending on your desired precision.
First, we must dream! When was the last time you focused on dreaming about your future and how you want your life to look? I'll be the first to admit I easily get caught up in the day-to-day activities and forget to dream. In fact, if it wasn't for my wife's nudging, I'm not sure I would spend the necessary time dreaming about our future. Honestly, if we do not have a dream about our future, why spend any time planning for retirement?
Now that we have the fun part out of the way, the next piece of information is to determine what your current lifestyle costs. Assuming you want to maintain or improve how you live today; we need to have an idea of how much financial fuel required. I see many families fall short here as they trick themselves into believing they spend less than reality. This will only lead to disappointment in the future. It's better to face the facts today, when there is time for course correction.
Next, we need to make assumptions about our retirement age and life expectancy. Although this may feel morbid, we need an idea of how long retirement will last. A common way to estimate our life expectancy is to consider our family health history. To be more conservative, we can add five to 10 years to our life expectancy.
Finally, we need to consider all forms of our retirement income. The most common are pensions and Social Security. Others may have deferred compensation plans from their employer. These forms of retirement income reduce the amount of money we need saved in our retirement and investment accounts.
Now that we have this information, how will we begin to know the amount of money we need saved for retirement? In simple terms, our retirement savings will be used to fund the portion of our retirement not funded by other forms of retirement income. Planners like me use common math formulas and probability analysis to determine if a family can retire and stay comfortably retired. If you have these pieces of information, you can use websites to access the same analysis. The clear difference is a planner will hold you accountable to completing the process.
Although there is no magic retirement account balance for us to switch immediately into retirement, consider making small steps toward you plan. This could be verifying you are contributing to your employer retirement plan. We cannot borrow our way through retirement. Take the first step in this journey this week!
Thank you for joining me for Financial Freedom. I'm Josh Duncan, Financial Advisor with F5 Financial Planning, helping you achieve financial freedom for personal significance. Please contact me here to send topics you would like me to cover. See you next time.
See you next time.
Photo credit: SCB Video TV Marketing (producers of our video)
---
Most recent video blog post:
Financial Freedom Tips - 4 Essential Steps for Estate Planning
F5 Financial
F5 Financial is a fee-only wealth management firm with a holistic approach to financial planning, personal goals, and behavioral change. Through our F5 Process, we provide insight and tailored strategies that inspire and equip our clients to enjoy a life of significance and financial freedom.
F5 Financial provides fee-only financial planning services to Naperville, Plainfield, Bolingbrook, Aurora, Oswego, Geneva, St. Charles, Wheaton, Glen Ellyn, Lisle, Chicago and the surrounding communities; to McDonough, Henry County, Fayette County, Atlanta and the surrounding communities; to Venice, Sarasota, Fort Myers, Port Charlotte, Cape Coral, Osprey, North Port, and the surrounding communities; and nationally.
We'd love to have the opportunity to hear about your situation. Contact us here to schedule an appointment for a consultation.
---
Helping You With
Wealth Preservation – Wealth Enhancement – Wealth Transfer – Wealth Protection – Charitable Giving