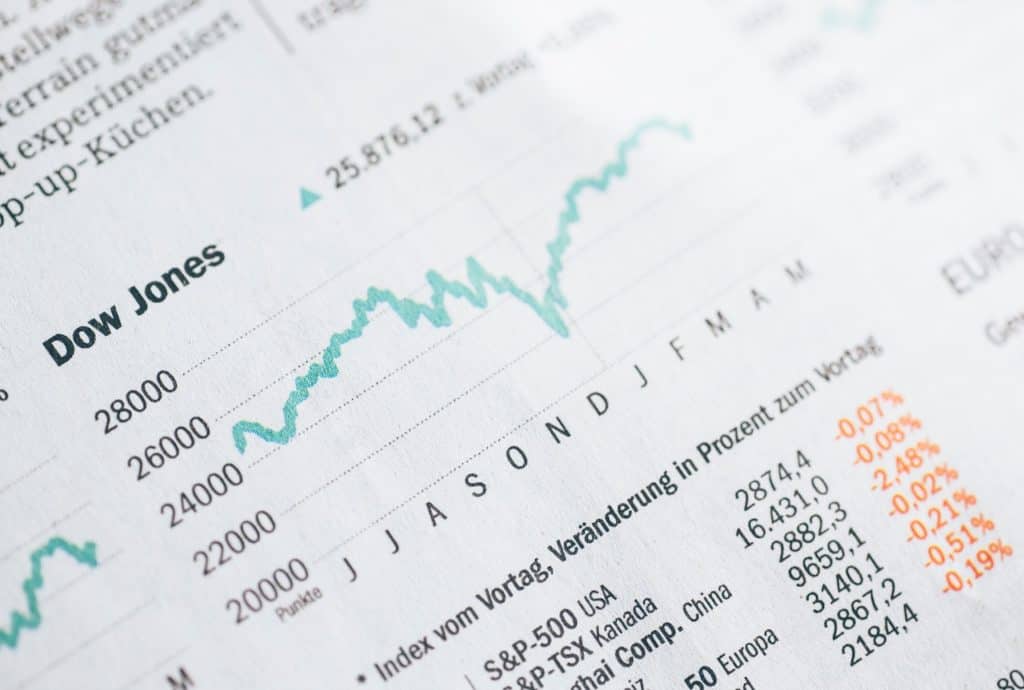 The Best of Times, The Worst of Times – The S&P 500
By: Curt Stowers
Since 2010 the S&P 500 has been on a tear. Holdings in funds that mirror this index have done incredibly well. For those not familiar with the S&P 500, it is a market-cap weighted index of the 500 largest US companies. And this past decade, the big US companies have been kicking you know what and taking names!
The S&P 500 over the last 20 years
More than a few individuals I know have been shifting more and more of their holdings into large cap funds such as the S&P 500. However, when you look a bit deeper, you find out that this may not be quite as good of a long-term strategy as it might first appear. The following table tells a much different story. The table shows the returns for multiple indices from 2000 - 2009, 2010 – 2019 (June), and 2000 – 2019 (June):
Table: Comparing the S&P 500 with other asset classes


While the S&P 500 has been "killer" for the past decade, the prior decade and the TOTAL two-decade performance of the S&P 500 has been below that of the other indices.
So, what does this data tell us about the S&P 500?
Does this mean that the S&P 500 is "bad" or that it will underperform in the long-term? Absolutely not. However, I would argue that the past decade does NOT argue that the S&P 500 is "good" or that it will outperform in the long term!
In my opinion, the key to successful long-term investing is to have a well-defined strategy that is based on capturing market returns across globally diversified asset classes. History has shown that this approach yields solid results, and, accordingly, I choose to pursue this approach.
You can get a more detailed discussion of the performance of the S&P 500 by jumping to this link, which contains a PDF file going into more detail on this topic.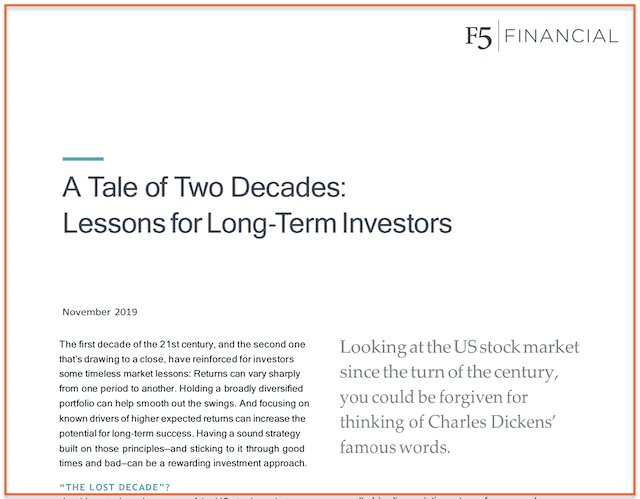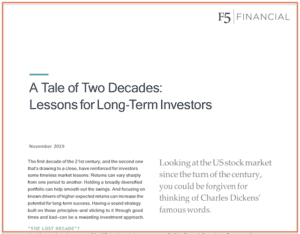 Would You Like More Support?
---
Do you have a well-defined Investment Policy Strategy that is used to drive your investments in support of a comprehensive financial plan?
---
If not, would you like to partner with someone who is used to helping people get through these struggles and (then, with confidence) implement portfolio strategies in a systematic manner while focusing on your desired outcomes?
---
If so, feel free to send us an email or give us a call. We'd love to have the opportunity to help you find a bit more peace of mind when it comes to investing.
Photo credit: Markus Spiske on unsplash.com
F5 Financial
F5 Financial is a fee-only wealth management firm with a holistic approach to financial planning, personal goals, and behavioral change. Through our F5 Process, we provide insight and tailored strategies that inspire and equip our clients to enjoy a life of significance and financial freedom.
F5 Financial provides fee-only financial planning services to Naperville, Plainfield, Bolingbrook, Aurora, Oswego, Geneva, St. Charles, Wheaton, Glen Ellyn, Lisle, Chicago and the surrounding communities; to McDonough, Henry County, Fayette County, Atlanta and the surrounding communities; to Venice, Sarasota, Fort Myers, Port Charlotte, Cape Coral, Osprey, North Port, and the surrounding communities; and nationally.
We'd love to have the opportunity to hear about your situation. Contact us here to schedule an appointment for a consultation.
---
Helping You With
Wealth Preservation – Wealth Enhancement – Wealth Transfer – Wealth Protection – Charitable Giving