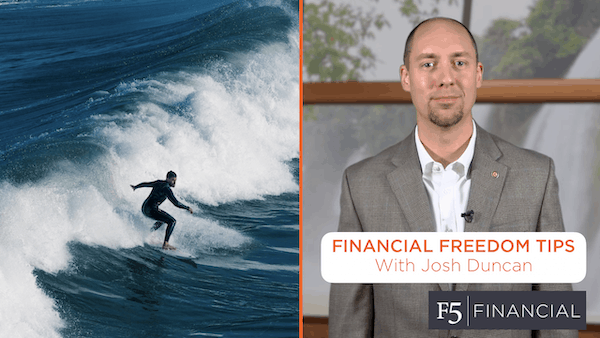 Values in Action – Financial Freedom Tips
By: Josh Duncan
How do you define personal significance?
Your values and long-term goals drive what you need to succeed. In this 4-minute video, I take a deeper dive into values in action—just in time for your end-of-year reflections.
Mentioned Links:
Full Transcript of video
Hello, I'm Josh Duncan with SCB News bringing you this edition of Financial Freedom. The purpose of Financial Freedom is to provide tips to help you achieve financial freedom for personal significance.
Recently my mastermind group met up in Nashville for our biannual event. During the event, we had a breakout session to discuss our beliefs about money and how they can hold us back from achieving financial freedom for personal significance.
How do you define personal significance?
Your path to financial freedom must begin with how you define personal significance. What makes you feel important and impactful to the world around you? I remember being stuck in short-term thinking and only focused on the next paycheck. Thankfully, mentors in my life provided insight on the value of long-term thinking and setting goals.
Your values and long-term goals drive what you need to succeed.
Once you know what makes you feel significant, then you can begin planning for the financial freedom required to make it a reality. As I mentioned in a previous video, many people feel they need one million dollars saved up to retire. My challenge to you is to think about the income you need now to achieve your significance and save for long-term goals. Many of us have to change our mindset to begin thinking this way. Allow your goal to drive what you need to succeed, not society or culture. Keeping up with the Joneses is a never-ending journey that will not end well.
Our firm's 4 values
Let me share our firm's values with you and challenge you to use these to change your mindset and beliefs about financial freedom.
Value #1: Intentionality
Our first value is intentionality. The challenge here is to make the decision to remove mental blocks that you hold related to what money is and is not and how it helps you achieve personal significance. Money is not evil or used for keeping score. The truth is that money is a gift from God and a medium for exchange. Money gives you options to choose and can be a tool for the greater good.
Value #2: Accountability
Our second value is accountability. The challenge here is to accept accountability for your finances so that you have a healthy relationship with money in your home and business. Some ways to do this are using budgeting tools and sound spending strategies, such as You Need a Budget and Dave Ramsey's courses.
Value #3: Discipline
The third value is discipline. The challenge here is to allow long-term money to be a tool for good versus getting in the way of your life. Some ways to instill discipline is to use the accountability tools for cash flow planning and managing to a balance sheet. We all need partners to help hold us accountable as well. These can be your spouse, friends, accountant, financial advisor, and business partners.
Value #4: Courage
The final value is courage. The challenge here is to have the courage to implement the systems and behaviors to achieve financial freedom to pursue your significance. We have already discussed some systems you can use. As for behaviors, consider what you will do daily, weekly and monthly. There are great tools available to help you implement these behaviors. The key is to pick one and go with it.
Again, the four values are intentionality, accountability, discipline, and courage. Personally, I have to keep these in front of me daily as it's so easy to lose focus in the busyness of the day. I fail frequently and have to course correct and get back in line. You can use these values or others you have defined. Either way, review them daily and define your goals by where you find your significance. Money is a tool to help you achieve your significance.
Thank you for joining me for Financial Freedom. I'm Josh Duncan, Financial Advisor with F5 Financial Planning, helping you achieve financial freedom for personal significance. Please send topics you would like me to cover to josh.duncan@f5fp.com. See you next time.
Photo credit: Patrick Fore on unsplash.com
---
Most recent video blog post:
Financial Freedom Tips - Your Christmas Spending Plan
F5 Financial
F5 Financial is a fee-only wealth management firm with a holistic approach to financial planning, personal goals, and behavioral change. Through our F5 Process, we provide insight and tailored strategies that inspire and equip our clients to enjoy a life of significance and financial freedom.
F5 Financial provides fee-only financial planning services to Naperville, Plainfield, Bolingbrook, Aurora, Oswego, Geneva, St. Charles, Wheaton, Glen Ellyn, Lisle, Chicago and the surrounding communities; to McDonough, Henry County, Fayette County, Atlanta and the surrounding communities; to Venice, Sarasota, Fort Myers, Port Charlotte, Cape Coral, Osprey, North Port, and the surrounding communities; and nationally.
We'd love to have the opportunity to hear about your situation. Contact us here to schedule an appointment for a consultation.
---
Helping You With
Wealth Preservation – Wealth Enhancement – Wealth Transfer – Wealth Protection – Charitable Giving