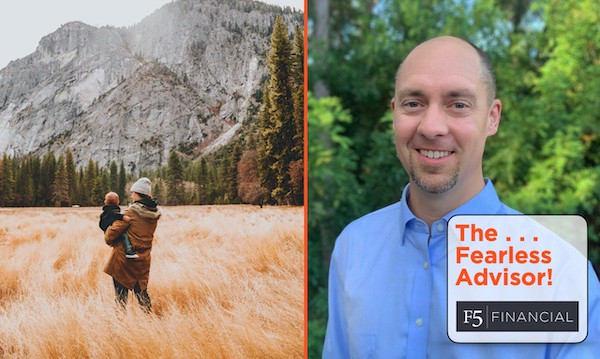 What do I do when a loved one passes away?
By: Josh Duncan
Today I cover the steps to take when a loved one passes away, including who to contact and how to obtain the legal documents you will need.
(Video is 4 minutes. The full transcript is below.)
Full Transcript of video
Hey friends, the Fearless Advisor here. Today I am going to discuss steps you may need to take when a loved one passes away.
The professionals who can support you
One of the most important roles of estate planning attorneys, CPAs, and financial planners is supporting their clients' families when a loved one passes away. This is a challenging time for the surviving family and friends. And, regardless of what planning has been completed, there are necessary tasks to complete for the estate.
Refrain from making any major financial decisions while in the process of settling the estate.
The most important thing to remember is to refrain from making any major financial decisions while in the process of settling the estate. There is rarely a major decision that needs to be made quickly. If someone is pushing you to make a major financial decision, it is best to ask for time to consider the decision.
Obtain at least 20 copies of the death certificate.
One of the most important things to do is to obtain copies of the death certificate. Consider requesting at least twenty copies, as you don't know what institutions will require this document. At a minimum, a death certificate will be needed for filing your loved one's tax return, changing titles, making life insurance claims, and closing accounts.
Contact the attorney who drafted your loved one's estate plan.
If your loved one had an estate plan, such as a will and trust, consider contacting the attorney who drafted their plan to assist with settling the estate. If there is a surviving spouse, the estate documents will need to be updated along with property titles.
Other documents to obtain when your loved one passes away
Next, begin working to locate important documents and paperwork. This includes your loved one's estate plan. Other items include beneficiary information, titles and deeds, financial account information, life insurance policies, property and casualty policies, and debt information. This can be one of the most challenging steps in the process and may requires phone calls and patience. Your loved one's financial advisor should be able to help obtain many of these documents.
Secure the estate.
Another important step is to secure the estate of your loved one. This begins with securing their cell phone and email accounts. If directed by your attorney or CPA, you may have to establish an estate account to collect estate assets and to make payments on behalf of the estate.
Claim death benefits.
As you begin to gather the necessary information, you will come to a point where you will begin claiming death benefits. This includes Social Security, pensions, VA benefits, beneficiary benefits, and benefits for minors from Social Security. If your loved one was still working, there may be benefits from their employer that have no official documentation, such as basic life insurance provided by the company. Be sure to ask about these benefits.
Safe-deposit box?
As a reminder, your loved one may have had a safe deposit box. If they did, you will need the key and to update the authorized users on the box. The institution with the safe deposit box will have a process to make these changes.
Complete your loved one's tax final tax return.
For tax purposes, contact your loved one's CPA and notify them of the situation. The CPA will be able to help complete the final tax return and advise on blind spots from a tax perspective.
Allow trusted advisors to support you.
In summary, there are many tasks to handle when a loved one passes away. Remember that major financial decisions do not need to be made quickly. We encourage you to allow trusted advisors who have only your best interest at heart to assist you in this process. For additional assistance, we are including a link to an Estate Settlement Checklist we created to assist in this process.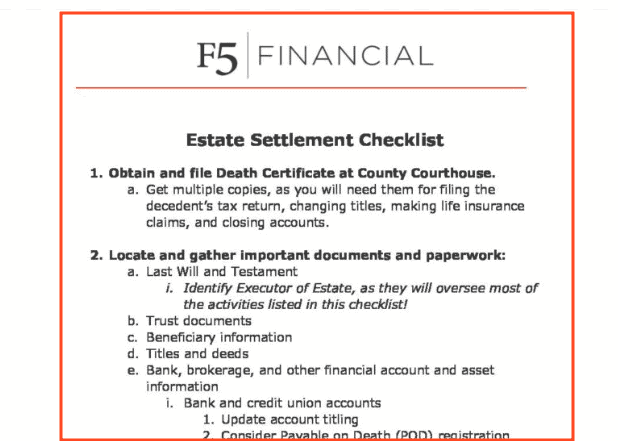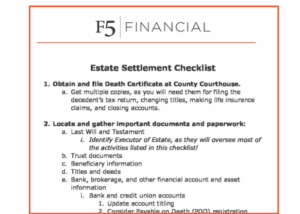 If you have questions or need support navigating what to do when a loved one passes away, reach out to us here at F5 Financial. Thanks for joining us!
Photo credit: Nathan Dumlao on unsplash.com
---
Most recent Fearless Advisor video post:
What Is the Key to Retiring Successfully?
F5 Financial
F5 Financial is a fee-only wealth management firm with a holistic approach to financial planning, personal goals, and behavioral change. Through our F5 Process, we provide insight and tailored strategies that inspire and equip our clients to enjoy a life of significance and financial freedom.
F5 Financial provides fee-only financial planning services to Naperville, Plainfield, Bolingbrook, Aurora, Oswego, Geneva, St. Charles, Wheaton, Glen Ellyn, Lisle, Chicago and the surrounding communities; to McDonough, Henry County, Fayette County, Atlanta and the surrounding communities; to Venice, Sarasota, Fort Myers, Port Charlotte, Cape Coral, Osprey, North Port, and the surrounding communities; and nationally.
We'd love to have the opportunity to hear about your situation. Contact us here to schedule an appointment for a consultation.
---
Helping You With
Wealth Preservation – Wealth Enhancement – Wealth Transfer – Wealth Protection – Charitable Giving