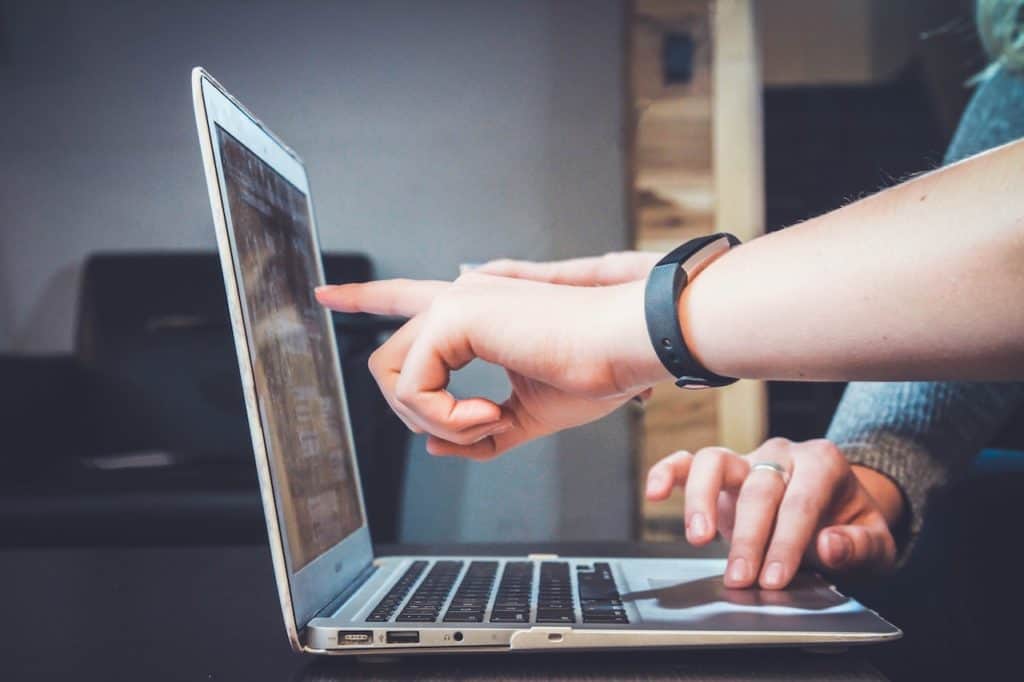 Who Benefits from an IPO? (Hint: It's NOT the Investors!)
By: Curt Stowers
Uber, Lyft, Zoom, Slack, Pinterest, Beyond Meat. All of these companies recently "went public" as part of an "initial public offering" or IPO. In each of these cases, the founders of the company decided it was time to monetize their investment in time and effort vis-à-vis offering shares of the company to other for purchase. Each of these IPOs was a huge success—for the sellers that is!
The purpose of an IPO is NOT to make the buyer rich. The purpose of an IPO is to raise capital that can either be deployed in the business or provided to the owners of the business. I am 100% fine with this, as it is an example of capitalism at its finest!
What I am NOT fine with is people presenting the idea that IPOs are a guaranteed path to short term riches. Will some IPO's go up 100, 1000, or even 10,000 times their initial offering price? Absolutely. However, as a rule, IPOs UNDERPERFORM other stocks!
The attached article goes into more detail on the topic of the performance of IPO's. Click HERE to follow the link and read more.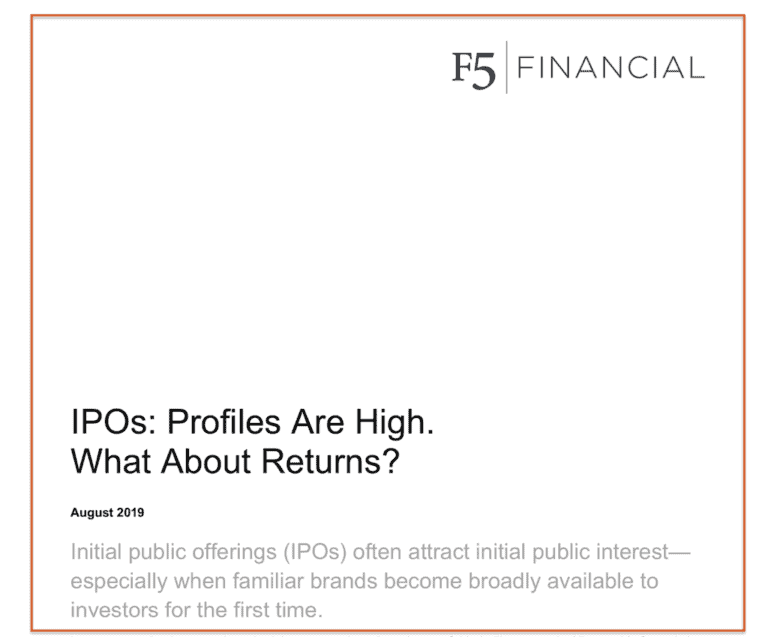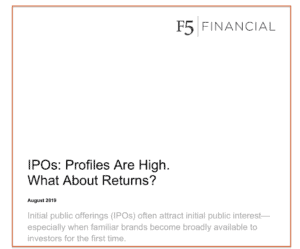 Would You Like More Support?
---
Do you have a well-defined Investment Policy Strategy that is used to drive your investments in support of a comprehensive financial plan?
---
If not, would you like to partner with someone who is used to helping people get through these struggles and (then, with confidence) implement portfolio strategies in a systematic manner while focusing on your desired outcomes?
---
If so, feel free to send us an email or give us a call. We'd love to have the opportunity to help you find a bit more peace of mind when it comes to investing.
Photo credit: John Schnobrich on unsplash.com
F5 Financial
F5 Financial is a fee-only wealth management firm with a holistic approach to financial planning, personal goals, and behavioral change. Through our F5 Process, we provide insight and tailored strategies that inspire and equip our clients to enjoy a life of significance and financial freedom.
F5 Financial provides fee-only financial planning services to Naperville, Plainfield, Bolingbrook, Aurora, Oswego, Geneva, St. Charles, Wheaton, Glen Ellyn, Lisle, Chicago and the surrounding communities; to McDonough, Henry County, Fayette County, Atlanta and the surrounding communities; to Venice, Sarasota, Fort Myers, Port Charlotte, Cape Coral, Osprey, North Port, and the surrounding communities; and nationally.
We'd love to have the opportunity to hear about your situation. Contact us here to schedule an appointment for a consultation.
---
Helping You With
Wealth Preservation – Wealth Enhancement – Wealth Transfer – Wealth Protection – Charitable Giving