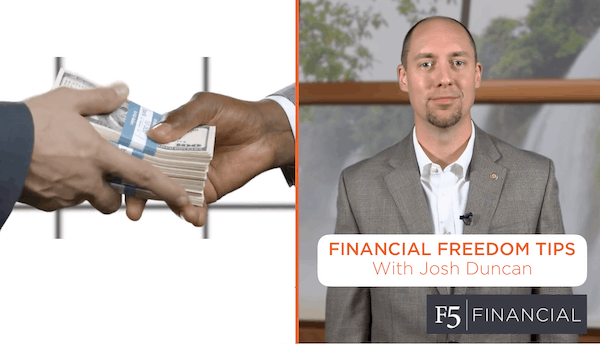 Annuities – What You Need To Know (Video)
By: Josh Duncan
Do you have questions about annuities?
In this 5-min video, I demystify annuities by explaining the 3 different types of annuities—and their fees—so that you can be an informed consumer as you plan for a successful retirement.
(Full Transcript is below.)
Full Transcript of video
Hello, I'm Josh Duncan with SCB News bringing you this edition of Financial Freedom. The purpose of Financial Freedom is to provide tips to help you achieve financial freedom for personal significance.
Annuities are complex insurance products
In recent months the topic of annuities has come up in conversation. Often someone brings up that they own an annuity. I respond with questions about the annuity and the reasons they made the purchase. Since annuities are complex insurance products, it can be challenging to understand how they work. Let's do a high-level review of annuities.
The main purpose of an annuity is to provide a steam of income over a period. Pensions are a form of an annuity. Although annuities can pay over different periods, many annuity owners enjoy a lifetime income stream.
As I mentioned earlier, annuities are insurance products. Money is added to the annuity which the insurance company invests. The insurance company makes an agreement with you via a contract describing how the money will grow before paid out and the rate at which it will be paid out. Money can be added all at once or over time. The method at which it's added will impact the growth and pay out.
Annuities - What is the difference between fixed, variable, or indexed?
So, how does the money grow? Fixed annuities provide a fixed rate of return. You know exactly what you will have in the future. Variable annuities use investments to provide the growth rate. Taking on this additional risk provides the potential for a higher return and payout in the future. There are also indexed annuities where the growth is tied to one or more investment indices.
Variable and indexed annuities have "safeguards" you can purchase, called riders, that will keep the value of your annuity from decreasing if the investments do not perform well. Yes, these must be purchased. Why? The insurance company is basically covering the reduction in value of your annuity. Your additional payment for this rider helps offset their risk for the value decline. Are you starting to see how these get complicated?
Annuity fees – maintenance, riders, surrender
Now, let's look at the fees. Think about what we have discussed. Growth of certain rates, possible safeguards against a decline in value, guaranteed payments for a period. Like all benefits, these too cost money.
First, you must pay the insurance company to create and maintain the annuity. This includes creating statements and other paperwork. Next, is the mortality expense, which pays out a death benefit when you pass. The investments in a variable annuity have expenses, too. As we mentioned, riders have a cost. The annual fee for all these items could be as high as 3%. This fee is deducted from your account value.
Finally, is the surrender charge. When you purchase an annuity, a commission is paid to the insurance agent. The insurance company funds this commission. However, if you decide to get out of the annuity within the first six to 15 years, you will have to pay a percentage back to the insurance company. They just withhold this fee upon surrender. Be sure you know the surrender period and schedule before buying. These are intended to be long-term agreements.
Be cautious and take time to learn about your annuity options
All annuities are not created equal. There are many companies who provide annuities and all their variations. There is not enough time for me to review all types of annuities here. However, there are good annuities available that truly help folks achieve a successful retirement.
As with any investment or insurance product, it's important you understand what you are buying and its purpose. Be cautious of putting all or most of your money into any one investment. Additionally, do not sign for any investment or insurance you do not understand. Keep asking questions so you can understand how the product works and supports your goals. It's unrealistic to believe you will understand something this complicated in an hour-long meeting.
Thank you for joining me for Financial Freedom. I'm Josh Duncan, Financial Advisor with F5 Financial Planning, helping you achieve financial freedom for personal significance. Please contact me here to send topics you would like me to cover. See you next time.
Photo credit: SCB Video TV Marketing (producers of the video)
---
Most recent video blog post:
Financial Freedom Tips - Your Christmas Spending Plan
F5 Financial
F5 Financial is a fee-only wealth management firm with a holistic approach to financial planning, personal goals, and behavioral change. Through our F5 Process, we provide insight and tailored strategies that inspire and equip our clients to enjoy a life of significance and financial freedom.
F5 Financial provides fee-only financial planning services to Naperville, Plainfield, Bolingbrook, Aurora, Oswego, Geneva, St. Charles, Wheaton, Glen Ellyn, Lisle, Chicago and the surrounding communities; to McDonough, Henry County, Fayette County, Atlanta and the surrounding communities; to Venice, Sarasota, Fort Myers, Port Charlotte, Cape Coral, Osprey, North Port, and the surrounding communities; and nationally.
We'd love to have the opportunity to hear about your situation. Contact us here to schedule an appointment for a consultation.
---
Helping You With
Wealth Preservation – Wealth Enhancement – Wealth Transfer – Wealth Protection – Charitable Giving