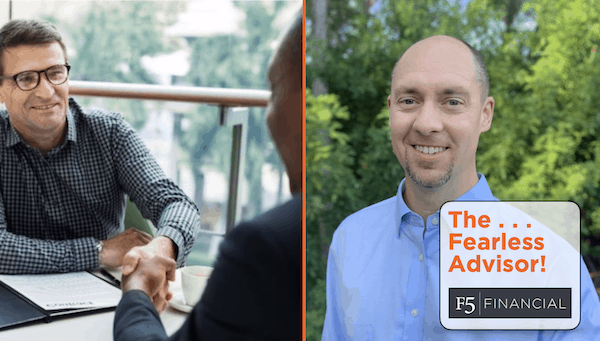 What is the value of a financial planner?
By: Josh Duncan
In this video post, I describe 5 perspectives on how financial planners add value: retirement planning, investments, tax and estate planning, risk mitigation, and the relief of delegating!
(The video is 5 minutes. Full Transcript is below.)
Full Transcript of video
Hey friends, the Fearless Advisor here. Today I am going to answer the question, "What is the value of a financial planner?"
How we each gain value from a product or service
Whenever we purchase something, we assess the value we will gain from that product or service. The value can be quantifiable in dollars, time, physical impact, emotional impact, or risk avoidance. Regardless, we hope to receive varying levels of value from our purchases.
We hired a consultant. What value did we receive?
Here's an example. Our firm recently hired a company to help us with search engine optimization for our website. This is something we could have worked hard on ourselves and made some progress. But we are not experts in SEO, and it would have taken more time that we have to spare. The value we have received thus far is the removed mental weight this had on us, as well as improvements being implemented ten times faster than we could have done ourselves.
6 perspectives on how a financial planner adds value
So, what is the value of a financial planner? As you can imagine, the answer will depend on your situation and needs. However, I am going to layout some perspectives about where our client's find value. To level set the background of these perspectives, we will assume the fee the planner charges is one percent per year of the assets they manage. This is considered the industry average. As you think about these perspectives ask yourself, "Would I pay one percent per year for that service?"
First, how a financial planner supports Retirement Planning
Let's start with retirement. I would guess most people seek out a financial planner to answer the question, "When can I retire?" Simply knowing the answer to that question could be worth the price of admission. There is much more to this area such as withdrawal strategies in retirement, navigating Social Security benefits, and knowing you can stay comfortably retired.
Second, how a financial planner supports Investment Planning and Management
Next, is investment planning and management. There are over fifteen thousand mutual funds to pick from, which makes building a portfolio enough to freeze investors in terror. Creating a portfolio that gets you to that retirement goal is important. Then, keeping it moving in the planned direction is equally important. In my opinion, the highest value a planner offers here is the insurance of not allowing you to modify your portfolio in response to the craziness going on in the world. Check out my videos on stocks and volatility for why staying the course pays off.
Third, how a financial planner supports Tax and Estate Planning
Third, is tax and estate planning. Legally keeping more of your money from Uncle Sam is one of the most quantifiably measurable values a planner offers. Depending on your situation, this value could be upwards of tens of thousands of dollars. Bundle this will planning how your estate will be handled and transferred to your heirs could take the value to the hundreds of thousands of dollars or more! Can you really put a price on ensuring your assets help fund your grandchildren's education or support a mission you are passionate about
Fourth, how a financial planner supports Risk Mitigation
Fourth, is risk mitigation. This perspective includes insurance planning for your property, health, and life. Do you have enough protection on your auto coverage to keep you from going broke if you are at fault in an accident? You've seen the commercials seducing you to buy the cheapest insurance. I often wonder what kind of service these companies provide. Additionally, your needs for life insurance coverage change throughout your life and need to be updated. Do you know how much life insurance you need to allow your family to meet their needs in your absence? A financial planner can solve this equation.
Fifth, how a financial planner allows you to delegate
The last perspective is delegating this work to someone else. Hiring a financial planner is a lot like hiring a project manager. They make sure things get done! Sure, some of the work will require your participation. However, the planner will pull in other professionals to help with insurance, estate planning and legal matters, taxes, loans, and more. This is another area where it's hard to put a monetary value on the service of a planner. Having someone keep up with your financial plan and "projects" is a benefit many people appreciate.
Hiring a financial planner is a lot like
hiring a project manager.
They make sure things get done!
There you have it, an overview of the value of a financial planner. To learn the process a financial planner uses, check out my colleague Bob Anderberg's post on what financial planners do. As I mentioned, the full value you realize form working with a planner will depend on your situation and goals. My hope is this overview will give you an idea of what to look for when researching and interviewing planners to support you and your family.
If you have questions about how F5 Financial can support you, please schedule a meeting with us. Thanks for joining us!
Photo credit: on rawpixel.com
---
Most recent video blog post:
Do you have the time? (For long-term investments!)
F5 Financial
F5 Financial is a fee-only wealth management firm with a holistic approach to financial planning, personal goals, and behavioral change. Through our F5 Process, we provide insight and tailored strategies that inspire and equip our clients to enjoy a life of significance and financial freedom.
F5 Financial provides fee-only financial planning services to Naperville, Plainfield, Bolingbrook, Aurora, Oswego, Geneva, St. Charles, Wheaton, Glen Ellyn, Lisle, Chicago and the surrounding communities; to McDonough, Henry County, Fayette County, Atlanta and the surrounding communities; to Venice, Sarasota, Fort Myers, Port Charlotte, Cape Coral, Osprey, North Port, and the surrounding communities; and nationally.
We'd love to have the opportunity to hear about your situation. Contact us here to schedule an appointment for a consultation.
---
Helping You With
Wealth Preservation – Wealth Enhancement – Wealth Transfer – Wealth Protection – Charitable Giving